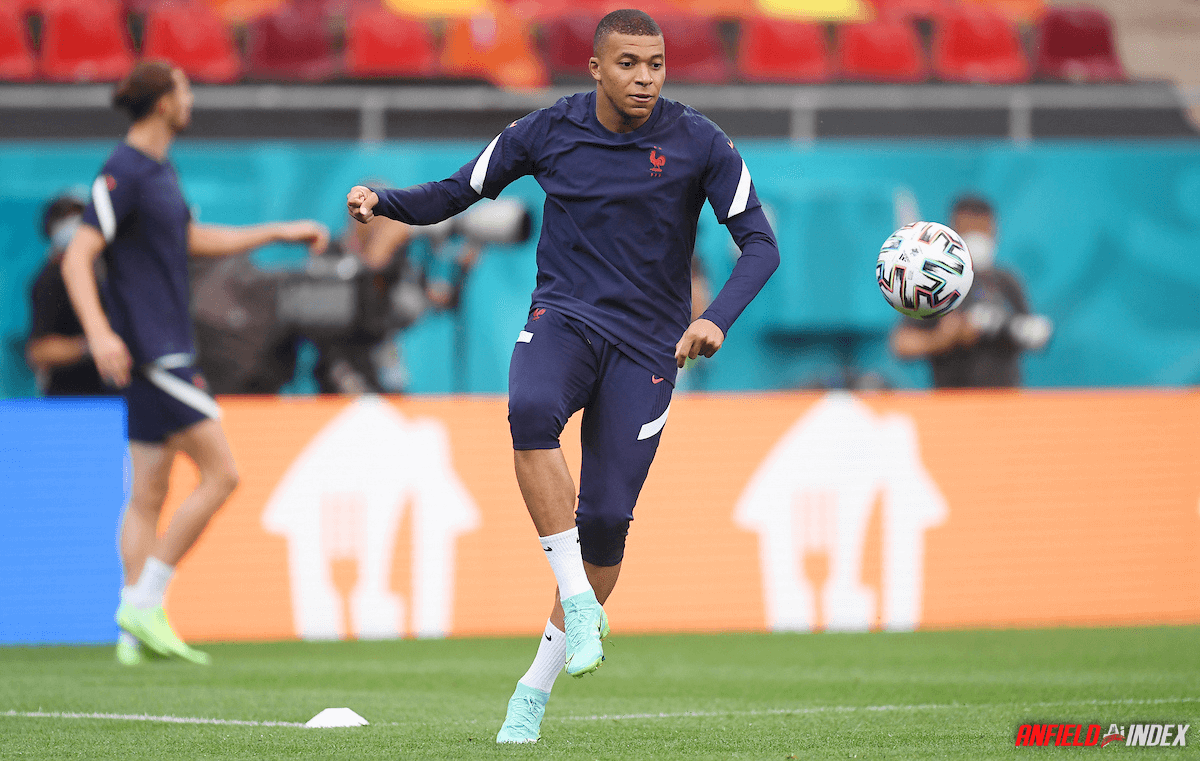 Why Kylian Mbappe should never be a Liverpool transfer target
The Liverpool FC buyout saga has rumbled on, and much of the fanbase will be quietly (or not so quietly) compiling their own dream teams for the new ownership to go and buy. There are of course my own wants and desires, and I would love the Reds to be as competitive as possible, but there has to be limitations on those dreams.
The foundations and history of this club has to be maintained, and no one player should ever become the star attraction piece.
The soccer circus known as Paris Saint-Germain once again had a very entertaining summer. This sports-washing entity seems to know no bounds, and the off-season saw them scramble to tie down the jewel in their crown, young Kylian Mbappe. The French forward was destined to head to Real Madrid (which would have surely seen Liverpool sign Aurélien Tchouameni), until PSG threw the most ludicrous contract imaginable at their striker's feet in order to convince him to stay. This kind of silliness is exactly what creates a Galactico regime, and even if the Reds were to become a financial powerhouse, targeting this marquee signing would be a huge mistake.

When the Paris club acquired the services of the 23-year-old, he had just netted 26 goals in 44 matches for his former club. His abilities drove Monaco to the Ligue 1 title in that last season (2016/17), and he became the darling of world football. His ability was likened to legends of the game, such as Ronaldo (the Brazilian version), Michael Owen, and George Weah. In signing for Monaco's rivals (as a 19-year-old starlet), it instantly made him the highest-profile teenager in the history of the game. What started as a year-long loan eventually became a permanent deal, one which would cost the French super club north of €150million.
As football continued to evolve into the next era, our next superstar was born, and he had chosen the French capital as his destination.
This very season marks his sixth campaign at Le Parc des Princes, and that period has seen continual domestic success. His PSG appearances/goals are as follows;
2017/18 – 44 games & 21 goals
2018/19 – 43 games & 39 goals
2019/20 – 37 games & 30 goals
2020/21- 47 games & 40 goals
2021/22- 46 games & 39 goals
2022/23 – 20 games & 19 goals so far…
His relatively short career has seen him win Ligue 1 on five occasions, the Coupe de France three times, and for France, he was part of the 2018 World Cup winning squad. In 59 games he has also scored 28 goals for his national side, and become integral to their way of playing. In short, it has been a spectacular career, but amazingly he is yet to add a European honour to his haul.
Given the continuing shenanigans that occur within the PSG walls, they have never been able to win that which they treasure the most. The Champions League has continued to evade them, and it would appear that the lack of absolute harmony and trust within the club may be what is holding them back. To have appointed Mbappe as some form of club decision-maker is strange, but to have paid him €100m as a signing-on bonus, and €50m per year is just crazy. This kind of contract makes any future move pretty much impossible. How could an interested club meet all the demands that would ensue, and in Liverpool's case, why would they want to?
A few years ago I was fully aboard the Erling Haaland & Kylian Mbappe hype train. I thought our amazing path to becoming the world's best team meant we could and should be attracting the globe's most elite talents. But after watching the desire and hunger of both Darwin Nunez & Luis Diaz, I'm absolutely opposed to players that have demands that reach such levels. The separation within the Paris squad must be intoxicating at times, and we have seen the lacklustre demeanour and petulant nature of their No7 in recent months. To be where we are took a specific squad of players, and more importantly a special kind of manager. I wouldn't want this group (or the next) undone by the wants and tantrums of such a player, and that is why I hope we steer clear of such a person.
All the money can buy you just about anything, but this Anfield club is too sacred to want to employ the likes of Mbappe. We have seen the astonishing antics of Cristiano Ronaldo this past week, and it's very clear how far certain characters will go to remain the headline act.
At Liverpool, the club is the headline act, and for all the players that are lucky enough to arrive, they need to understand just how fortunate they are to even be there.