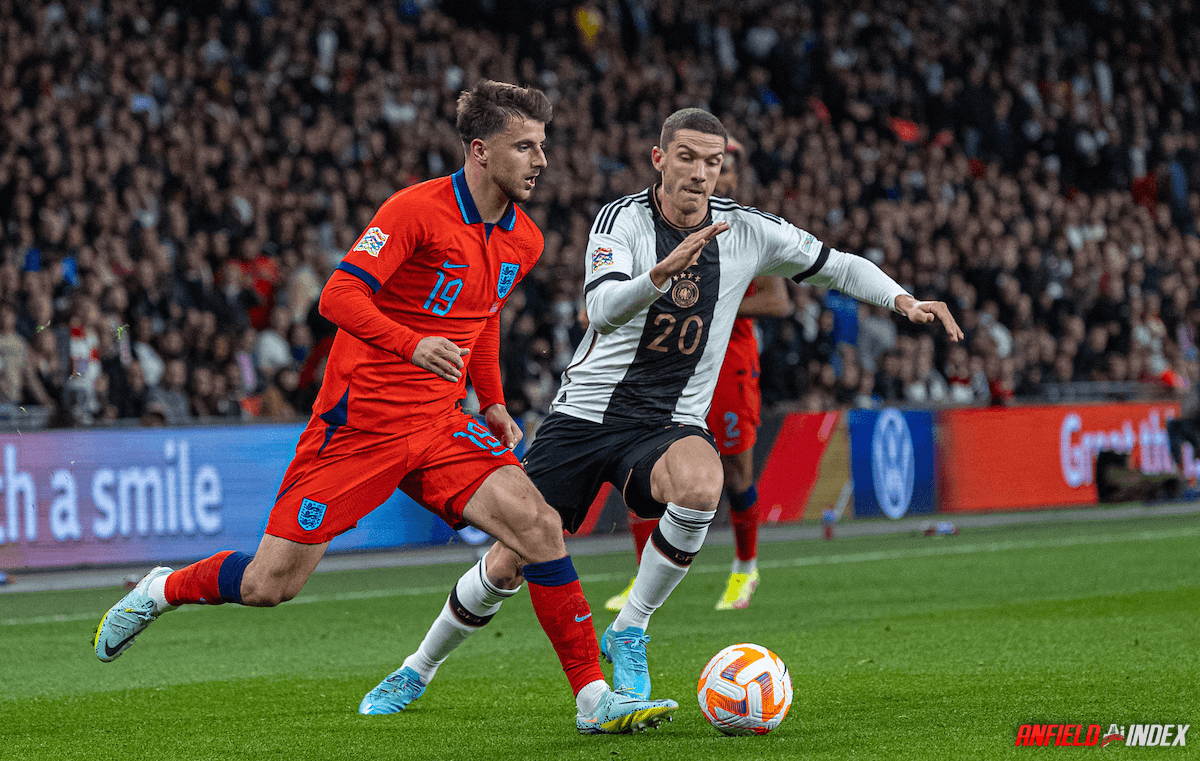 Could Mason Mount Be The Bellingham Alternative?
Mason Mount travels to Qatar this week for the forthcoming World Cup. His call up was never in doubt, and only an untimely injury would have scuppered his place in Gareth Southgate's England squad. This spell away from Chelsea could be the relief he needs right now, with the West London club currently in a period of disarray. With changes of ownership, changes of managers, and the recruitment of various players a constant over the last couple of years, he could now be approaching the crossroads in a career which could still reach a world class level.
The Chelsea attacking midfielder is set to turn 24 years of age in January, and an age where his peak should reveal itself. We have seen the young starlet shine for a promotion hungry Derby County, where a profitable loan spell saw him excel in those 35 games / 8 goals, across the 2018/19 season. This brilliant return didn't mean he was destined to make the grade at Stamford Bridge, with the Blues so often being that club that loans out assets in order to sell later. But for Reece James and in particular Mount, there has been genuine stretches of elite play that have helped break that trend, and it wouldn't be absurd to say that the Chelsea number 19 is their most prized asset.
With 32 England caps and 5 goals since his debut in October 2018, Mason Mount has continually been a key player for his country. After his club side's winning Champions League run in the 2020/21 season, everyone assumed the former Premier League champions would take off under the stewardship of then manager, Thomas Tuchel. The following season became a political minefield, and the on going struggles in Ukraine engulfed the former owner, Roman Abramovich. That timeline saw the club sold, the squad adjusted via scatter gun, and somewhere in between Mount found himself struggling within an inconsistent group.

After being named Chelsea player of the year in both the 2020/21 & 2021/22 seasons, it should have began the former academy graduates' rise to the very top of the game. What we have seen this season however, is a player unable to reach his potential amongst so much uncertainty. Though he is almost certainly a first team starter for Chelsea, it's within a squad that doesn't know its best team, or even it's best system of play. For England, it's no longer assured that he's starting the first game of the World Cup, with the likes of Phil Foden, Bukayo Saka & his teammate Raheem Sterling perhaps all ahead of him. With only two spots either side of the captain, Harry Kane, this tournament may just be a moment where Mason Mount considers his position. Southgate seems intent on a double pivot midfield of Rice & Bellingham or Phillips, so unless he switches the system up, the Chelsea man could start the competition on the bench
Liverpool are starved of players like Mount, and his abilities within a Jurgen Klopp team would become sensational. Since his Chelsea debut, the versatile blue has recorded the following in all competitions.
2019/20 – 53 games / 8 goals
2020/21 – 54 games / 9 goals
2021/22 – 53 games / 13 goals
2022/23 – 21 games / 2 goals
The consistent nature of availability stands out a mile, and is such an important factor in who Liverpool are to identify as potential targets. You can see in his game a flexible nature, one that could mould perfectly into our midfield three. His attacking instincts and ability to pick an incisive pass could mesh beautifully with Thiago & Fabinho, and allow the system to shift effortlessly into differing shapes. I believe the goal scoring potential is somewhat untapped, as his common working position will invariably see him shift wide within a 3-4-3 shape at the Bridge. As a Liverpool red it would be an ideal situation to see him move from a midfield three into the 10, and have such an elite group around him.
Under Klopp's management, you sense he would drive forward more centrally, and become a similar type to which Jose moulded Frank Lampard into. With a key eye for goal, a great engine, and an ability to deliver balls into key areas, it would surely add another dimension to the Reds' midfield. With the Jude Bellingham fee perhaps soaring beyond the £120m mark, now might be the moment to consider viable alternatives. Mount's contract is set to expire in just over 18 months, therefore the summer window could represent to perfect moment to test the Chelsea waters. There are few better players equipped to integrate into our systems of play, and with an ever shortening contract, a bid in the region of £50m could get a deal done.
I have no doubt that all scenarios and budgets are being considered by Julian Ward, due to the proposed sale of the club. Until more clarity is awarded to the Anfield hierarchy, it will probably remain a planned assault rather than an actual one. But if we were to manoeuvre away from the Bellingham deal, a move for Mason Mount would make an awful lot of sense.