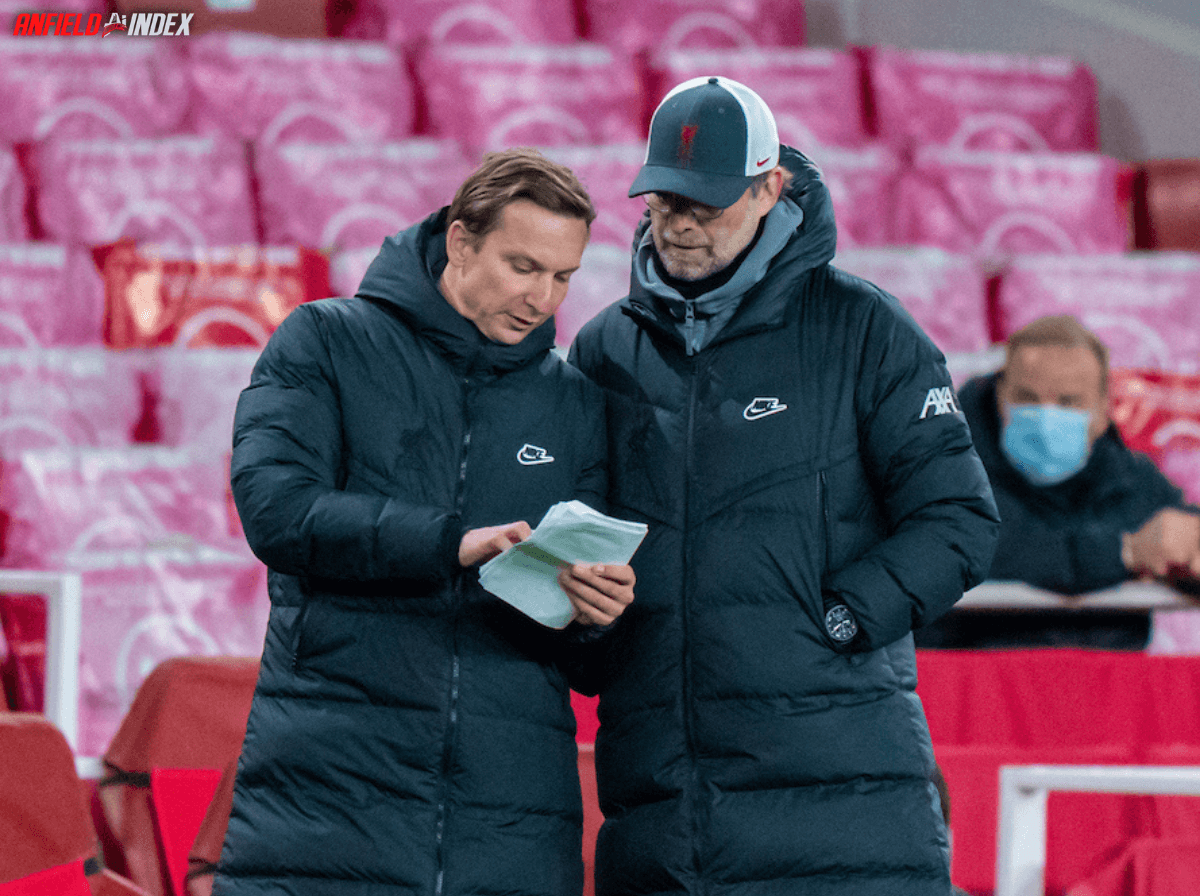 Key Points That Klopp Needs To Address In The World Cup Break
With the remaining Reds that won't be heading to the World Cup in Qatar, it represents an opportunity to realign what has veered off course this year. Jurgen Klopp and Pep Lijnders will undoubtedly be laying out a route back to consistent success, and I think we would all like to see that old mentality, old drive, and much loved intensity return, when the Premier League resumes in late December.
These first team players are not boarding their national team's planes:
Goalkeeper

Caoimhin Kelleher
Adrian
Defenders
Andy Robertson
Calvin Ramsay
Kostas Tsimikas
Joe Gomez
Joel Matip
Nat Phillips
Midfielders
Thiago Alcantara
Naby Keita
James Milner
Alex Oxlade Chamberlain
Stefan Bajetic
Attackers
Mohamed Salah
Luis Diaz
Diogo Jota
Roberto Firmino
Fabio Carvalho
Ben Doak
Yes I did slide Ben Doak into that group.
Most of the above will be heading to a Dubai training camp during the World Cup, with at least two senior friendlies confirmed. There will be a good few under 23 & under 18 games played out over the next month, so these matches will also have to be considered by the management group.
The warm weather environment in the Middle East should offer light relief from our British rain, and a perfect environment to sharpen the tools of the group that remains. With a World Cup on going, it should create a refreshing environment for the Reds, with a combination of hard work and rest very much needed this next few weeks.
The 11th December will see the Reds face off against Ligue 1 side Lyon, at the Al Maktoum Stadium. That 14.00 kick off (GMT) will be followed by a clash with AC Milan at 15.30 (GMT) on the 16th December. There appears to be some fun being played out in the awarding of points for these games, with three levels created. Three points are garnered by a win, two points are awarded for a draw, and a compulsory penalty shoot out (after each match) offers up a bonus point to that winner. Games will end after 90 minutes, with no extra time. The shoot out will occur immediately after the final whistle, and should see more mystic added to our legendary penalty saver, Caoimhin Kelleher.
There's certain points that need to be addressed by the coaching staff during this mid season break, though evidently it will still offer its limitations with so much of the squad in Qatar. The return to fitness of Diogo Jota & Luis Diaz will be high on the list, with both offering so much venom to the Anfield forward line. The recent LFC fixtures saw Darwin drafted into a flexible LF role, and though it was a joy to see him bulldoze his way though beleaguered full backs, a move to that central striker's berth is still the future requirement for the magnetic Uruguayan.
Naby Keita's current position may be the a frustration that equals that of FSG's net spend, yet he can still be a very important asset within this team. His tally of 40 games played (with four goals scored) last season, proves that there is a player there to be utilised by Klopp. His role in last season's success cannot be overlooked, and he allowed perfect variation to that which Thiago offers us, and his match fitness must be a keen point to get right in Dubai. Whether or not Naby signs a new deal is very much up in the air, but a full half season with the Guinean international fully fit would be marvellous. At just 27 years of age, it's such a shame to be considering letting this 50 cap international leave for free, yet it does now look inevitable.
Alongside Naby resides the Ox, another midfielder that has an ever shortening deal and similar injury issues. With his, Naby's & James Milner's deals all set to end this coming summer, it possibly points to midfield reinforcements in January, but we must still work to get the most out of what is still here. Alex Oxlade-Chamberlain is an England international that doesn't turn 30 until next August. With the last of of 35 caps coming in 2019, it truly is a sad state of affairs, regarding his bad luck with injured.
This ultra talented and explosive midfielder should be in Qatar right now, and would have been if not for his horrendous injury record. I don't know what he has left to offer this group, but what he does hold is versatility in an evolving system of play. With him and Naby's attendance, our ability to become more tactically flexible will enhance, and getting these two players up to speed is vital.
With so many injuries engulfing the Anfield squad so far this season, it's been hard to nail down what formation the German manager sees as his primary blueprint. It's seems the 4-3-3 system is still the preference, but with more of an ability to drift into a diamond shape. We often saw this system with Mo & Sadio sliding more central, and Bobby drifting in and around that false 9/10 position. For me (as I have stated in varying articles), I hope we can move to a more refined 4-4-2 that could shift effortlessly into a 4-3-3 as required. These are the decisions and training ground patterns that need to be addressed more than any other, as we simply have to become more solid and harder to play through. Our defensive shield just isn't what it once was, and the answers have to be found for the multitude of questions being posed.
I hope this time can be used as a refresher, and for the remaining players and coaches to enjoy a moment away from the stresses of both domestic & European football. We have the world's best manager, an elite group of players, but we are in a state where even our ownership is uncertain. Some form of dialogue will surely be on-going between FSG & Klopp (regarding the sale), and it will also be a time to fully utilise our Sporting Director, Julian Ward. We know what is required to improve our squad, and time spent analysing what can be done (in the January window) has to be planned out, and more important followed through in the new year.
This is a strange period off and on the pitch for everyone related to Liverpool Football Club. The coming days and weeks will see many topics of discussion become clear, and the perfect scenario will be a fully backed Klopp unleashing fury after this well earned rest and recalibration.