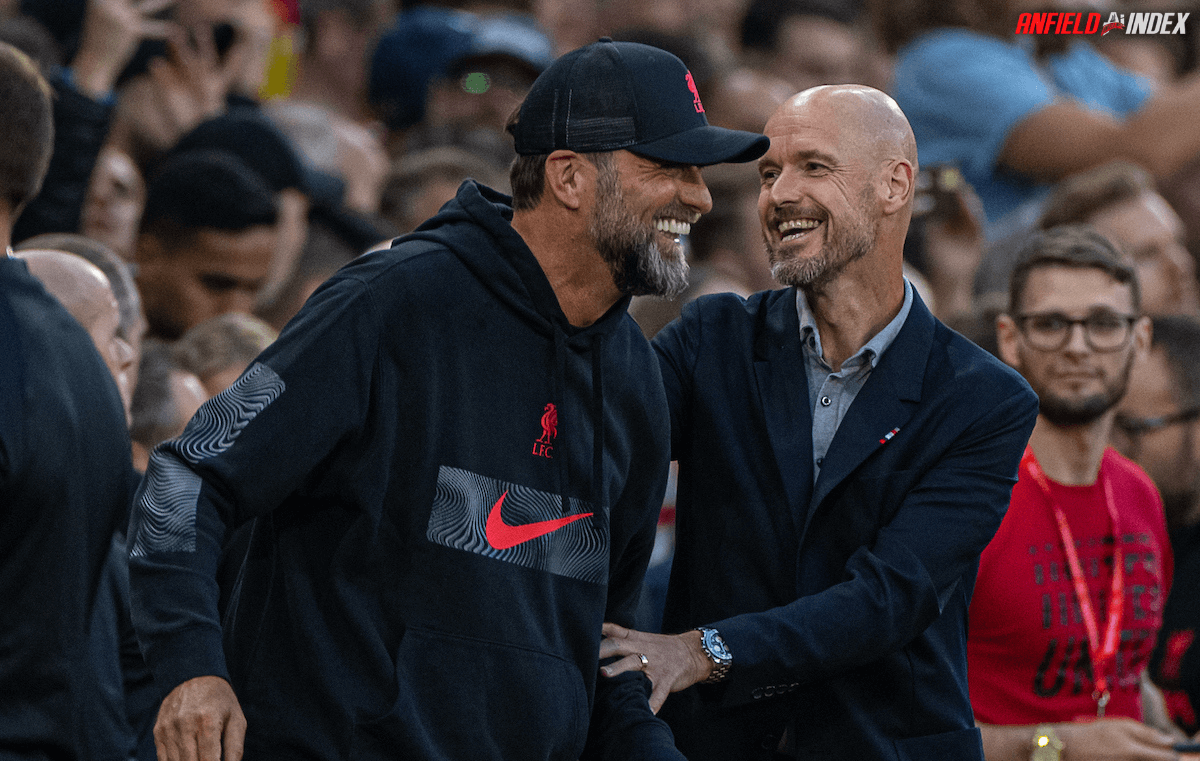 Man Utd Bought Marquee, Whilst Liverpool Invested, But Who Won…?
The Cristiano Ronaldo interview with Piers Morgan has seen some crazy comments arise, as the legendary forward made some damning statements regarding his current club. The former Real Madrid player seemed to have one intent, to force the hand of his paymasters, and ensure he returns from the World Cup as a free agent.
At this point in his remarkable career, the 37 year old (who turns 38 in February) seems unable to accept a lessening role within top tier football. The Portugal man has amassed 951 career appearances, with 701 goals to date. For Portugal he has played a further 191 games, with 117 goals scored so far. He has won multiple pieces of silverware, and the list below just underlines his career of achievements.
Manchester United
Premier League winner x 3

Champions League winner
FA Cup winner
League Cup winner x 2
FIFA World Club Cup winner
Real Madrid
La Liga winner x 2
Copa del Rey winner x 2
Champions League winner x 4
UEFA Super Cup x 2
FIFA World Club Cup winner x 3
Juventus
Serie A winner x 2
Coppa Italia
Supercoppa Italia x 2
Portugal
European Champions
Ballon d'Or
Winner x 5
Despite all of the above, the Sporting Lisbon academy product wants more, and is in danger of damaging his legacy. When he was playing regularly last season & scoring goals, he was doing so within a team which was struggling. The team was not prospering, but CR7 was, so there was no issue. This season has seen his new manager, Erik ten Hag, pick others over him and create a more consistent group, and look forward instead of toward a veteran with limitations. United have absolutely improved, yet Ronaldo has chosen now to speak out, and to undermine the good points with a very coordinated attack. The global brand that is Cristiano has seemingly attacked the club from every angle, with current figures, past teammates, facilities and the management, all coming under fire from a man whose return was once celebrated.
When the Glazers took over United in 2005, they did it to make money by increasing revenue. In adding eye-watering value to the brand, they have continually drawn revenue from the club as a result. During this period, both their Carrington training ground and Old Trafford have been left without any real upgrade. The infrastructure of the club has been allowed to deteriorate, and though United's famous number 7 has been somewhat petulant in most of his comments, he is absolutely correct in his assessment of the in house facilities and famous stadium.
The Glazers and FSG will often be thrown into a similar basket, and labelled as opportunistic Americans who are involved in the Premier League only to make money. Ultimately this is accurate, however the underlying ownership qualities could not be more different. Whereas the Glazers have been happy to commit to sporadic and scatter gun spending in the market, they have chosen not to invest in the much required internal developments. They have allowed themselves to fall behind in their 17 years of ownership, and their recent on field troubles match that off field neglect.
When you consider the parallel responsibilities of the Liverpool ownership, FSG, they have been the polar opposite in continuing to improve its infrastructure. Whereas the Glazers have extracted approximately £1.1bn over the past 17 years, FSG have never taken a penny. The difference between the two English powerhouses was that all available profits remained at United was spent on outlandish transfer fees, and ridiculous contracts. There was never any real control of club growth, and the upper management appointments were always under qualified and bizarre. Liverpool were far more methodical, and had a plan to increase all levels of the club in line with the team itself.
The Glazers bought a bonafide winning machine that would continue to grow in validation due to the expanding footballing universe. Social media and global coverage has increased exponentially during the Glazers' reign, and they have simply rode that wave in the knowledge that they could do the bare minimum, and without the need to spend vast amounts off the field. They have never been committed to the trophy cabinet, more the increased valuation of their key asset was always the priority.
FSG have their faults, but whereas United were purchased in their pomp, John Henry and co took over Liverpool with the club on their knees. The buyout from the cowboys, Hicks & Gillet, was undertaken in 2010 with the Reds in real danger of administration. The twelve years since saw an initial slow burn, as various changes within the running of the club were undertaken. But as the years went by, so did the vast improvements to Anfield and other areas of the club. We have seen an old and tired Melwood training ground replaced with the state of the art Kirkby facility, and the latest ground expansion will make the home ground a wonderful footballing arena.
The two separate ownership groups were always about increasing the worth of each asset within their portfolio, and that has never been a hidden fact. But where FSG greatly differs from the Glazers has been their knowledge and understanding of elite sport, and a desire to ensure the growth of the club was evenly matched throughout. When Melwood was deemed to be outdated, too small, and situated too far from the academy, a new £50m facility on the Kirkby site was green lit. The building and varying components would put all levels of the club under one roof, and give the kids an insight into what they could achieve. With various bespoke requests from Jurgen Klopp regarding the structure (including a single corridor 'pathway' linking the academy to the first team), the complex mirrored the world class squad that was steadily being assembled.
With well over £100m being spent on the stadium redevelopment, FSG have not only updated Anfield, but increased capacity by close to 20,000 in their tenure. Michael Edwards was appointed into the Sporting Director role, in order to expand and perfect their recruitment, and every tier of the club was addressed to fully harness each tier within. This was a perfect model designed to live within a FFP world, one where Liverpool would have been dominant. We all now recognise that the sportswashing of others has left that financial fair play in tatters, and this is why FSG have decided to sell the club.
From what the Glazers acquired so many years ago to what we see now, we see a tired club in need of massive investment at all levels. Old Trafford & Carrington have become outdated, and though Cristiano was selfish in his varying statements, it can't be denied that the infrastructure of the club has been ignored.
With FSG, they will be leaving the Reds with a modern stadium, a world class training ground, a world class manager, and an elite squad that requires just three or four additions to become the world's best again. They arrived with the club heading towards mid table, but helped in establishing what was needed to make them the best team on the planet. They walk away (albeit £3bn wealthier) knowing they can do no more, and should be wholly commended. All the fan base must surely see the unbelievable greatness they have achieved, and respect them for knowing when the time was right to walk away.
Our greatest rivals (United) will continue on their path of disarray, and have now to deal with one of their own turning on them. Ronaldo has been able to cause utter chaos, and has probably divided the fan base with his words. The Glazers won't care, and as long as their commodity continues to financially prosper, it won't effect them at all.
Liverpool are still on the verge of spectacular again, and with the correct ownership group we could once again sit on top of the pyramid of world football. FSG have their faults, but I wouldn't swap them for the Glazers any day of the week.