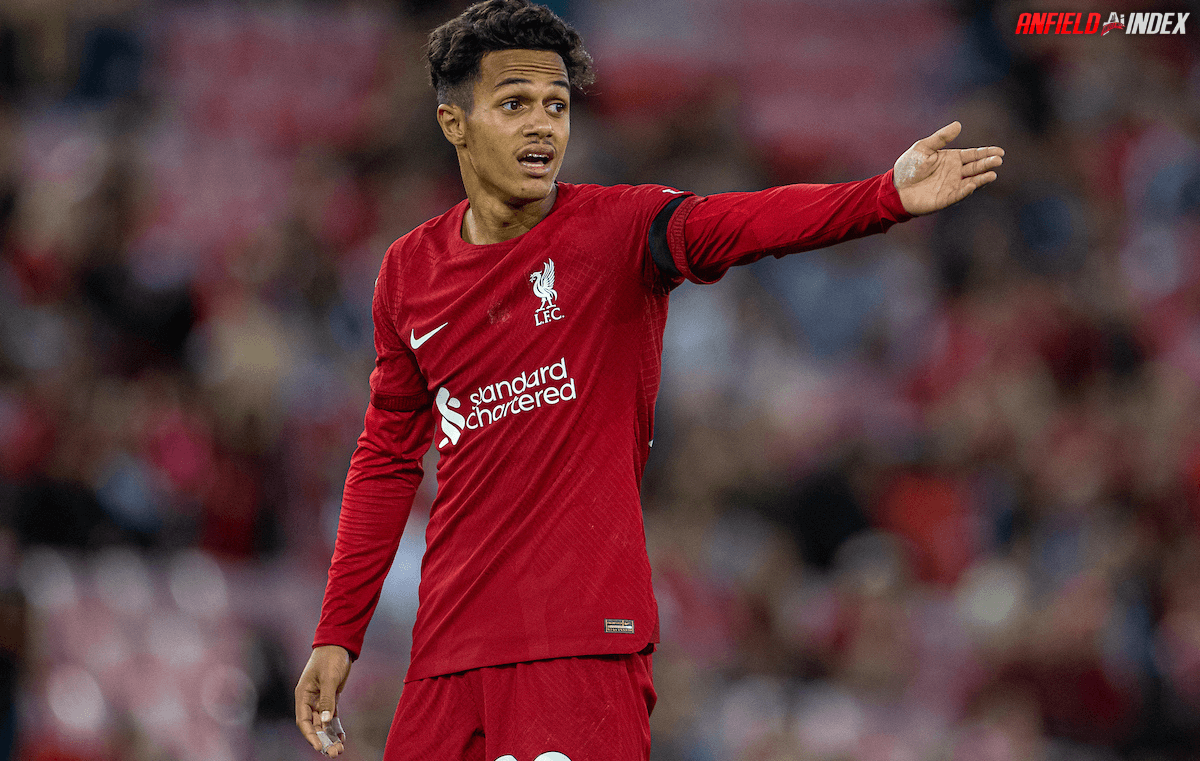 Carvalho: Too Early to Call it, but Limited Chances to Shine
It can be tough as a youngster in Liverpool's first team squad. For all the talk about the crowd being forgiving and encouraging youth, the first half of the campaign has meant that the pressures of reality have seen that forgotten on occasions. Time and patience tend to give way to instant judgement and Fabio Carvalho has been a recipient on occasions. The next six months will be key in the 20 year old's development at Anfield. Whilst no sweeping judgements should be made, the window to make your mark could be smaller than expected.
It was a real promising start for the former Fulham starlet, having finally made the move for £5.5 million this summer. An impressive substitute appearance in a disappointing team performance at Old Trafford and a crisp volley against Bournemouth only fuelled expectations. Those reached fever pitch with a late late winner against Newcastle, which saw a real belief amongst certain fans that Carvalho could make an impact in the first team and threaten the established forwards.
Subsequent performances though were in line with club struggles and it's telling the lack of action that the Portuguese under-21 has seen in recent times. Hauled off at half time against both Brighton at home and in the derby away could be seen as harsh, but many agreed necessary. Coupled with a disappointing performance all round against Forest, there were questions asked if Liverpool would have been better served retaining the services of either Divock Origi or Taki Minamino as attacking options.

Carvalho's struggles have been linked to those of Curtis Jones, in the sense that he doesn't appear to have a fixed position within the current set-up. Seen as too lightweight in midfield with Everton held up as the example and not quick enough or effective enough yet for the attack, it's hard to pinpoint where he fits best. A number ten behind a target man such as Aleksandar Mitrovic in a championship winning team doesn't necessarily translate perfectly for Jurgen Klopp's side. That doesn't mean it won't happen for the talented youngster at Anfield, but opportunities will need to be seized when they come. Being outshone by the likes of Elliott, Clark and Doak won't have helped his cause.
The potential is clearly there and it's apparent that Klopp and his coaches hold a clear and obvious belief in the player. Suggestions that a loan in the future maybe best could be premature, but the sentiment is understandable on a certain level. It's far too early to be writing Carvalho off or seeing his future away from Anfield. Opportunities could be limited though and will need to be seized with both hands when presented, in whichever position. This is a big second half of the season for everyone coming up. Only time will tell how this one goes for him.