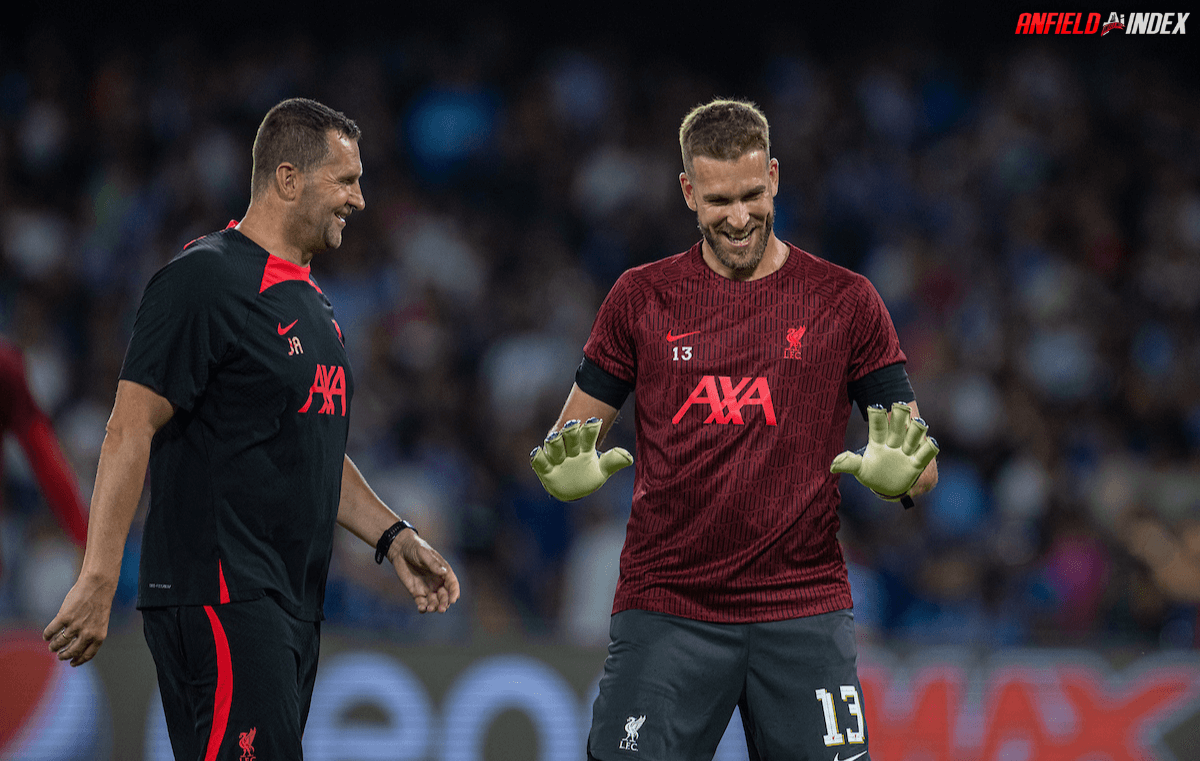 Goalkeepers LFC Should Target If Adrián Leaves
Adrián has been that steady training ground keeper who has been able to add to a tight knit group at the AXA training ground in Kirkby. It's often a crazy and unpredictable world being a goalkeeper, and when Adrian was picked up as a free agent from West Ham, it was certainly no different. His persona seems infectious, his support seems unlimited, and it has allowed Jurgen Klopp to give that experienced back up to Alisson Becker,  Caoimhin Kelleher and Marcelo Pitaluga.
The coaching set up for our group of keepers consists of John Achterberg at the helm, with Jack Robinson & Brazilian legend Cláudio Taffarel working alongside him. This is a slightly more expanded group (compared to other clubs), with the Dutchman remarking that the unique group only benefits the requirements of his keepers. We are looking very strong between the posts right now, and the dynamic is clearly working for the the Liverpool coach.
Adrián has a contract with the Reds that expires next summer, and despite signing a one year extension last season, this campaign seems likely to be his last. Throughout his 3 & a half years at Anfield, the former Real Betis graduate has played 26 games, however only two of those games have come since the 2020/21 campaign.  He will leave the Reds having won the 2019/20 Premier League, the UEFA Super Cup in 2019, and the FIFA World Club Cup also in 2019. This is tremendous haul for a player that was allowed to run down his West Ham contract, prior to Michael Edwards' approach.

With 313 senior games played for Real Betis (with two loan stints at Alcalá and Utrera), West Ham and Liverpool, he will possibly now look to return to his homeland as he approaches his 36th birthday. His role as a steady training ground keeper and experienced back up has clearly had a positive effect on his peers, especially given the surprising one year extension last summer. This coming summer will see the club's regeneration kick in, and a move away for the uncapped Spanish stopper is almost inevitable.
With a potential 2023/24 loan for Caoimhin Kelleher, it could see Marcelo Pitaluga move into a secondary spot within the first team squad. What we do know is that an experienced back up is often a desired asset, and before Adrián there was even the year long attendance of former Arsenal man, Alex Manninger. The reliability of a veteran that should have limited ambitions to dislodge Alisson Becker is a smart move, and if the personality of such a squad member could be established (as with Alex Manninger & Adrián), then surely everyone will benefit. A final stint for a team that is consistently competing for silverware can be very enticing, and would keep a fresh look within the gloved fraternity. Some keepers can spend their entire careers without the hint of a trophy lift, and a move to Merseyside may be too good to turn down
To start looking at potential recruits would probably mean players in the final stretch of their current contracts, as with the Reds' number 13. Below are a list of five keepers that may have made Julian Ward's summer replacement list, with some added information on each.
Yann Sommer
Age – 33
Current Club – Borussia Mönchengladbach
The Swiss international is currently on World Cup duty, after an ankle injury had him sidelined for a spell. He is still currently considered a first team starter and despite some interest from Manchester United last season, he is still a Bundesliga based regular. A strong and reliable stopper, he apparently has the option to extend his deal for a further year. A move to Liverpool would be difficult to sell, as he would become a pure back up to Ali, when he's still at a good enough level to start.
Samir Handanovic
Age – 38
Current Club – Inter Milan
Once considered one of the elite keepers in world football, this season could represent the final year as an elite caliber piece. With André Onana currently occupying the starting spot at the San Siro, he may look for one last chance to fill his trophy cabinet away from Inter. He may be well past his prime years, but he could still over superb cover and experience amongst a talented group.
Lukasz Fabianski
Age – 37
Current Club – West Ham
The man who beat Adrián to the number one spot at West Ham, and continues to start in goal for David Moyes. A very experienced and popular member of the first team squad, and probably the perfect type to come in for a couple of seasons at Anfield. Alphonse Areola was signed on a permanent deal in the summer (from PSG), and the five times capped France international will surely be looking to claim that starting spot in the new year. His level of play is far beyond that of Fabianski, and the Hammers' poor form may well see that chance occur when the Premier League resumes. This one could be an interesting watch, and Julian Ward would do well to replace one former Hammer with another.
Vicente Guaita
Age – 35
Current Club – Crystal Palace
Whereas he's still a starting player for Patrick Viera, you sense their own squad regeneration could see a significant upgrade occur between the sticks at Crystal Palace. Vicente Guaita is a reliable keeper with very good knowledge of the Premier League, since arriving in 2018. Palace have recent form of letting players age out and leave as their contracts expire, and this would be another good option for the Reds.
Neto
Age – 33
Current Club – Bournemouth
The once capped Brazilian international has had an up and down year at Bournemouth, and currently resides as a back up keeper within the south coast squad. With his age and current position not an ideal situation for Neto, he could be the prefect addition to the Anfield squad. With a strong Brazil presence already within Kirkby, it could be a smart move that increases the level of the goalkeeping union.
Tomas Vaclik
Age – 33
Current Club – Olympiacos
A vastly experienced former Sevilla and Basel stopper, with an impressive 53 caps for the Czech Republic. A shoulder injury has seen Vaclik sidelined for much of this season so far, and his long term future is still very much to be decided. Of the five options, this Olympiacos man is possibly the least likely addition, but will at least give Julian Ward another viable option.
It could be a very busy summer for our Sporting Director, and despite the glaring necessities within our midfield, we may still have some work to do on the goalkeeping front. The close season could well see Caoimhin Kelleher sent out on loan, and in all likelihood we will be bidding a fond farewell to Adrián. All of the above candidates have their issues, but if we are looking to for a second or third choice stopper to increase the mentality within John Achterberg stable, then for me Neto would be a very good choice.