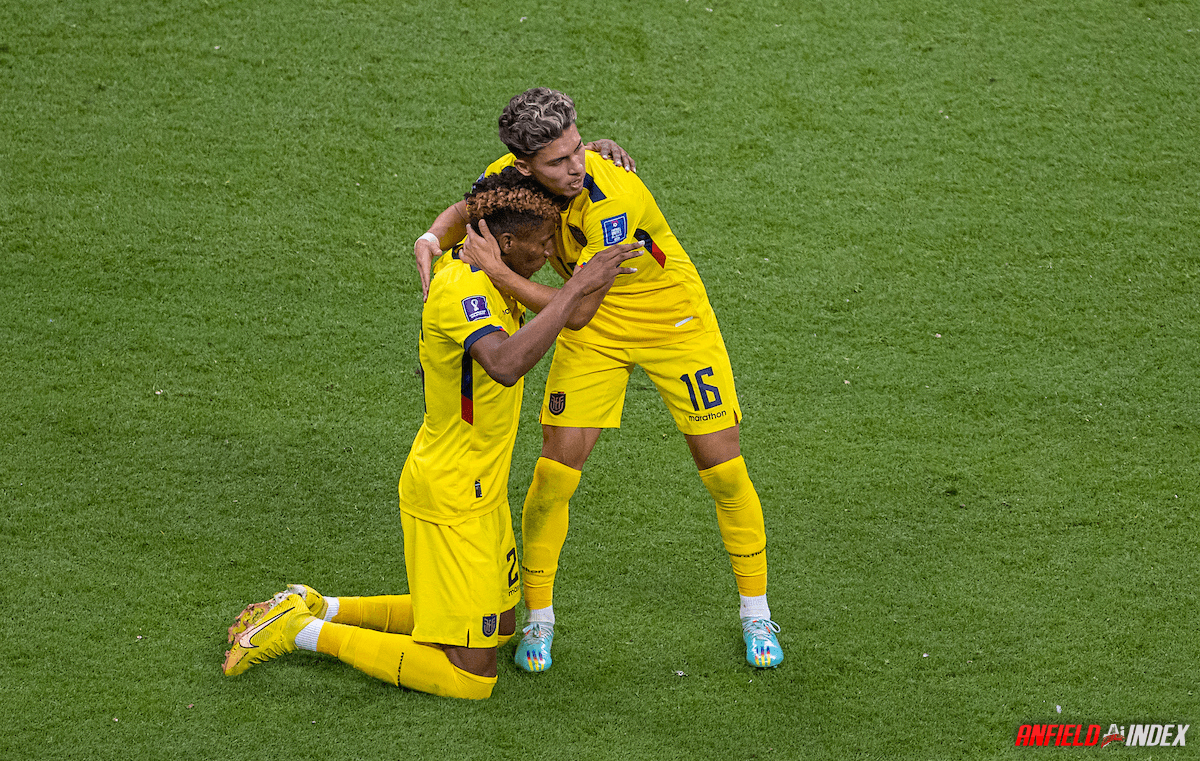 Should Liverpool sign Moisés Caicedo?
It's no secret that Liverpool is looking to strengthen its midfield. The emergency loan signing of Arthur from Juventus came after a summer attempting to sign Aurélien Tchouaméni from Monaco. Once that was made impossible by the Frenchman's move to Real Madrid, Jurgen Klopp said many times to the media that while he was happy with his options, signing a new midfielder was certainly being considered. One of those apparently looked at was Moisés Caicedo, who plays for Brighton. A report published by Sports Illustrated says the club were in for him in summer 2022, but the deal apparently fell through due to agent fees. Whatever the reason for it not coming to pass, the important thing is that it was something Liverpool wanted to happen.
The Player
So, what would the 21 year old bring to Klopp's squad? The Ecuadorian has been used as a central midfielder under Graham Potter, playing 14 times in the PL under him. Since the change to Roberto De Zerbi, this has been altered slightly to a DM in a double pivot, spanning nine PL games. In practice, however, the two roles are similar enough that this could be considered the same position. This is because the main system under Potter was a midfield diamond in which Caicedo was on the left. In many phases of play, the youngster would drop next to the pivot, forming a partnership with Alexis MacAllister. Therefore, making this partnership explicit in a 4-2-3-1 under De Zerbi provides more continuity than change. For the Reds, this matches neatly onto the left 8 position, which has been used in recent seasons as a partner to Fabinho.
Caicedo's style of play is that of an aggressive ball winner. With excellent spatial awareness and timing, he dominates the middle of the pitch to control games for his team. When Brighton reaches the final third, the 21 year old sits in the counterpressing line, reacting to loose balls and turnovers with lightning reflexes to snuff out counterattacks. In a defensive block, he has a brilliant eye for spotting tiny mistakes or hesitations from opponents as they circulate the ball and can dive in to win it when this occurs. It's easy to see how this would help the Liverpool press as an 8, seizing on the chaos caused by the team's pressing traps to generate valuable turnovers high up the pitch.

In possession, Caicedo plays a quick, up-tempo game, always looking to find small gaps from which to link and circulate the ball with short one touch passing. He primarily acts to relieve pressure, often deliberately spacing himself to draw in an opponent as he receives, then firing his one touch pass to a teammate who can play through the marker that has been drawn out of position. Stylistically, this is a good fit for the left 8 role that Thiago has mastered, although Caicedo does not yet possess anywhere near the level of range and variety that the Spanish maestro has to his passing game. There is some potential there though, with the Ecuadorian showing he has an eye for the occasional throughball or line breaking progressive pass when the right situation appears. If he could be coached to create those situations for himself as Thiago does, he could bring his possession game to the same standard as his pressing.
When looking at the stats, it is unfortunate that FBRef have recently switched to Opta as their data provider, as we no longer have access to the "passes under pressure" stat. You'll just have to take my word for it that Caicedo ranked extremely high on this when it was available. What we can still show is his emphasis on short passes (78th percentile for short passes attempted, compared to 34th and 15th percentile respectively for medium and long passes.)

The picture above shows decent but not exceptional volumes for the various types of creative pass. Given his team role, however, this is still a good sign as these totals have been achieved despite not being the team's main ball progressing plan.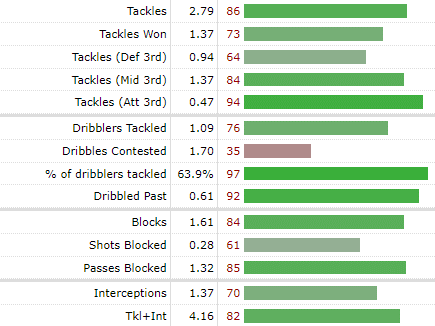 For defensive stats, the figures are very impressive. The Brighton midfielder shows high volumes across the pitch in tackles, as well as excellent efficiency. This is backed up by his excellent aerial dual rate. Statistically, Caicedo has no weaknesses to his defensive game. And yes, Brighton average 51.75% possession during his playing time, so this isn't simply a case of a player racking up volume in a small team that spends most of the match defending.

But perhaps the most revealing stats lie elsewhere, in the team performance. In the 21/22 season, Brighton averaged 1.13 points per game without Caicedo, and 2.13 points per game with him (that's 43 points vs 81 across a season, for those counting. Leicester went from 41 to 81 the year they won the title). With 8 games played, and 7.3 90s, this isn't a tiny sample, although not massive either. When asked about the impact he'd had, Graham Potter admitted that he probably should have put him in the team sooner after he returned from his loan in January 2022.
Overall, since the start of the 21/22 season, Brighton have had an xGD per 90 of 0.36 with the 21 year old in the team, and just 0.04 per 90 without. That's 13.68 vs 1.52 over a 38 game season, the difference between a 6th vs 9th placement in the 21/22, 20/21, and current 22/23 xGD standings, or 7th vs 9th in 19/20 and 17/18 seasons, or even 4th vs 10th in 18/19. In other words, Caicedo brings Brighton from a distinctly mid-table side to one with an outside chance of European qualification. In a sport like football where the impact of individual players is diminished, this is an extraordinary difference. The impressiveness of the individual statistics reflect genuine improvement at the team level, a highly encouraging sign.
The Deal
It's not clear exactly what price Brighton would be willing to accept for this move. Reports in the Daily Mirror claim that the Seagulls want £85m for him, but this is still just rumour for now. What we do know is that Brighton have driven a hard bargain on recent sales of their best players. According to Transfermarkt, the two biggest sales have been Marc Cucurella for €65.3m and Ben White for €58.5m.
Part of how Brighton chairman Tony Bloom managed this was their contracts. The Spanish left back had 3 years 10 months and 25 days remaining on his, while the English defender had 2 years 11 months. Compare this to the sale of Yves Bissouma for €29.2m, who had just 11 months 30 mays left on his contract. Despite similar success at the club, the fees negotiated were very different. Caicedo's contract expires on Jun 30, 2025, which is 2 years 6 months and 30 days from the opening of the January transfer market. As such, we can expect a fee closer to the two defenders rather than the Malian midfielder.
Is this a realistic move? Yes, because Brighton have proven that so long as the money is there, they are willing to sell players that are important to their team. So long as the Reds can stump up the negotiated price, Caicedo could be wearing Liverpool colours by February.