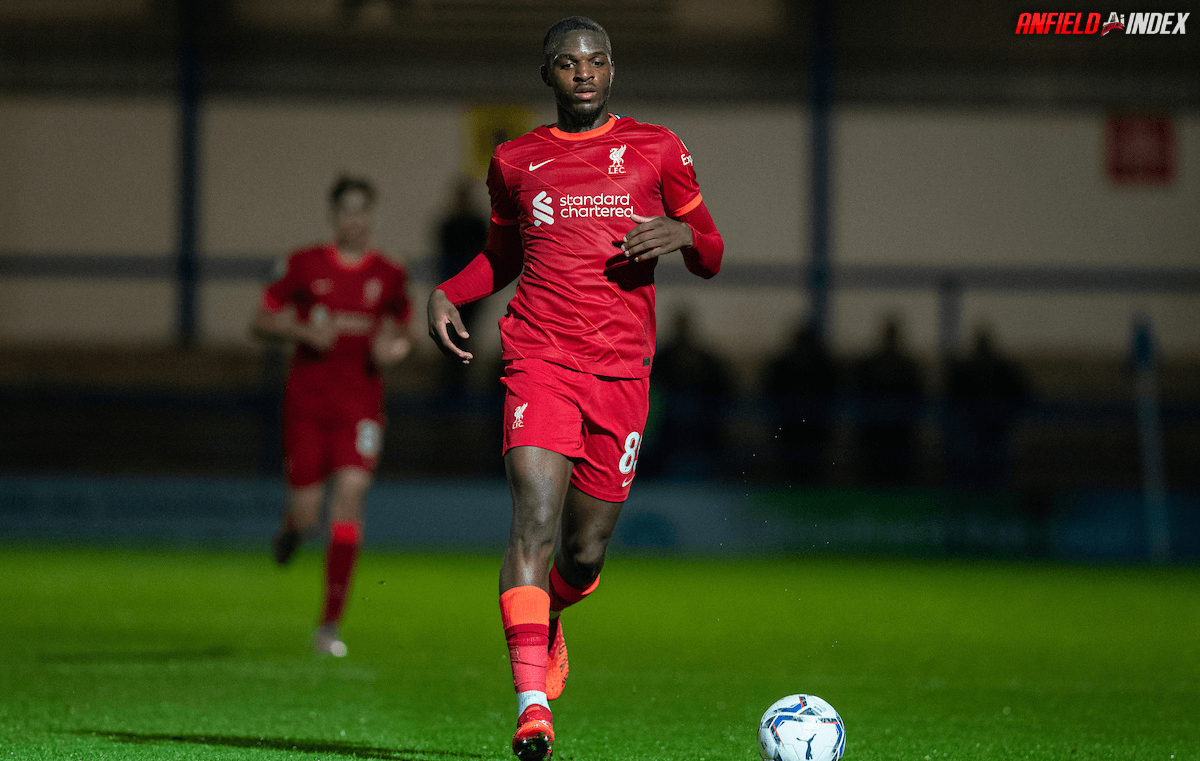 Liverpool's Loan Window In January
There's been a lot of focus on the January transfer window in the last couple of weeks, with fans demanding that Liverpool sign pretty much any man under the age of 23 who's ever laced up a pair of boots. Moses Caicedo, Enzo Fernandez, Jude Bellingham, Cody Gakpo, and Konrad Laimer are all names that have been discussed for the January transfer window. However, it's likely that most of those transfers would be rather expensive, and more likely to take place in the summer. Yet, while the spotlight is set on the big names and the big money, some other transfers can go unnoticed. Chief among those are loans, the temporary deals often reserved for young or struggling players. Loans don't often take place during January, but when they do they can be massively beneficial. See Jesse Lingard, Philippe Coutinho, and Adama Traore for examples.
January can also be a time to assess loan deals made in the summer. If a player is struggling, it might be best to recall them to Kirkby, or to recall them and then send them elsewhere. Liverpool sent 17 players out on loan at the beginning of the season, with a wide range of success. There are players with 6+ goals, a player with 3+ MOTM's in the Championship (Morton), and there are players who have played less than 10 minutes total, and a player playing for his club's B team (Koumetio). Liverpool's season hasn't been completely derailed, and the injury crisis isn't at emergency level yet, so loan signings might not be needed, but a couple sales might be, and a couple recalls definitely might be. Here we take a look at Liverpool's January transfer window in terms of loans, and a couple things that they should do.
Step 1: Recall Billy Koumetio
Billy Koumetio was last seen for Liverpool when he brilliantly set the stage for a classic Anfield comeback against Leicester in the League Cup. The above sentence could also be phrased as "He got brutally outpaced by Jamie Vardy for two goals and then he helplessly watched James Maddison bang in a third." Leicester will also presented with countless more chances which they didn't finish, until Koumetio was thankfully substituted at halftime. On that night, Koumetio completely affirmed that he wasn't ready for Premier League football, so Liverpool made the decision to send him on loan to Austria Wien for the 22/23 season.
The campaign started off all right for Koumetio, with the French centre half being presented with 5 Bundesliga appearances, and 2 Europa League Qualification starts. However, those didn't turn out too well. He played 505 minutes during that stretch, and Austria Wien conceded 15. That's averaging a goal nearly every 34 minutes, a pretty terrible rate for a centre half. As well, they only picked up 8 points from 7 games during that stretch. Since his last Bundesliga appearance, a 2-2 tie where he was substituted at halftime, Koumetio has played 12 minutes in the Europa Conference League, and he's spent the rest of his time playing with Austria Wien II in the Austrian second tier.
Koumetio may not have a future as a Liverpool centre back, or as a Premier League centre back at all. But Klopp clearly thinks he has something, and we didn't send him on loan to play in the Austrian second tier. A return to youth teams would serve his development nicely, as would a loan to a different club. He's clearly fallen out of favour at Wien, and there's no point in having him there. Calling him back offers a chance for him to grow more with the youth teams, or get a different loan, maybe to League Two, where he could get some senior minutes while not making a fool out of himself.
Step 2: No Matter What They Say, Do NOT Loan Ben Doak To Forest (Or Anywhere)
Ben Doak emerged from the unknown this year, and became a well-known name to most die-hard Liverpool fans. The 17 year old impressed with performance after performance for Liverpool's youth teams, scoring 4 goals in his first six matches with the U18's, and scoring seven minutes into his Scotland U21's debut. Klopp quickly took a liken to the Scottish winger, and he received a chance to train with the first team surprisingly quickly for a player of his age.
Doak got a chance to shine when he was brought off the bench during Liverpool's League Cup Clash with Derby. He took his chance very nicely, mesmerising the crowd with his excellent footwork and hunger to score. Doak didn't look a foot out of place during his 47 minute cameo, even looking one of the better players on the field for more of it. His impressive showing had Liverpool fans going crazy, and speculation for loan moves started almost instantly, because apparently young talented players can't stay at their club anymore. One of these leading names was Nottingham Forest, a team that's taken a liken to former or current Big Six players.
Although loaning Doak out to Forest would hypothetically result in more playing time at a senior level, it's a terrible idea. It's very likely that Doak would struggle for minutes in Nottingham as well, as he's probably not ready for Premier League football. He's still growing, he's only ever played against a League 1 team, and he's been hyped up incessantly. It's a disaster waiting to happen. We could see a loan to a lower-level team, but that doesn't fix the issue of him not being done grown. Although young players can shine on loan, he's incredibly young, and he should stay put for the remainder of the campaign. Maybe he should be sent out in the summer, but for now he belongs at Kirkby.
Step 3: Recall Max Woltman (And Than Send Him Elsewhere)
Max Woltman has made a couple of appearances for the Liverpool senior team, most notably starting the 4-1 FA Cup win over Shrewsbury back in January, or appearing in the 90th minute of a Champions League group game against AC Milan. Woltman wasn't particularly impressive in the FA Cup game, but he wasn't a weak link, and he showed some glimpses of what he can do. The young striker was most impressive for Liverpool's youth teams, having 13 goals and 6 assists through 23 games for the U18's in 20-21, while his numbers decreased slightly in 21-22, when he had 8 goals and 4 assists in 23 matches for the U23's. After the young attacker was so impressive, the Reds' staff decided it was time for Woltman to play at a senior level, so he was sent to Doncaster Rovers for the 22-23 season.
Woltman hasn't exactly had the easiest go of it at Doncaster. After a rough start, things were starting to look up under Gary McSheffrey, and he even received a full half in a game, but then McSheffrey was sacked, and Danny Schofield was hired. Schofield doesn't seem to believe in Woltman at all, and his minutes have slowly dwindled down. So far this season, the English forward has only made 8 appearances, and only played 190 minutes. He has no goals, no assists, and 2 successful dribbles all season. Doncaster has looked a bit like Struggletown for the young Red.
Recalling Woltman and then shipping him elsewhere would be the best possible move for him. Unlike Doak, Woltman is ready for first-team football, but Doncaster just isn't the spot. A different team in League Two, maybe a League One team, or a team in the Scottish/Welsh first divisions would all be great locations. Woltman staying at Liverpool wouldn't be great for him, as he has graduated from academy football, and he's not slotting into our first team. If he stays at Doncaster, he'll end up on their youth teams at this rate. The only solution to save his season is to recall him and then send him elsewhere.
Step 4: Send Back Arthur If Possible
This one could easily be debated, and is pretty much an optional step. Arthur Melo was Liverpool's emergency midfield loan signing over the summer. He played 13 minutes in a Liverpool shirt, and then injured his left thigh, which required surgery. He is now ruled out until January 8th, and with his injury history, that could be much longer. Arthur was never going to start for Liverpool if he was healthy, he would mainly serve as a rotation player. And now, Stefan Bajcetic and Harvey Elliott have both fully emerged as options that would definitely be used ahead of Arthur. By January, we expect to have Keita and Oxlade-Chamberlain fully fit, which should mean an 11th midfielder in Arthur is not required.
Although returning Arthur to Juventus probably isn't the most beneficial for his career, it's the most beneficial for Liverpool. If we can avoid paying his wages so he can play 13 minutes for the first team and full games for the U23's, that would be great. In the unlikely event that Thiago and Fabinho (or any other two midfielders) both pull up injured before January, than Arthur should stay, but if not he should go. 9 centre midfielders is great. 10 is even better. 10 plus Bajcetic is unnecessary, and too many wages.
Step 5: Recall Jakub Ojrzynski (And Immediately Send Him To Non-League Football)
Jakub Ojrzynski has never made an appearance for Liverpool at the senior level. He's currently on his second year-long loan, last year at Caernarfon Town, this year at Radomiak Radom, a first-tier Polish side. This year, he's served as a backup, only playing one game while starter Gabriel Kobylak was injured. What's the point of loaning the guy if he isn't going to play ? No one really has any idea what the Polish net minder offers between the sticks, but he clearly isn't a Liverpool level net-minder. That is, yet. What all young goalkeepers need is a bit of game-time, and Ojrzynski isn't getting it in Radom.
To avoid a promising career ending relatively early, Liverpool should recall Ojrzynski, and then immediately loan him to a non-league side. We have no idea if he'll play anywhere else, and the competition would be good to see where he's at in his development. Marcelo Pitaluga (a fellow young Reds keeper who is playing non-league football) is currently having the season of his life at Macclesfield, and he's improving every time he slips his gloves on. Not trying to replicate Pitaluga's success with Ojrzynski would just be pure stupidity. Overall, taking Ojrzynski out of the role he has in Radom, and sliding him into a starting role in a 5th or below division would be a great idea both for the club and for the young Polish keeper.
Step 6: Leave Everyone Else Where They Are
The last, and sometimes most difficult step for Liverpool in this transfer window is calling it quits. Sometimes, clubs can go over the top, and loan out too many players, or recall too many. Right now, everyone else should stay put. Besides the three above-mentioned players, everyone else is fitting in nicely at their club on loan. Tyler Morton, Conor Bradley, and Fidel O'Rourke are all excelling. Rhys Williams was struggling, but in recent weeks has seen an increase in minutes, and seen increased performance. 14 Liverpool loanees are doing well. 3 aren't. This is fairly normal, but we should address the 3 who are struggling, and look to fix it, rather than just watching.
On the other hand, Liverpool shouldn't be loaning any more players out in January. Ben Doak should stay, as covered above. Stefan Bajcetic should and will stay. He's a class midfielder who serves as a real option in the case of injuries, and his development will continue nicely as he keeps learning from Thiago and Fabinho. Bobby Clark, Layton Stewart, and Melkamu Frauendorf should also both stay. Despite having fairly average performances against Derby, both are playing well for the youth teams, and their development would be best aided by them continuing to do so. Overall, Liverpool's in a good spot with the loan situation right now, but by following these steps, they could be in a better one.