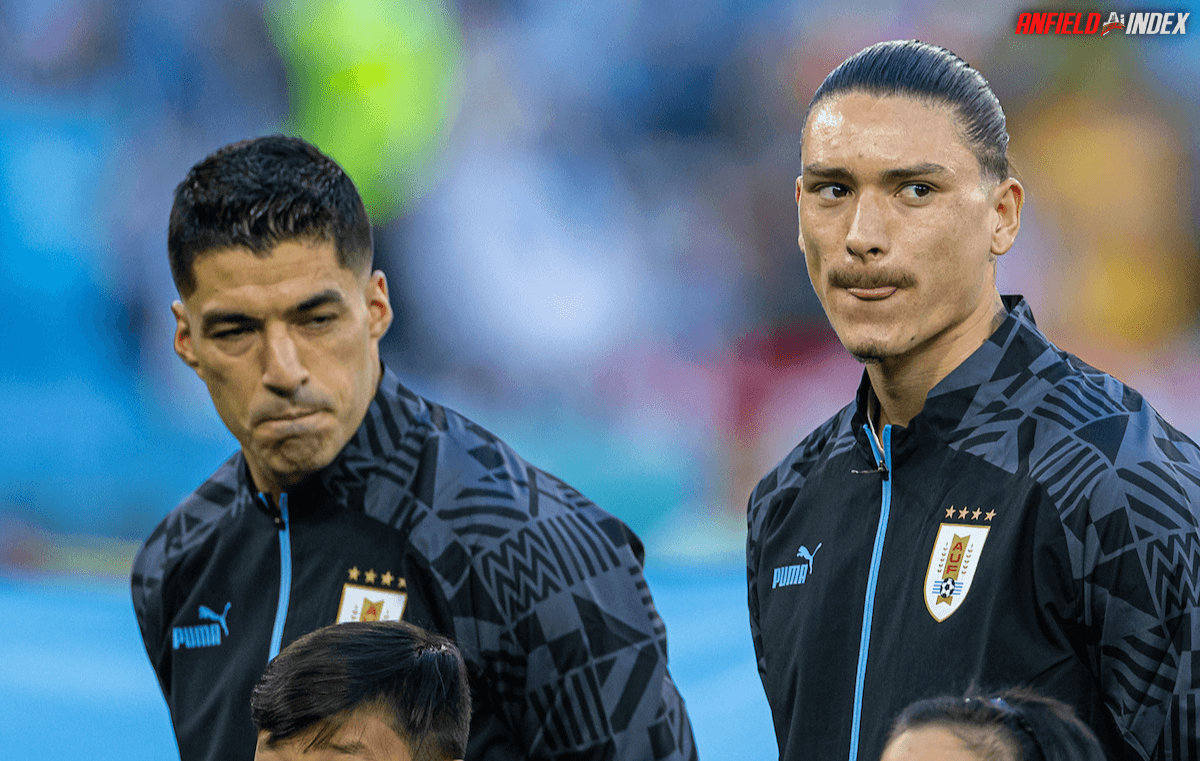 World Cup Matchday 1: Liverpool Roundup
The first 5 days of the World Cup are now complete, and there's been no lack of excitement. We've seen Qatar embarrassed in their opening match, both members of the 2014 final beaten by Asian teams, and a Keylor Navas performance so bad that Alvaro Morata couldn't make him look good. Drama has been aplenty, with the Qatar government being under constant scrutiny for decisions involving beer sales, "One Love" armbands, and more. Hidden among the chaos have been 7 Reds, who all had fairly successful first outings. Not all of them made an appearance, but all of their countries won or drew their games. 4 wins and 1 draw came from the 5 countries that brought Liverpool players to Qatar. Here we take a quick look at each Reds player in Qatar, and how they fared in their first fixture.
Monday, November 21st
Trent Alexander-Arnold and Jordan Henderson (vs Iran)
Neither of Liverpool's duo featured for Gareth Southgate's side on Monday, but it was an opening day to remember for England. The Three Lions blitzed Iran 6-2, and sent a message to the United States and Wales ahead of their upcoming matches. Hopefully a future Red, Jude Bellingham shined in midfield and opened up the scoring with a picture perfect header in the 35th minute. He was followed by Bukayo Saka in the 43rd, and Raheem Sterling in the 2nd minute of first half stoppage time. After halftime, Saka made it a brace in the 62nd before super-sup Taremi pulled one back for Iran in the 65th. From there, super-subs Marcus Rashford and Jack Grealish added to England's lead, and Taremi converted a soft penalty to make it 6-2. It was an absolutely dominating performance from England, and the bright young talent of this team shined, with Bellingham, Saka, Grealish, Rashford, Mason Mount, and Declan Rice all showing their class.
Despite Henderson and Alexander-Arnold not appearing, signs still look positive for both to make a cameo later in the tournament. Southgate didn't substitute either of his holding midfielders or his fullbacks, which means two things. First of all, it means that we don't know where Hendo and Trent stand in their respective position's depth chart. They both would likely be the first substitute based off of recent form, and we have no reason to believe otherwise. Second of all, it means that Kieran Trippier, Luke Shaw, Declan Rice, and Jude Bellingham all played 119 minutes. It's unlikely that Friday's clash with the United States will have the same drastic amounts of stoppage time, but either way it would be very physically challenging for all 4 of them to play 90+ minutes again. You should expect Trippier, Shaw, Rice, and Bellingham to all start again, but expect second-half appearances from Hendo and Trent on Friday (assuming Kyle Walker is still injured).

Virgil Van Dijk (vs Senegal)
Van Dijk was the first Liverpool player to actually touch a ball in the World Cup. He did so in a dicey 2-0 win against a Senegal side missing their main man, Sadio Mane. On paper, that's a pretty easy defensive match, but Senegal surprised everyone with a very competitive performance. Senegal were arguably the better side for most of the match, as possession was 53%-47% in favor of the Netherlands, but Senegal had 15 shots compared to the Netherlands's 10, and an xG of 0.89 compared to the Dutch number of 0.67. Senegal also won the majority of duels, however Justin Noppert was brilliant and Edouard Mendy really wasn't. After 73 minutes of even football, Cheikhou Kouyate was stretchered off after an apparent groin injury, and his absence started to turn the tide in the Netherland's favor. Until his substitution, Kouyate was brilliant, shutting down Frenkie De Jong, and picking smart passes in attack. 11 minutes after Kouyate's substitution, De Jong whipped a cross in, Edouard Mendy came out, but Cody Gakpo beat him too it and headed into an empty net. Later on, in the 9th minute of stoppage time, after Senegal threw their whole team in the box, Depay beat Koulibaly in a 1 on 1 and shot straight at Mendy, who parried directly into the path of Davy Klaassen, who tapped in the goal to seal the deal.
For the Netherlands, it was a solid performance, but trusting the other teams goalkeeper to make mistakes won't really work outside of the group stage. They need some better finishers up top, as they should have had two in the first half. A little bit of composure would go a long way here. For Van Dijk, it was……alright. He looked comfortable defensively, but 15 shots isn't a great total to allow. He looked sharp in short possession, but he was 0/7 on long balls, which is somewhat horrific by his standards. There were no real moments where he could be pegged as at fault, but there was a concentration lapse when he turned around and didn't see Frenkie De Jong's pass inside his own box. Luckily, De Jong was able to save the day with two blocks and a clearance, after which he gave Van Dijk a piece of his mind. Overall, it wasn't Van Dijk's worst performance, but definitely not his best. He'll be fine through the group stage like this, and probably fine in the Round of 16 against a US or Wales team, but this won't work much further.
Tuesday, November 22nd
Ibrahima Konate (vs Australia)
When the French squad was announced for this year's tournament, there was some surprise that Konate wasn't even included. Ibou wasn't expected to play at all, just mainly learn from the more experienced players ahead of him. However, Deschamps was very impressed with Konate in training, and he made the shocking decision to start him alongside of his former club teammate Dayot Upamecano at centre back. That wasn't the last shock of the day, as Matt Leckie flew past an injured Lucas Hernandez and than crossed to Craig Goodwin at the back post, who took the lead for Australia in the 9th minute! Benjamin Pavard was nowhere to be found ay the back post, and although Konate didn't block the cross, he wasn't really at fault for the goal. Lucas was quickly swapped out for his brother, and than France didn't take too long to march back into the game, with Adrien Rabiot equalising in the 27th. 5 minutes later, Rabiot teed up France's new all-time leading goalscorer Olivier Giroud, and all order was restored in the world. In the second half, Mbappe knocked in a beautiful header, and Giroud did the same 3 minutes later, and the match ended 4-1 to France.
Konate definitely had the more comfortable performance out of Liverpool's centre halves in Qatar. Australia only got off 4 shots, and 1 big chance (the goal), which was mostly Pavard's fault. Ibou won 100% of his duels both in the air and on the ground and won 100% of his tackles. He was credited with 14 passes into the final third. Our big centre half probably should have scored, but he did get his header on target, just straight at Matthew Ryan. Overall, it was a very positive showing from Konate and Upamecano, and you could expect this pairing to once again receive the nod on Saturday, which Raphael Varane and William Saliba would be devastated to see. Deschamps will certainly have a lot to think about in the back before France's clash with a tough Denmark side.
Thursday, November 24th
Darwin Nunez (vs South Korea)
It's Thanksgiving! To celebrate, let's talk about one man we're all thankful for: Darwin Nunez. It came as no surprise when Nunez was selected by Diego Bento for Uruguay's opener against South Korea. Unfortunately, he wasn't able to find his way onto the scoresheet, with the Group H clash ending in a scoreless draw. Nunez lasted the whole 90 minutes, as even Luis Suarez was substituted before him, but really failed to turn the tide. Uruguay hit the woodwork twice, first off of Diego Godin's header on a Federico Valverde corner kick, and then by Valverde himself on an absolute rocket from about 35 yards. South Korea were presented with the best chance of the match, when Hwang Ui-Jo fired over from about 8 yards after an excellent passage of team-play.
By Nunez's standards, his performance was pretty quiet. He only registered 34 touches, the least out of any outfield player to play 90 minutes. South Korea kept an eye on him though, fouling him thrice when he looked posed for a break. His only shot was a curling effort from the edge of the D that only missed by about a foot. Darwin won the majority of his duels and gave South Korea a tough time physically, but didn't offer much to goal or offensively. Despite the disappointing performance, Nunez's starting spot is not in question, but Uruguay will need goals from him to beat Portugal and Ghana and move on to the knockouts.
Alisson and Fabinho (vs Serbia)
Liverpool's two Brazilians had very different days in Brazil's 2-1 win over Serbia, with Alisson playing the full 90, while Fabinho didn't appear. Either way, it was a solid opening for Brazil, who mostly dominated the game, putting up 22 shots and an xG of 2.34. It did take them a while to break down Serbia's doors, but a brace from Richarlison did the trick. Alisson had a very uneventful game (no shots on target) and he was pretty solid in possession. Alex Sandro and Casemiro both hit the post for the Selecao, and Neymar was forced off with an injury, which could make Brazil's task a lot harder.
Fabinho not being used off of the bench clarifies a lot in terms of his positioning on the Brazil depth chart. Casemiro and Paqueta are clearly both being deployed ahead of him in midfield, as is substitute Fred, while his and Bruno Guimaraes placement have been unclarified. Alisson will most likely stay as the #1, because his performance today didn't reveal too much in either way. Ederson is slightly better in possession, but Alisson did well there today too. Overall, it was a very solid performance from Brazil, and one they'd like to continue to move out of the group stage