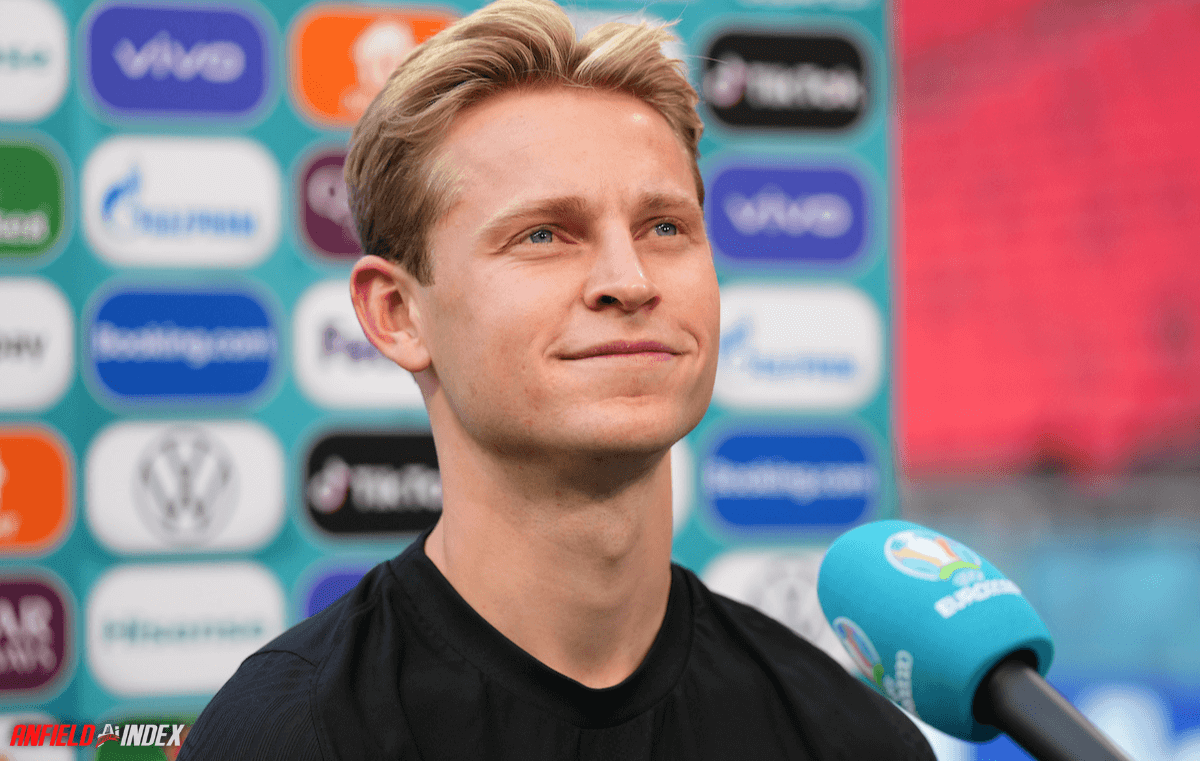 Could Frenkie de Jong be Liverpool's midfield saviour?
There have been endless reasons for Liverpool's struggles this season, but their midfield has stood out as a major problem from the moment the campaign got underway.
For a long time, the middle of the park was the Reds' most solid and underrated area of the pitch, with the headlines invariably made by everyone else in the team.
In Fabinho, Jordan Henderson and Gini Wijnaldum, Jurgen Klopp built a midfield that did its job to perfection, providing dynamism, discipline and intelligence, allowing others to be flamboyant around it.

Others were also key, from Naby Keita to James Milner, and there were rarely any question marks raised, give or take the odd performance where more guile was required.
This season, however, the likes of Fabinho, Henderson and Milner have looked years past their best and Liverpool have been painfully easy to run through.
Thiago hasn't been blameless – he is 31 and isn't exactly renowned for his pace – while the maturing Harvey Elliott has also been guilty of not doing his defensive duties well enough.
Keita, Curtis Jones and Alex Oxlade-Chamberlain's lack of availability also haven't helped and big changes are needed in the coming transfer windows.
The need for a new midfielder to arrive in January is undeniable, or next summer at the very latest, and Frenkie de Jong is the latest player to be linked with a move to Anfield.
Reports from Spain suggest that Liverpool are willing to battle Manchester United for the Dutchman's services, with his future at Barcelona up in the air.
Granted, there is a reason why Barca may not be devastated to lose the 25-year-old, but on the face of it, he looks tailor-made to be an outstanding addition to the Reds' midfield.
The first thing that springs to mind when assessing De Jong's qualities is his press resistance, with the Netherlands international possessing Thiago's ability to keep possession in tight areas.
His effortless ability to receive the ball on the half-turn is complemented by an underrated turn of pace, allowing him to break the lines with either incisive passes or silky dribbles.
This season, De Jong has completed 90.5% of his passes in La Liga, while in 10 matches in World Cup qualification for Holland, his average was an even more eye-catching 93.4%.
His game is about far more than simply being aesthetically-pleasing, however, with his off-the-ball ability something would surely appeal to Klopp.
Granted, he isn't the world's fiercest presser and he doesn't cover ground as much as someone like Moises Caicedo, but an average of 1.5 tackles and 1.2 interceptions for Barca in the league in 2022/23 shows that he can muck in defensively.
At 25, De Jong is also in the ideal age bracket that is sorely missing at Liverpool currently, with far too many players either 29 or over or under 23.
The Barca maestro would come in as someone who is both relatively young and hugely experienced at the same time, and he could be a mainstay in the middle of the park for years.
De Jong's inch-perfect assist for Cody Gakpo in Holland's World Cup victory over Senegal earlier this week summed his penchant for creating something out of nothing, and Liverpool's attackers would lick their lips at the prospect of playing with him.
It is worth stressing that he wouldn't solve everything and that another midfielder is also desperately needed – Jude Bellingham is the dream, but Caicedo would also be ideal – but he could act as a long-term Thiago replacement and also come straight in as a key man.
Players of De Jong's ilk are a rare commodity – those who are immaculate in possession, capable of opening up defences and also good defensively – so it would be foolish for Liverpool not to at least consider pipping United to his signature.
Whether or not Barca are willing to sell in January remains to be seen, but De Jong has the quality to transform the Reds' midfield between now and the end of the season, and well beyond.
Some will point towards patchy form and perhaps a failure to kick on significantly since his Ajax days, but if any manager in world football can get the best out of him, it is Klopp.
De Jong would add class, energy and depth to an area at Liverpool that looked on its last legs before the World Cup.