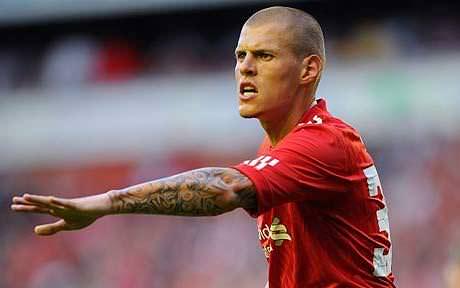 The Importance of Being Skrtel
Journey back to October 5th 2008, where Martin Skrtel sustained a severe knee injury, ruling him out for much for much of the 2008-09 season.
Now journey forward to the present day where Skrtel is a key player in a recovering Liverpool side, what has changed?
The Slovakian arrived in January 2008 from Zenit Saint Petersburg and before the start of the season, the verdict was very much out on whether to class Skrtel even had a future at the club.

Injuries and some costly mistakes in years gone by had cast doubt in the minds of Reds fans, although starting every Premier League game of the 2010-11 season showed promise for the future.
This season, Skrtel has shown a maturity we have never seen from him before, he is more responsible at the back and it now genuinely feels like he is the leader of the defence.
As shown by the graph and table above, Skrtel has shown two sides to his game, one where he commits errors at the back and the other where he is a reliable member of the defence.
Skrtel's performance this season is comparable with that of his first full season at Anfield, as he has so far played the same amount of games, conceding a similar amount of goals, with the addition of two league goals.
His impressive partnership with Daniel Agger has also limited Jamie Carragher to ten starts out of the 23 Premier League games so far this season.
Skrtel and Agger have been a key reason in Liverpool conceding just 21 goals in the league, level with Manchester United and beaten by only Manchester City, who have conceded 19 goals this season.
As shown in the table above, Skrtel has played a more prominent role in the defence and shares remarkably similar statistics to that of Vincent Kompany, who has arguably been the best defender in the Premier League this season.
One noticeable difference in Skrtel is that he is yet to commit a defensive error this season, compared with Laurent Koscielny, Per Mertesacker and John Terry, who have all committed three apiece.
Another alteration in Skrtel's game is that he looks more of an attacking threat this season, particularly from set pieces, where he has scored twice from corners against Bolton and Aston Villa, equalling his tally of his two goals from last season.
Is this simply down to better quality deliveries, or is it because Skrtel is attacking the ball with more intent this season?
As demonstrated by Daniel Agger's header against Manchester United in the FA Cup last weekend, power is not everything, you also need the strength and aerial ability to make the most of a good set piece delivery.
Skrtel has added this attacking nous to his arsenal and his game is better for it and in general play he appears to be more confident and comfortable on the ball.
Although Agger is considered the better passer and mover of the two, Skrtel does have it in him to take the game to the opposition himself, but thankfully knows his limits and is content with allowing Agger to carry and use the ball more often than not.
The improvements made to his game will benefit Skrtel and Liverpool in the years to come, as it seems that now the Slovakian is a solid base in the centre of defence.
The nervy moments of Skrtel grappling with an opposition player in his own penalty area are largely gone and instead the Anfield faithful look on with pride as they watch a previously irrational Slovakian defender mature into one of the best defenders in the league.