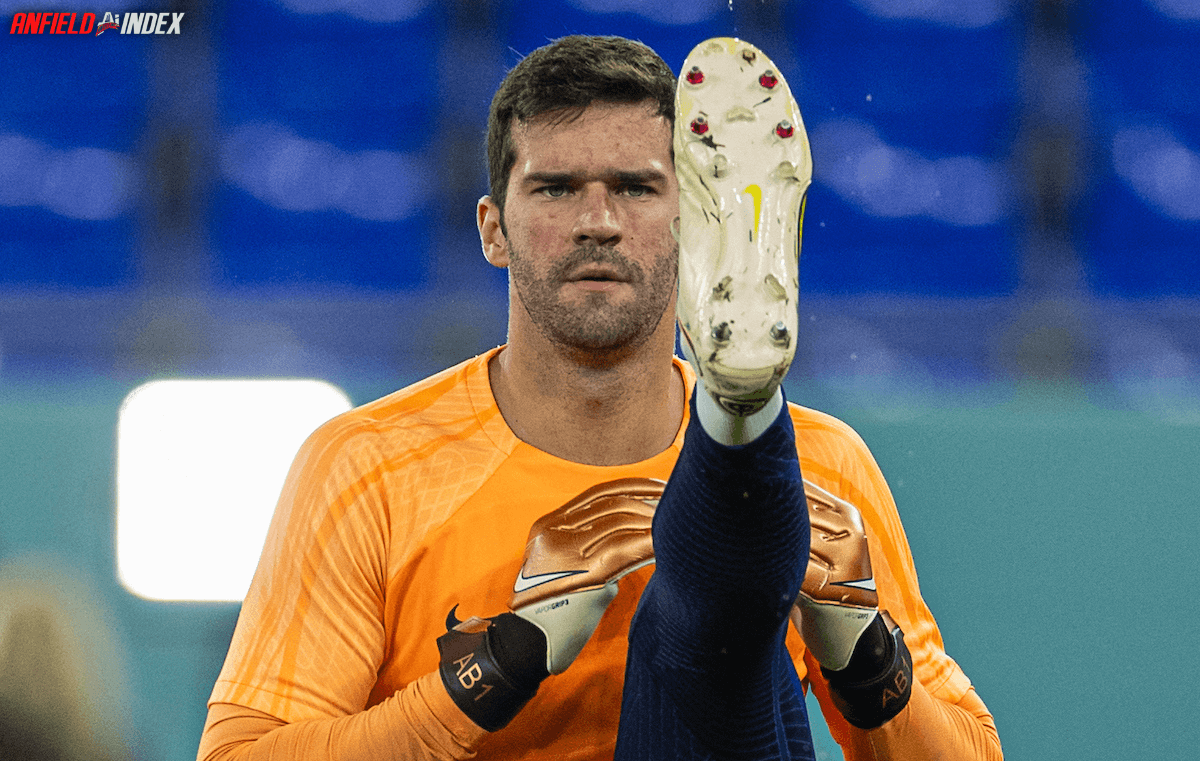 Liverpool World Cup Watch: Matchday 2
Time flies by. Each team in Qatar has already played two matches, and some fates have already been decided. Qatar and Canada crashed out early while England and Brazil are now guaranteed a spot in the knockout stages. Ghana bested South Korea in a Match of the Tournament contender, while the US held England to a dreadfully boring stalemate. 7 Liverpool players remain in Qatar, and all of them thankfully remain fully fit and healthy. During Matchday 2, 5 of our 7 Reds saw the field, while 2 remained unused substitutes. It once again looked like there was potential for the 5 countries featuring Liverpool players to go undefeated, but Darwin Nunez and Uruguay lost to Portugal in the last match of Matchday 2.
Friday, November 25th
Virgil Van Dijk (vs Ecuador)
After a win over Senegal in Matchday 1, Van Dijk and the Netherlands looked to repeat that success in their second game against Ecuador. Van Dijk unsurprisingly started and played the full 90, flanked by Nathan Ake and Jurrien Timber in defence. Louis Van Gaal's side got off to a perfect start in the 6th minute when Cody Gakpo finished off Davy Klaassen's through ball with a picture-perfect lefty strike. The Dutch side clung on to their lead into the break, only surviving due to a somewhat-questionable offsides call that ruled out a Pervis Estupinan goal. However, the second half was all Ecuador, and only 4 minutes after the break, Enner Valencia equalised, with Van Dijk once again too passive on the shot. Despite Valencia hitting the bar, the score remained even for the rest of the road, and both teams emerged from a gruelling match with a point.
Van Dijk once again didn't put on his best performance on the global stage. The big centre half was square in the middle of the back 3 for the Netherlands, but he wasn't able to turn the tide back in the favour of Les Oranjes. Ecuador recorded 15 shots and an xG of 1.68, while the Netherlands only had 2 shots, with an xG of 0.1. It's very likely that without Gakpo's rocket, Ecuador would emerge from this game with all 3 points. Virgil also wasn't at his best for Enner Valencia's goal, as he contained for too long and didn't step, which resulted in him pretty much watching as Valencia slotted it into the bottom left. The performance won't change Van Dijk's standing in this team, and it won't affect the Netherlands moving on, so it's not the end of the world. Van Dijk is presented with a great opportunity for an easy defensive game against Qatar on Tuesday, which should serve as a warm up for the knockouts. If the Netherlands beat Qatar, they are pretty much guaranteed to top their group (barring some freaky goal differential situations), where they would most likely face the US or Iran in the Round of 16.
Trent Alexander-Arnold and Jordan Henderson (vs United States)
England were on a high after a massive trouncing of Iran, but that all came to an end against the United States. Gregg Berhalter's men completely stalemated the Three Lions, and even outplayed them at some stages, leading to a 0-0 draw. During one stage in the middle of the second half when the US was in complete control, Jordan Henderson was sent into the fray for the last 22 minutes. Hendo was sent in as an attempt to control a stretched game, and he actually did that quite well. Trent Alexander-Arnold was not injected into the match, a decision that received a lot of criticism on social media later this week. The only real highlights of the match were Christian Pulisic's rocket off of the crossbar, as well as close-range blasts over the top from Weston McKennie and Bukayo Saka. England will be happy because they've moved on, but also won't be happy with the performance.
Henderson was able to accomplish his mission of calming the game down. Hendo had a nearly-perfect pass completion percentage, while his tackle success rate and his duel win rate were both perfect. The Three Lions were able to turn the tide fairly well with our skipper in place of Bellingham. However, Bellingham had a fairly solid appearance, and Declan Rice will almost certainly retain his starting spot. Our fearless leader maybe could have a shot at starting in a fairly meaningless game against Iran, but I would expect him to appear off of the bench in the knockout stages. Meanwhile, Trent's chances of working his way into the team seem to be increasing. After Kieran Trippier had a sub-par game against the US, and England severely lacked creativity in that game, cries for Trent and Phil Foden to start greatly increased. I doubt Southgate checks his Twitter timeline when he picks his lineup, but Trent starting against Wales might be a pretty safe bet. It's an opportunity to test him in the World Cup with no consequences if he butchers it, and if he doesn't, England might have found themselves a new right-back. Either way, the Three Lions are now officially into the knockouts, and a win against Wales would determine a first-placed finish, where they would meet the winner of Senegal vs Ecuador in the Round of 16.
Saturday, November 26th
Ibrahima Konate (vs Denmark)
After a 4-1 win against Australia, France were hoping to build on their success against Denmark. However, a couple changes would have to be made to the team sheet. Benjamin Pavard was replaced by Jules Kounde due to Pavard being terrible at football. Theo Hernandez replaced his brother Lucas due to injury. And lastly, Raphael Varane returned from injury, meaning one of Dayot Upamecano and Ibou would have to be sacrificed for the Denmark match. The Liverpool centre half was the man benched, with Upamecano remaining in the first team after an impressive display on the ball against Australia. However, Konate still appeared in the 76th minute to replace a not fully fit Varane, picking up 14 minutes to close out the game. The game itself started off bland, but picked up in the second half when Kylian Mbappe opened up the scoring in the 61st minute. However, the Danes fought back, with Andreas Christensen equalizing in the 68th. That set the stage for Mbappe to complete his brace and move France to the knockout stages in the 86th minute when he converted Antoine Griezmann's cross.
Konate was pretty rock-solid once he entered the fray, winning all of his duels and completing over 90% of his passes. Denmark didn't create any chances in the last 15, as Konate and Upamecano kept the game mostly on the Denmark half of the pitch. This performance leaves Deschamps with a tough decision to make on Wednesday against Tunisia. With France having basically clinched the top spot of Group D, will he play a returning Varane and risk re-injury, or stick with Konate? Could we see a complete shake-up in the back, with Pavard returning and Upamecano being rested? There's no shortage of defensive options for Deschamps, but he might want to use them wisely. In the Round of 16, Les Blues could face any of Argentina, Mexico, Poland, or Saudi Arabia. Argentina and Mexico would be tough draws, but Saudi Arabia and Poland would be favorable matchups. With this information in mind, Deschamps has quite the decision to make, and there's no telling if we will see Ibou on Wednesday or not.
Monday, November 28th
Alisson and Fabinho (vs Switzerland)
During Brazil's win over Serbia on Thursday, Alisson played the full 90 between the sticks, and Fabinho was an unused substitute. That was expected to remain the same for Monday's matchup against Switzerland, and indeed it did. Brazil beat Switzerland 1-0, with Alisson having a fairly routine 90 in goal, and Fabinho having a fairly stressful 90 on the bench. The Selecao thought they took the lead in the 64th minute when Vinicius slotted a composed finish behind Yann Sommer, but VAR ruled that Richarlison was offside in the buildup. From there, it looked like Switzerland might be able to cling onto a point, but Casemiro finished off an excellent team move with a brilliant half-volley, assisted by Rodrygo. The win sends Brazil into the knockout stages, and most likely into 1st in Group G.
Alisson wasn't forced into any saves during the 90, as all 6 of Switzerland's shots missed the target. He was pretty useful in possession, and his long balls were pretty accurate. Our 2020-21 season hero will most likely remain in goal for Brazil. However, a fairly meaningless game against Cameroon is next, and maybe Tite will decide to rest Ali for the knockouts, and give Man City's Ederson a shot instead. On the other hand, it doesn't look like Fabinho will see the field anytime soon. Casemiro, Lucas Paqueta, Fred, and Bruno Guimaraes are all being used ahead of him in midfield. Maybe Fabinho could get his shot in the unmeaning match against Cameroon, but Tite has made it clear that Fabby won't see the field in important games. Assuming they top their group, Brazil could go on to face any of South Korea, Uruguay, or Ghana in the Round of 16. There's no doubt that the Selecao will be hoping it's not Uruguay, but a Darwin vs Alisson World Cup matchup could be fun to watch from a Liverpool point of view.
Darwin Nunez (Uruguay)
Speaking of the devil. Uruguay were looking to improve on their draw against South Korea in a massive game against Portugal. Nunez was the constant up top, with Luis Suarez being replaced with Edinson Cavani. However, the change didn't result in any more goals for Uruguay, as Portugal came out on top 2-0. Nunez and Cavani were both replaced in the 72nd minute as time ran down, but Suarez and Maxi Gomez were unable to change the equation up top. A Bruno Fernandes brace did the trick, with his first coming 9 minutes after the break, and his second coming on a dicey penalty call in the 93rd minute. Uruguay now face Ghana in a must-win game on Friday, otherwise Darwin will see his World Cup dreams end abruptly.
In terms of Darwin's performance, it was another pretty quiet one. He only won 1 out of his 7 duels, only took 1 shot (a weak effort straight into the arms of Diogo Costa from about 30 yards), and only got 29 touches in 72 minutes. To be fair, that's more of a sign of Portugal dominating, as his partner in crime Cavani only registered 21 touches, while Portuguese attackers Cristiano Ronaldo and Joao Felix registered 50 and 47 in 80 minutes. This leaves Diego Alonso with a nearly impossible decision to make on Friday: Which 2 of the 3? Nunez has been abysmal, while Suarez and Cavani have also been fairly quiet. No one's spot is guaranteed for Uruguay on Friday, but I think the most likely pairing is Suarez and Nunez, given Suarez's experience in big games, and Nunez's speed and threat on the counter. However, a Suarez and Cavani partnership wouldn't be a surprise, and the same goes for Cavani and Nunez again. Either way, it's a must-win for Uruguay against Ghana, and if they do so they would face France in the Round of 16. So either way, it's likely Nunez will find himself in Dubai in the next two weeks.