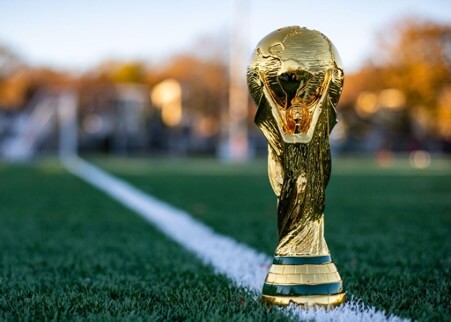 Liverpool alumni at the World Cup
Every Current & Former Liverpool Player at this World Cup
Much like every other World Cup in recent history, Liverpool has a large contingent of current and former players booting up for their countries. From former stars to fringe players, this World Cup has them all.
If you're a big fan of Premier League betting, there are certainly some names on this list that may have won you a bet or two in the past.
Virgil van Dijk
The big Dutchman is playing in his first international tournament for his country. He has been a stalwart for his club since joining in 2018 and is hoping to take the Oranje to their first-ever World Cup win, a title the squad most definitely deserves.
Trent Alexander-Arnold
TAA hasn't been in his best form of late, but there is no way he could be left out of the England squad. His ability with the ball at his feet is unquestionable, and his passing and crossing prowess is sure to come in handy when Gareth Southgate's men need a goal.
Fabinho
Part of arguably the strongest side in the competition, midfielder Fabinho is a brick wall in the middle of the park. His eye for a pass and his defending strength will be the glue that keeps the Brazilian midfield together.
Allison
Allison and Ederson are easily two of the best keepers at the tournament, and if Brazil is hoping to go all the way, Allison is going to be integral. His shot-stopping is incredible, and you would be hard-pressed to find another keeper who is as cool under pressure.
Darwin Nunes
Darwin Nunes is slowly starting to prove his doubters wrong, and this World Cup can be his time to shine. Playing alongside greats like Luis Suarez and Edinson Cavani will create a deadly trio that can easily shock the football world.
Ibrahima Konate
Konate will have some serious competition at the back for France, but he is precisely the kind of defender you want when you need to shut attackers down. His strong and ruthless defending style can be the difference maker when France needs it the most.
Conor Coady
The current Wolves captain didn't get the chance to shine at Liverpool, but his move to Molineux has proven fruitful. He is calm and collected, and while the English defense is stacked, he has proven to be a reliable brick in the defensive wall.
Raheem Sterling
Liverpool fans will be all too familiar with Sterling's abilities. He was a goal machine in Merseyside, carried that into Manchester, and is now plying his trade at Chelsea. When it comes to English strikers who can score on command, there are few better than Raheem Sterling.
Danny Ward
Ward may have only played two games for Liverpool and has continued his career as a backup keeper, but he is still world-class. Wales is going to struggle against the bigger teams, but knowing Ward is on the bench if needed adds a level of security they will definitely need.
Harry Wilson
Wilson is another player that couldn't break into the Liverpool team, but he was incredible at Bournemouth and is currently shining at Fulham. The winger can be the perfect companion for the likes of Gareth Bale and co.
Neco Williams
Neco Williams has been one of Nottingham Forest's best players this season, and the young defender is hoping to continue that form in Qatar. He played well against the USA but will have to step up to the plate as the tournament continues.
Joe Allen
Allen was part of the less-than-impressive Liverpool team in the mid-2010s, but a move to Stoke reignited that fire that caught the eye of Merseyside to begin with. He may struggle for game time due to his age, but he is a much-needed source of wisdom in the locker room.
Takumi Minamino
Minamino had a decent start for Liverpool, but with too much competition, he has now found himself at Monaco. The Japanese midfielder has already scored for his club, and with Japan needing all the help they can get, they will need Minamino to be in form.
Simon Mignolet
Simon Mignolet was a long-standing keeper for Liverpool, spending almost seven years at the club. The Belgian now plays for Brugge, and while Thibault Courtois may be Belgium's number 1, Mignolet may still be needed in a penalty shootout or two.
Dejan Loveren
Lovren had a strong six years with Liverpool, but when he became surplus to requirements, he joined Zenit St. Petersburg. The CB played well against Morocco, helping Croatia keep a clean sheet, and they are hoping he will do more of the same throughout the tournament.
Marko Grujic
Gruijic only played eight games for Liverpool, but his midfield magic has found him doing relatively well at Porto. Considering they are touted as being one of the two teams that go up from their group, they will need Grujic to be at his best.
Xherdan Shaqiri
Shaq had cult status at Liverpool, being viewed in the same way Divock Origi was. He was the player you bought on to score a goal or make something happen; considering he does the same for Switzerland, he can easily have a fantastic World Cup for his country.
Sebastian Coates
Coates was another player who was part of the recent "dark times" at Liverpool. He has found his feet again at Sporting CP and is a player who is just as strong from the start or from the bench.
Luis Suarez
There is nothing you can say about Luis Suarez that hasn't been said before. One of the best Premier League and Liverpool players of all time, the Uruguayan is an absolute master at scoring goals.
As mentioned before, his connections with Nunes and Cavani can be deadly for Uruguay and considering this could very easily be his last World Cup; he will be looking to go out with a bang.