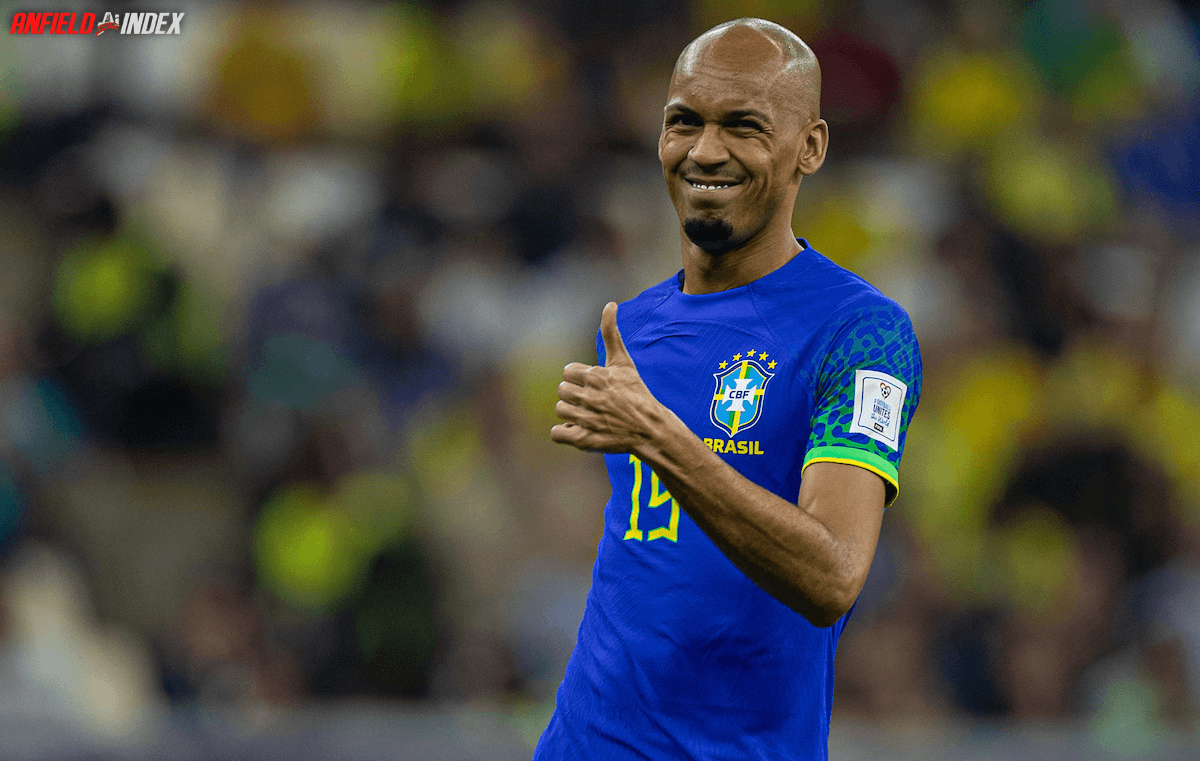 Liverpool - World Cup Round of 16 Preview
Time really flies when you're having fun, and so does the 8 minutes of stoppage time when any country is trailing in the World Cup. The group stage is now all wrapped up in Qatar, and it's certainly been full of surprises. Australia, South Korea, Poland, and Morocco all surprised the world and got out of their groups, while big names Belgium, Germany, Mexico, and Uruguay are all heading home. 7 Liverpool players hopped on a flight to Qatar, all 7 played at least once, but only 6 remain now. While Darwin Nunez will be joining the Reds in Dubai, 6 of Klopp's lads face massive games in the next couple days. 16 teams remain but only 8 will come Tuesday evening. From a Liverpool fan's perspective, here's everything you need to know
Virgil Van Dijk (vs USA)
How'd The Group Stage Go?
The Netherlands had the luxury of being almost guaranteed a spot in the knockouts after the 1st game, when they beat Senegal 2-0. From there, Les Oranjes drew Ecuador 1-1 and beat hosts Qatar 2-0, securing their place at the top of Group A. However, the scorelines don't tell the whole story, as Senegal and Ecuador both completely outplayed Louis Van Gaal's side. Frenkie De Jong has looked excellent in midfield, and Cody Gakpo has shined up top, but they seem somewhat alone. Van Dijk's been fine in defence, but he could easily be blamed for Enner Valencia's goal in the Ecuador draw. Overall, the group stage went well enough, but the Netherlands definitely aren't shining.
Will He Play?
Short answer: Yes. Despite mediocre form, our big centre half played every single minute of the Dutch group stage campaign, and there's no reason to think Van Gaal will switch it up. The Netherlands will stick with their trademark back 5, and Virgil will play in the middle, flanked by Nathan Are and Jurrien Timber.

Match Overview/Will They Advance?
After finishing top of Group A, the Netherlands were set to play the second-placed team in Group B. That team turned out to be the polarizing USA, led by youngsters Christian Pulisic, Weston McKennie, and Tyler Adams. The US drew Wales, drew England, and beat Iran, which isn't outstanding on paper, but the way they outplayed England could strike fear in the hearts of the Dutch. The US midfield might be enough to silence De Jong, with McKennie, Adams, and 20 year old Yunus Musah all starting so far. Tim Ream and Michael Carter-Vickers/Walker Zimmerman might not inspire confidence, but Gregg Berhalter's side have yet to concede from open play. However, the big question is in the Americans attack, where Christian Pulisic and Josh Sargent are both questionable. If that duo plays, it's gonna be a tough task for Van Dijk and co, however if Captain America and Sargent Slaughter are absent, the States could find scoring to be a major problem.
Authors Prediction:  US 2-1 Netherland if Pulisic and Sargent healthy (Gakpo, Pulisic, Aaronson)
US 0-0 Netherlands (2-4 on PK's) if Pulisic and Sargent out
Players To Watch
For the Netherlands, it's most certainly Cody Gakpo. PSV's youngster has 3 goals in 3 games, and his pace could prove to be a major problem for Berhalter's defence. Gakpo has yet to play and not score in Qatar, and that streak will be tested on Saturday. On the States side, it's Weston McKennie. Adams and Musah have both shined in midfield against England and Iran respectively, now it's McKennie's turn. Despite carrying a quad injury that has seen him substituted 75 minutes into all 3 group games, the US will need an outstanding performance from McKennie, and they will hope he can last the full 90 (and change).
Where and When
Saturday, December 3rd, 1:00PM GMT, Khalifa International Stadium
Ibrahima Konate (vs Poland)
How'd The Group Stage Go?
France's journey in Group D was filled with ups and downs. A 4-1 over Australia followed by a 2-1 win over Denmark had them on top of the world, but a 1-0 loss to Tunisia when Deschamps started his B squad brought them right back down to Earth. Konate himself has been excellent, impressing in the Australia match before being absolutely brilliant in the loss to Tunisia. For France, Kylian Mbappe and Antoine Griezmann have both impressed in attack, but the defence has been an issue, as they've yet to play a match without conceding. Theo Hernandez has shined on the left side of defence, but the right side is a massive question mark, with Benjamin Pavard and Jules Kounde both struggling.
Will He Play?
This one's really up in the air. Konate was excellent against both Australia and Tunisia, while his former teammate Dayot Upamecano has also shined. Raphael Varane has been less good than the other two, but he offers the most experience in a knockout match, especially against a seasoned striker such as Lewandowski. That leaves Deschamps with a decision to make, as he can likely only play 2 of his 3 main defenders. Another option would be to deploy Upamecano on the right side in place of a struggling Pavard, and than run Konate and Varane through the middle. As much as Konate's physicality and speed offer against Lewandowski, Varane's experience could be a safer pick. If I was Deschamps, Konate would be starting, but I'm not, and no one knows.
Match Overview/Will They Advance?
Finishing top of Group D left France with Poland, who beat out Mexico thanks to Salem Al-Dawsari, who missed a penalty against Poland and scored a consolation goal against Mexico. Poland got through the group stage by beating Saudi Arabia, drawing Mexico, and losing to Argentina. Wojciech Szcesny has been absolutely heroic, facing an xG of 6.14 but only conceding twice, saving two penalties in the process. Star man Robert Lewandowski has been below his standard, missing a penalty and only scoring a 1 on 1 against Saudi Arabia. Poland's midfield has been a massive question mark, they've only scored twice, and their defence has also been troubling, conceding twice and conceding two penalties. Kylian Mbappe should have a field day, and France shouldn't have too much trouble with this Poland squad, but you can never be too sure with Lewandowski on the pitch.
Authors Prediction: 4-1 France (Mbappe, Lewandowski, Griezmann (PK), Mbappe, Hernandez)
Players To Watch
On Poland's side, keep a look out for Piotr Zielinski. The Napoli midfielder scored a rocket against Saudi Arabia, and has played pretty well in all 3 of Poland's group games. The Eagles will require a big game from him if they're to pull off a stunner against France. On France's side, Theo Hernandez is definitely one to watch. He's played two games, and provided two assists, as well as being proficient defensively. The Milan left back has stepped up in the wake of his brother's injury, and been one of France's biggest players so far. He'll play a key part in Sunday's match.
When and Where
Sunday, December 4th, 1:00PM GMT, Al Thumana Stadium
Trent Alexander-Arnold and Jordan Henderson (vs Senegal)
How'd The Group Stage Go?
England's group stage started off strong with a 6-2 win over Iran, which was followed by a 0-0 stalemate with the US, and a 3-0 win over Wales. Overall, Southgate's squad looked pretty good, with impressive depth in attack, a rock-solid midfield, and a defence that's coming along nicely (I refuse to further compliment Harry Maguire and Luke Shaw). Hendo came on as a substitute against the US and played nicely, before starting and playing well against Wales. Trent only appeared as a substitute vs Wales, but played with more confidence defensively than we've seen from him in a little while. The Three Lions look pretty good, with group stage stars like Jude Bellingham, Bukayo Saka, and Marcus Rashford leading the charge.
Will They Play?
If Trent plays, something's gone very wrong inside the England squad. Despite some protests from fans, the Scouser has been clearly used as England's third-choice right back, behind both Kyle Walker and Kieran Trippier. Assuming England sticks with their back 4, it seems unlikely that they see injuries to two right backs. However, if Southgate switches to a 5-2-3, we could very well see Trent off the bench, as Walker would most likely be deployed as a centre back. Trippier can play both sides, which means a knock to either Trippier or Shaw in a back 5 would mean Trent gets some time. On the other hand, it's likely that Hendo will be used as a sub. If England are up a goal (which is likely to happen) he serves as great fresh legs in the midfield. Bellingham and Rice are young, but they can't run forever, and our skipper has been made the clear third midfielder. In an unlikely turn of events that would see Southgate play the 4-3-3 that was used against Wales, we could even see Hendo in the starting XI, but that seems improbable.
Match Overview/Will They Advance?
England finishing top of Group B means they play Senegal, who narrowly beat out Ecuador for the second spot in Group A. Senegal was fairly impressive throughout the group stage despite missing Sadio Mane, first outplaying the Netherlands but heartbreakingly losing after a shocking performance from Edouard Mendy, than beating Qatar and Ecuador to seal a spot in the Round of 16. Senegal's midfield looked impressive, but that won't be a concern for England. Cheikhou Kouyate starred in the 1st match against the Netherlands, pocketing Frenkie De Jong, but he was ruled out of the tournament with an ankle injury shortly after that game. Idrissa Gueye has looked impressive throughout the group stage, but he picked up his second yellow of the tournament against Ecuador, meaning he's suspended. That leaves Nampalys Mendy and Papa Gueye, who have both been solid but not nearly as impressive as the other two. Senegal's pacy attack has looked dangerous, with Ismailia Sarr and Boulaye Dia both impressing so far. However, the defence has been an issue, as Kalidou Koulibaly has looked alone at times, and Edouard Mendy has been somewhat problematic in goal. Overall, the Senegal side could be dangerous, but it's gonna be tough for them without Kouyate, Gueye, and Mane. England should be hoping to advance without too much drama
Authors Prediction: England 3-1 Iran (Kane, Saka, Sarr, Rashford)
Players To Watch
While watching the Three Lions, one should always keep an eye on Marcus Rashford. The Red Devil now has 3 goals in 3 games, including a brilliant free kick against Wales. Whether he starts or appears off the bench, Rashy is dangerous. He scored in his first touch against Iran, and it's possible he does just that on Sunday. You shouldn't be the only one keeping an eye on Rashford, as Youssouf Sabaly definetely needs to be doing just that. Speaking of Youssouf Sabaly, he's our player to watch for Senegal. A quick, smart, and experienced right back, he's been a rare positive in Senegal's defence throughout the group stage. If Senegal has any hope of shutting down England, he needs to be able to stop Rashford or Sterling, and be able to provide a threat going forward as well.
When and Where
Sunday, December 4th, 7:00PM GMT, Al Bayt Stadium
Fabinho and Alisson (vs South Korea)
How'd The Group Stage Go?
Brazil's group stage went really well, until they decided to play their B team. Having already clinched top of their group after a 2-0 win over Serbia and a 1-0 win over Switzerland, Tite drafted an XI with 9 players changed, Eder Militao and Fred being the only starters from the games before. The new squad lost 1-0 to Cameroon after Gabriel Martinelli and Bruno Guimaraes both displayed shocking finishing. Overall, the group stage went fine for the Selecao, but they lost their main man Neymar to injury, and it now seems like Alex Telles and Gabriel Jesus will both be absent for Monday's match. Richarlison and Casemiro both shined, and Alex Sandro and Vinicius proved a dynamic duo down the left wing. The defensive pairing of Thiago Silva and Marquinhos didn't allow a single shot on Alisson in the first two matches, which left our keeper very bored between the sticks. Finally, Fabinho didn't play until the Cameroon match, but he was one of Brazil's better players during that 90.
Will They Play?
Alisson started against Switzerland and Serbia, and he will be expected to start on Monday, unless Tite pulls a fast one on us. Fabinho is very unlikely to play. Casemiro, Fred, Lucas Paqueta, and Bruno Guimaraes are all being used ahead of him in the midfield, and it's unlikely that Tite requires the services of 5 centre midfielders. However, Fabinho did outshine Fred against Cameroon, so maybe there is an off-chance we could see our destroyer in midfield. It's also possible Fabinho appears at left-back, with Alex Sandro and Alex Telles both potentially missing, which could see Fabinho moved into a familiar role for his national team. However, Fabinho is significantly slower than he's been in past years, which could mean Tite will look for a different face to cover the Alex's in the back.
Game Overview/Will They Advance?
Despite the Cameroon loss, Brazil finished top of Group G, which means they will face South Korea, who shockingly beat out Uruguay for the second slot in Group H. South Korea looked solid in their group, drawing Uruguay before losing a heart-breaker to Ghana and than beating Portugal. Cho Gue-Sung and Hwang Hee-Chan have both impressed in front of goal, while Son Heung-Min has been dangerous, providing assists, but yet to score. It's probably only a matter of time before Sonny finds the back of the net, which has to be making Brazil somewhat nervous. South Korea's defence isn't phenomenal, which Brazil could look to capitalise on, and their midfield is particularly weak, which could prove costly against Tite's side. Brazil are expected to and should move on without much trouble, but the injury crisis could become a problem later on in the tournament.
Author Prediction: Brazil 4-1 South Korea (Paqueta, Neymar, Richarlison, Vinicius, Son)
Players to Watch
For South Korea, this one's fairly obvious. Don't take your eyes off of Son Heung-Min. A winger of his quality running at a potentially weak left back in the absence of Alex Telles and Alex Sandro can only mean trouble. If anyone's gonna change the game for South Korea, it's going to be Son. Meanwhile, Vinicius might just be the game changer for Brazil. He's been dangerous all tournament, creating chances and providing assists, but he's yet to score. It's only a matter of time, and he has a great chance to get his goal against a weak South Korea backline.
When and Where
Monday, December 5th, 7:00PM GMT, Stadium 974