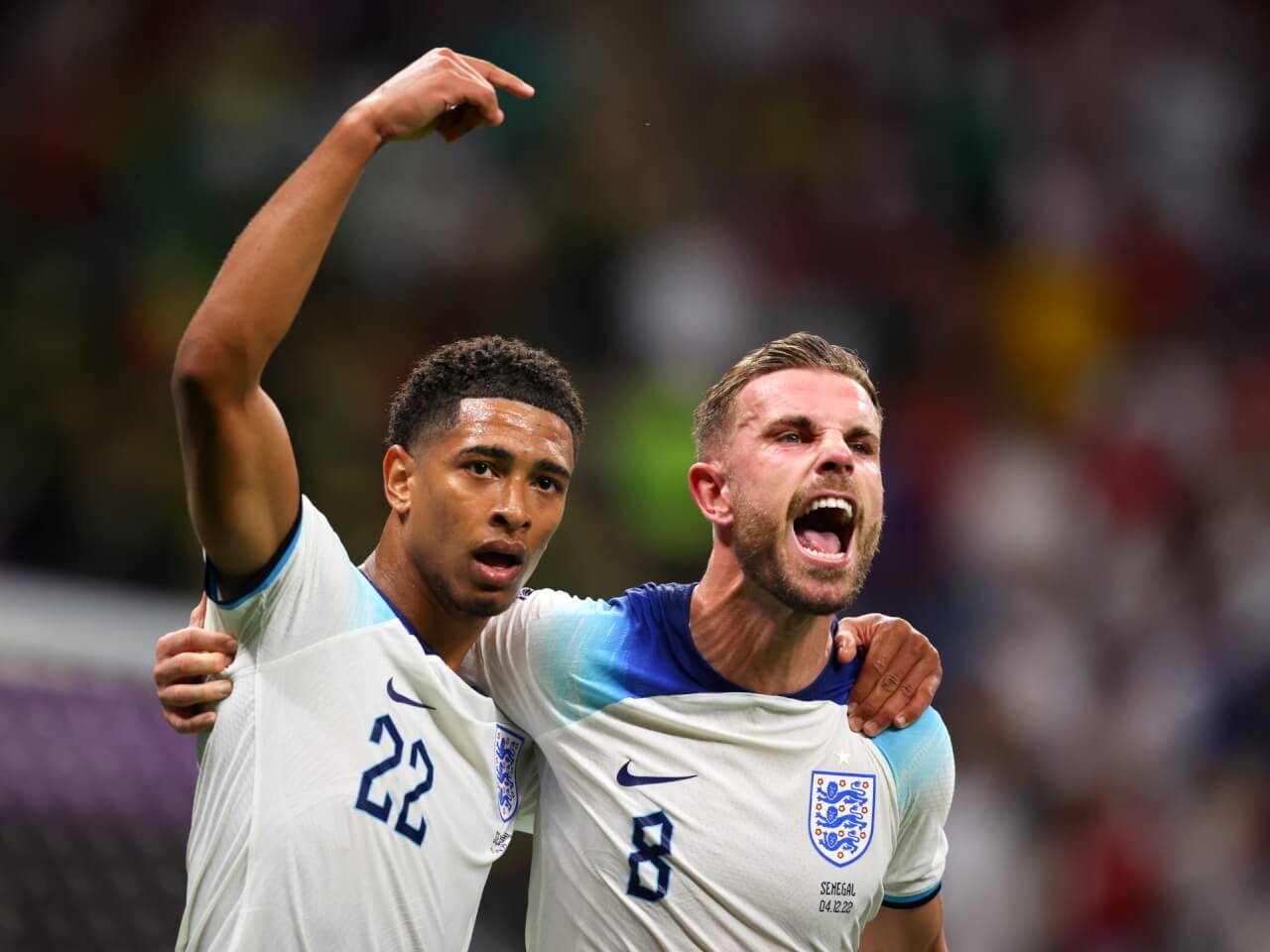 Tony Evans: Henderson Haters Could Put Bellingham Off Signing For Liverpool

The love-in between Jordan Henderson and Jude Bellingham is sending exciting signals to Liverpool fans. The Borussia Dortmund midfielder would clearly fit into the Anfield dressing room with ease.
Bellingham is good. If Liverpool can bring the 19-year-old to Merseyside next summer it will be a coup. All the noises coming from Qatar and Germany suggest there's a good chance it might happen.
What could put Bellingham off? A huge offer from Manchester City or Real Madrid might make the youngster think twice. A change of ownership may have an impact on any potential deal. Liverpool's failure to secure a Champions League place would complicate things, financially and in terms of the player's career progression.
Or he could look at how Henderson has been treated by a section of the fanbase. That would put anyone off.
It's hard to believe that, as we approach 2023, there are still individuals slagging off the captain. There are some people who only see what's happening on the ball but the game is about much more than this. You need players who do their best work away from the primary action to make teams work. They just don't see – literally and metaphorically – what Henderson does.
Some might be tempted to put the blame on a generation who mainly watch the match on TV. The cameras capture a very narrow section of the game.  The small screen keeps the ball at the centre of events but so much goes on outside the frame.
It would be nice to suggest fans in the stadium, who can view the entire vista, have a more considered opinion of the work performed by Henderson. After all, one of the cliches over the years is that Anfield has a 'very knowledgeable crowd.' We all know this is not entirely true.
Proportionally, there are probably as many dickheads in the ground as there are watching on the couch at home. Henderson hate manifests itself all over the place. Matchgoers are not immune from slipping towards extreme levels of bellendery.
Every generation of supporters have had their targets. Ronnie Whelan – probably the best user of space when the opposition had the ball that I've seen – used to get slaughtered in the back half of his career because he was no longer the thrusting, goalscoring midfielder of his youth. Whelan made sure the game was played at Liverpool's pace but there was always a plank willing to scream 'crab' at him.
Henderson's qualities have been detailed thousands of times and the difference he's made for England should be instructive. No one needs to fight his corner.
The bottom line is this: some people only watch and think about football in the most superficial manner. Others never got over the fact that he was not Steven Gerrard. Either way, Henderson deserves better.
Bellingham's being wooed with the 'best fans in the world' line. Let's hope he doesn't look too hard at the reality of Henderson's treatment.
*
One of the pluses for Liverpool is that Bellingham plays at Dortmund, where the Yellow Wall make for a lively atmosphere. A spell at Celtic was a big factor in Virgil van Dijk picking Anfield over City and Chelsea.
The Dutchman enjoyed life at Parkhead. It was easy for him to imagine what it would be like to be a Kop hero.
He went to the Champions League final in Cardiff five years ago. He was swarmed by supporters asking him to join Liverpool. Scores of fans wanted to see him in a red shirt.
Only a handful told him to go to the Etihad. Barely anyone suggested Stamford Bridge.
Money and medals are the main reasons players move to a club. But sometimes a little love – and a raucous atmosphere – goes a long way.
*
The team are out in Dubai at the moment. Warm-weather training will benefit the squad but imagine how the likes of Mohamed Salah, Thiago, Roberto Firmino and Andy Robertson must feel. Bet they wish they'd gone to Spain.
They were hoping to spend December in the Gulf but in different circumstances. Nobody dreamt about the Dubai Super Cup when they were kids.
Still, the World Cup's loss is Liverpool's gain. Expect a big second half of the season from the players who've had a rest.
*
Takeover update: So, it may not be a full sale. The latest noises from Boston suggest that a minority buy-in is on the cards. One thing's for sure: Fenway will not get rid until they get their price. In this environment, that was always going to be a struggle.
Despite what the FSG-outers say, the present regime remaining in control could well be the best thing that could happen in the short term.
*
Changed my mind on the Henderson hate thing. GET HIM OUT THE TEAM GARETH, HE'S CRAP!
*
Christmas is coming. Can't wait for it to be over to get club football back. But if you need a taste of LFC and Scouse culture, have a look at two of my books. Far Foreign Land was written in 2005 after Istanbul and charts my trip there – a lifelong journey as a Liverpool fan rather than just the excursion to Turkey. Get it here UK £8.50, Europe £14, Rest of the world £16. All including postage.
Good Guys Lost is a more recent work. It's a novel, released last week. It's set in the city over 40 years and has a hefty dollop of football culture alongside music, politics and violence. It's available here: https://www.northodox.co.uk/bookstore
If you read them, let me know what you think.