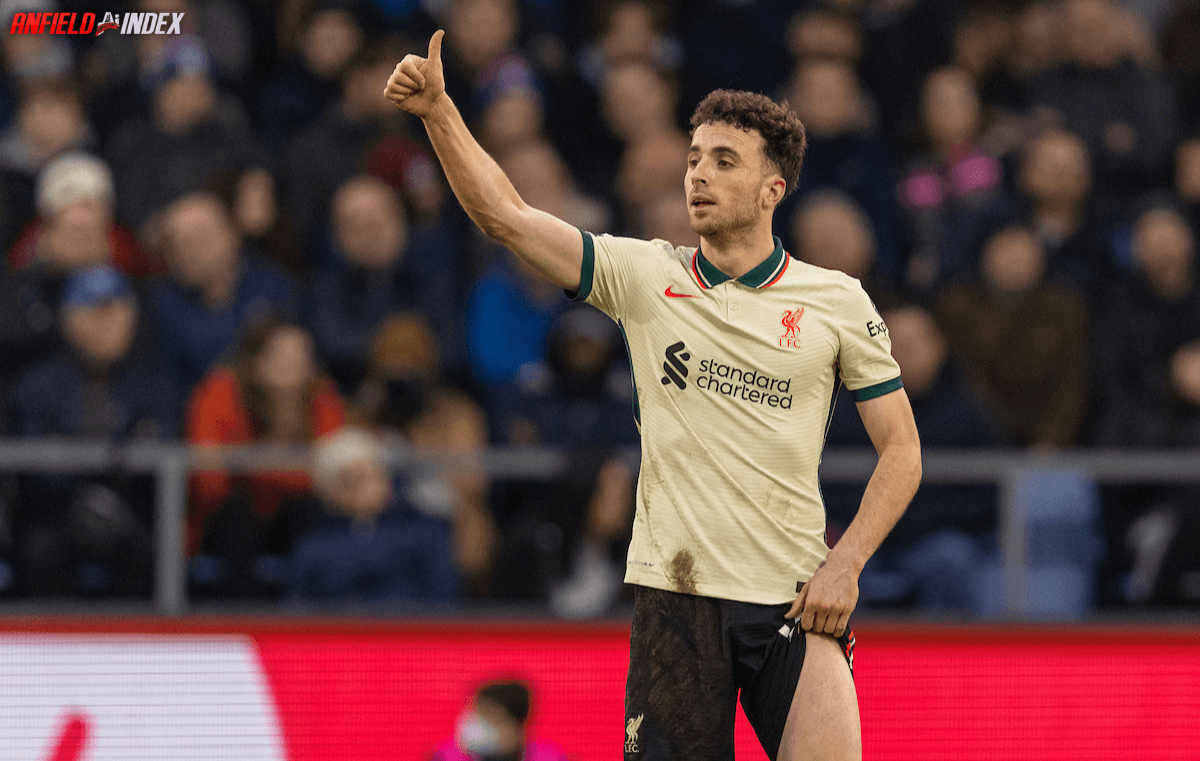 How Diogo Jota became one of Liverpool's most underrated players
Liverpool have assembled a star-studded attack that is on a par with any club in Europe, but Diogo Jota remains the underrated figure of that Reds unit.
For whatever reason, the Portuguese is not as universally adored as the other four high-profile Liverpool attackers, despite already offering so much.
Mo Salah is clearly always going to receive endless praise, given his status as one of the world's best players, and he merits every accolade that comes his way.

Meanwhile, Luis Diaz has been an instant hit at Anfield, with the Colombian's street-fighter style of play easy to admire and be glued to week in, week out.
His return from injury can play a huge part in Liverpool's season improving drastically, with the left-sided attacking position lacking in options of late.
Then there's Roberto Firmino, who has cemented his place as a Reds legend, proving to be one of the most selfless-yet-charismatic foreign players to ever represent the club.
Finally, Darwin Nunez has come in and made an immediate impression, bristling with rawness but making things happen with his frenetic approach.
With Jota, however, there is a feeling that he goes under the radar, and as time has passed, he has become one of Liverpool's most underrated players.
He isn't someone who many supporters naturally choose to have on the back of their shirt, and from the outside looking in, he is viewed as very much a supporting cast member.
This is someone who has scored 34 goals in 93 appearances, though, coming at an average of one every 2.73 matches. He is relentless, when fit.
Jota has only started 62 of those games, too, which makes his return even more impressive, and justifies Klopp describing him as "exceptional player, exceptional boy."
Last season, he chipped in with some huge goals as Liverpool threatened to win an unprecedented quadruple, whether it be the FA Cup winner at Nottingham Forest, the opener away to Arsenal in the Premier League or the close-range effort at Manchester City.
He is a natural born killer in front of goal, getting himself into consistently good positions, and he possesses an element of snide that adds an extra layer of edge to his game.
Just ask Leicester supporters, following his match-winning penalty and subsequent "f**k off" celebration against them in last season's League Cup.
Granted, Jota can occasionally find himself on the periphery of matches and his all-round game may not be the most aesthetically pleasing, but he is still a hugely effective footballer.
He is fast, powerful, intelligent and capable of dribbling in tight areas, while his aerial prowess is made all the more impressive by his average 5ft10in stature.
Off the ball, Jota harries the life out of opponents, leading effectively from the front, and his versatility allows him to thrive both centrally and out wide.
The brilliance of Jota is arguably only truly felt when he is out injured, which is sadly the case at the moment, following the calf issue that ruled him out of the 2022 World Cup.
When he isn't around, Liverpool suddenly have so much less firepower and match-winners in their ranks – Salah aside, he is the player you would most want a big chance to fall to for the Reds.
The hope is that Jota could potentially return in January or February, which will be huge boost in their season, as they welcome back one of their most ice-cold customers.
From this point on, it would just be nice to see him appreciated a little more, both by Liverpool supporters and in the wider footballing sphere.
He not be as world-class as Salah, as eye-catching as Diaz, as subtle as Firmino or as bonkers as Nunez, but he possesses aspects of all four teammates and is a massive player for Liverpool.