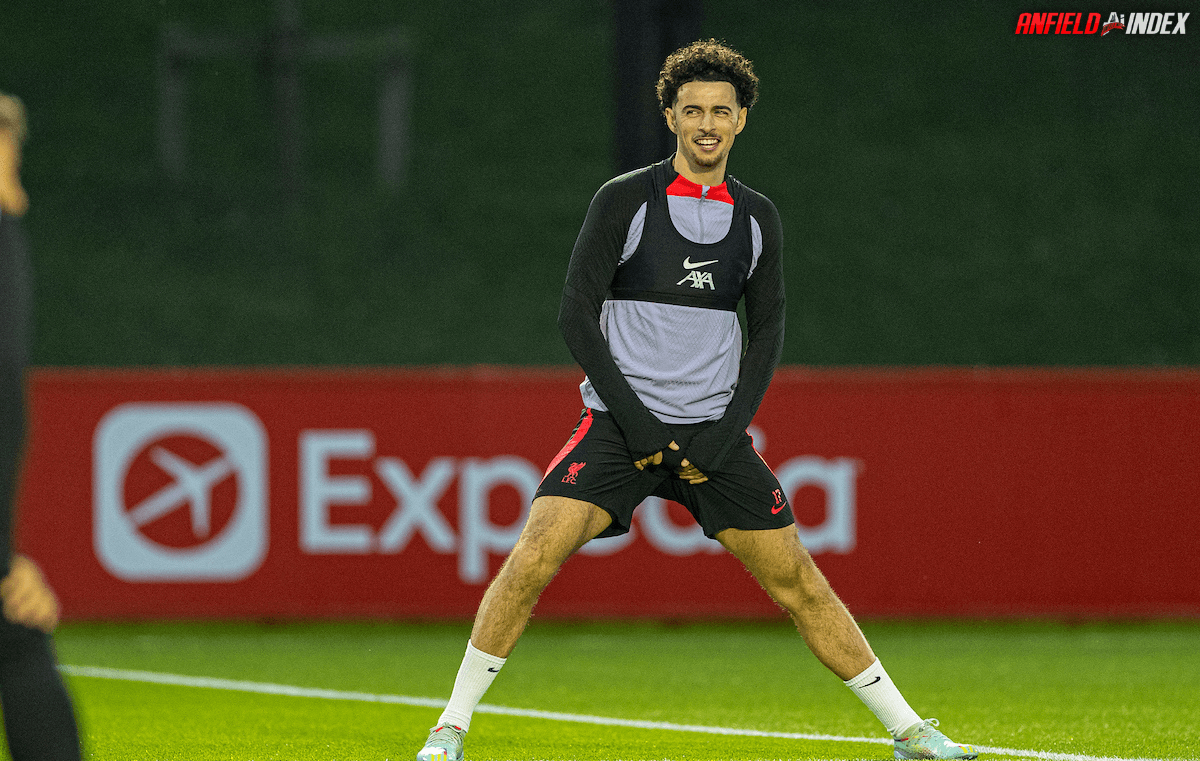 A Festive Chance for Curtis Jones After the Diaz News

Most of our young players split opinion within our fan base, much like many of our players this season to be fair. With the Reds' preseason – part two – now fully underway we are becoming more aware of player availability, and where the midfield has caused much concern this term, the attack just asked that group to hold its own beer.
As the Premier League restart quickly closes in, we can start to make assumptions about what we can conceivably achieve before the January transfer window opens. With a stuttering campaign in the rear view, now must be about achieving maximum points and continued progression up the league ladder. With numbers still low across the Liverpool squad, the Anfield Index boys have put together a more than comprehensive list of players that should be targeted (in a recent podcast), but with most things that relate to Liverpool's finances we must remain cautious in our hopes and wants. You can find that Winter Transfer Committee podcast on the site.
When the Luis Diaz injury was confirmed last week as long term, it confirmed that he will be confined to the treatment table alongside Diogo Jota for the foreseeable future. Those two absentees saw Darwin Nunez tasked with the left forward role in the buildup to the ongoing World Cup, a solution which may have to continue when the domestic season returns. Mohamed Salah and Roberto Firmino represent the only other senior attackers available to Jurgen Klopp right now, and this has caused a real dilemma during what will be a hectic winter period.
This unfortunate predicament will now open opportunities for others in the squad and will cause further angst for the coaching team. With that in mind, I am reminded of the Liverpool home against Napoli where young Curtis Jones played 73 minutes as a left forward in a 4-3-3 system. In coming up through the ranks, the Merseyside-born player was often fielded in this position for the under 23 side and was often the standout player for teams he also captained. His maverick ability and fleet footed nature saw him elevated into the first team picture, but his arrival quickly had him drafted into the midfield group and predominantly as the more regimented left sided 8. Now might represent a need to re-deploy this 21-year-old back into his more familiar role, and that good performance against the Serie A table toppers will surely allow for this to happen.
At 6ft 1 inch, the England under 21 International can offer good physicality and technical ability to that position. Without the midfield shackles that often restrict his natural game, we could we a moment for him to really shine in the final third. His game is probably more likened to our Brazilian forward than any other, but it's undeniable the way in which his craft can aid those around him. We are yet to fully understand the long-term position for him (under Klopp), but an extended period of rotation in that forward line, might just create a decent option for the reds during this problematic period. We cannot allow Darwin to continually be drafted into that wider position, whereas we cannot expect Bobby to play every game as a central figure. Decisions will have to be made on viable personnel and Jones offers an intriguing notion in the short term at least.
22/12/22 – EFL Cup – Manchester City – Away
26/12/22 – PL – Aston Villa – Away
30/12/22 – PL – Leicester – Home
2/1/23 – PL – Brentford – Away
7//1/23 – FA Cup – Wolves – Home
This five-game burst is what awaits the Reds from next week, after their return from their Middle East training camp. There will be little time for full-fledged training sessions once the fixtures resume, and this calendar of games means some solid form of rotation is a must. To imagine there will not be incoming players in January is close to unthinkable, and hopefully new recruits can appease an injury list which is almost certainly going to increase. In the meantime, it will once again be about using the tools at our disposal and finding ways to achieve those much-needed victories.
Our number 17 has more negative views than most in his shot career, but he is still a valued part of the Anfield squad. Careers can be built upon moments, and I feel Curtis may be afforded a prolonged spell where he can imprint his game upon the managers' thinking. With just 81 games and 8 goals since his debut five years ago, his continued inclusion in our plans must mean he holds something in Klopp's mind, but what that is remains very much up for debate. We saw Harvey Elliott grasp his own chances not so long ago and become a valued part of our elite group. Perhaps another young career can blossom amidst the frosty months and come out the other side of winter as a real option in our ever-changing forward line.