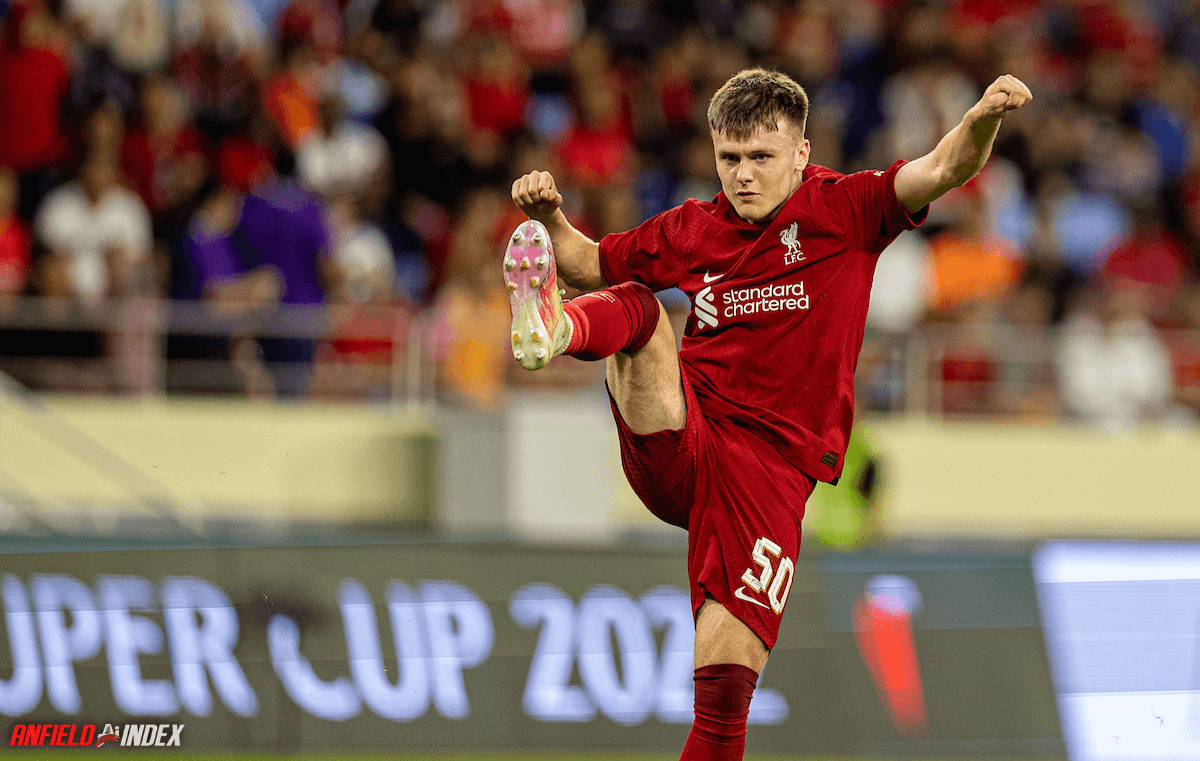 Ben Doak: Expectations Need Dampening Down

The classic mantra still rings true today: if you're old enough, you're good enough. Based on another noteworthy cameo against AC Milan, there's many who will have Ben Doak pencilled in for the Man City Carabao game and maybe others beyond. A pre-return friendly to prepare for post World Cup action shouldn't serve as an ultimate barometer, but the excitement across social media afterwards and those watching at the time was palpable. Liverpool's number 50 has shone whenever he's been given the chance, but may well need protecting from the expectations heading his way.
His headline numbers in the game told their own story as the 17 year old contributed one assist on a plate for Darwin Nunez and completed two take-ons, despite only entering the contest in the 83rd minute. It wasn't just the Dubai weather seeing supporters hot under the collar as the former Celtic youngster hit the post with a quick strike then continued to run at an increasingly tiring Milan defence. It would be easy to label this a notable cameo, but this isn't the first time the Dalry native has impressed.
Doak has impressed in youth competitions, with the UEFA Youth Champions League seeing him notch an impressive four goals in six games, including a notable winner against Napoli. His performances have been rewarded by Jurgen Klopp, with another impressive cameo in the Carabao tie against Derby and a place on the bench as an unused substitute in the Southampton encounter. Expectation is continuing to build and a player Jurgen Klopp described as a 'natural force' in his post-match interview is doing nothing to dampen them.
The £600,000 signing from Celtic will hopefully look a bargain in the future and it was no surprise that Nottingham Forest manager and former LFC youth coach Steve Cooper is reportedly considering a loan move. Perspective is key though and it's hard to see how a move to a struggling team that changes each week would benefit Doak in the long run. A chance to learn from the likes of Mo Salah, work with top stars and coaches plus enjoy occasional first team minutes without the weight of week in, week out expectations seems the appropriate course of action right now.
The Scottish youth international made the decision to move to Liverpool as he believed it was right for his career and it wouldn't be any surprise if full international honours were to follow within the year. For all of Jurgen Klopp's smiles and comments in the Al-Maktoum stadium, he'll be mindful to safeguard the player and let his development happen organically. There's no secret that's got out or bursting onto the scene, but expectations around Ben Doak are building at a rate. Klopp and his staff will be keen to dampen them down.