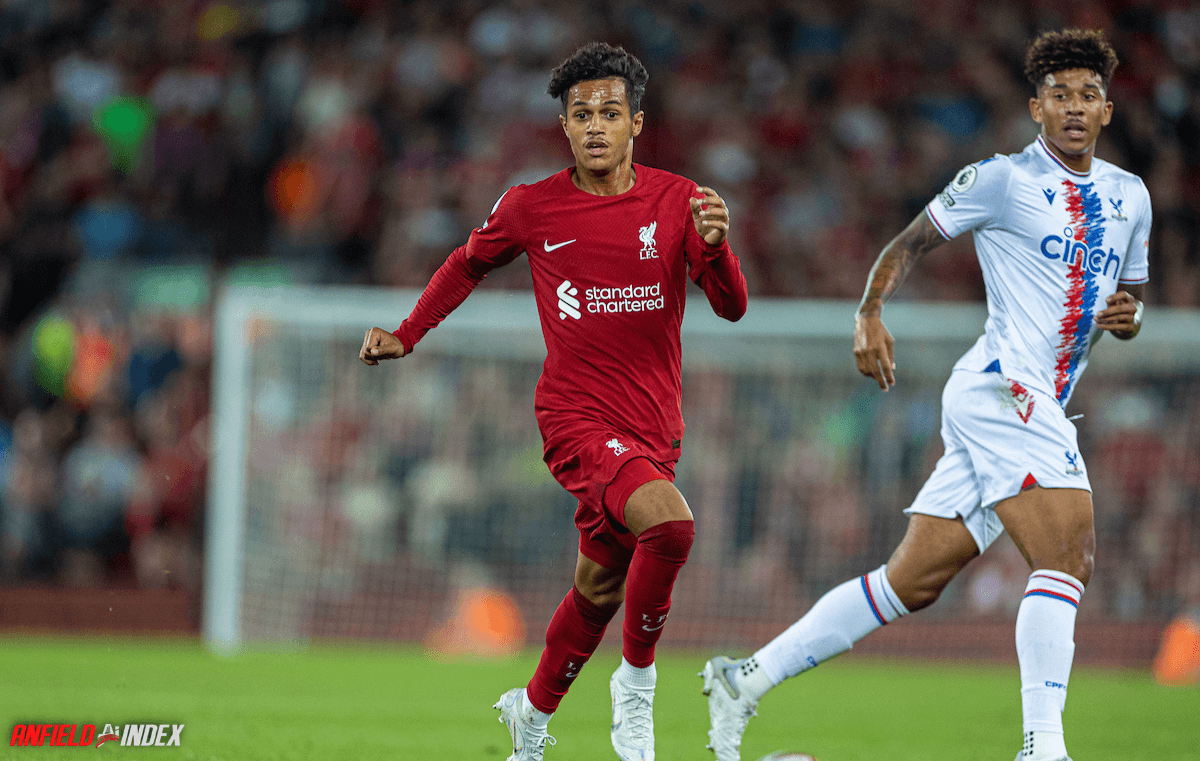 Could Fábio Carvalho Emulate Coutinho after the Diaz Injury

We can now assume that both Luis Diaz and Diogo Jota will be sidelined until about March, though the latter may be back a touch earlier. This represents yet another cringe invoking moment, that will see this Liverpool forward group down to its bare bones. Mohamed Salah, Roberto Firmino and Darwin Núñez stand as the last three senior forwards available to Jurgen Klopp right now, which is something that is causing a true dilemma.
Though we saw Darwin cause various degrees of discomfort to opposing full backs (whilst playing that LW role), it is not the reason we signed him and he must be transitioned into that central striker role as soon as possible. Bobby should be his rotation piece, and Mo should simply play. With Harvey & Ben Doak waiting in the wings to deputise for the Egyptian King, it leaves that left wing/left forward position as a major problem area. I believe the system (when we return) will be dictated by availability, and we will push through with a 4-4-2 / 4-2-3-1 system, which are basically the same formations. This system requires only one or two forwards on the pitch, but means that two wide men also need to be in any line up. I personally would like to see Darwin and Mo starting as that striking pair as much as is feasible, with Bobby and perhaps Curtis & Carvalho taking minutes also as a second striker. The left side of either system still then struggles with clear starters, and though I have championed Curtis Jones in that role, his injury record means he can't play there every game.
When we signed Fábio Carvalho from Fulham in the summer, it closed the book on a year long transfer saga. Though I believe he has huge potential and upside to his game, I also believe that it requires a certain system to be played so that he can express himself fully. At Craven Cottage he played predominantly as a 10, tucked nicely in behind that rampaging menace of a striker, Aleksandar Mitrović. Of his 143 senior appearances, 90 of those occasions were carried out from some form of central birth. I don't think he was ever recruited to occupy wider areas, with just 14 appearances from the left and 18 from the right pointing to that fact. What he is to become will be logged somewhere within the Jurgen Klopp playbook, but what we need right now is a player that can occupy and perhaps rotate with Curtis as a left winger. Whether or not he is seen as a long term Diaz back up is now irrelevant, as needs must and we need to start getting inventive.
With a career total of 47 goals and 27 assists across 10,277 minutes, we can safely say that the former England youth international is a player that likes to accredit himself with goal involvements. His slight frame and stature (Fábio is 5ft 7 inches and 170kg) means he would offer no real physical gains on a flank. In Mane, Diaz, Jota and Darwin, there has always been that presence and gnarl within their play, whereas our smaller number 28 is far comparable to Philippe Coutinho, when he himself played from the left wing. 
In the 2016/17 season, that little Brazilian played a total of 36 games with 30 of those seeing him deployed from the left wing. His form and position during that next half season saw him move to Barcelona in the January, for a staggering £142m fee. This notion indicates that though our German coach may well prefer a certain physicality from the flanks, he can certainly work with slighter, gifted and incisive ball carriers that like to drift inside. This is an idea that will undoubtedly be explored, and much like with the opportunity I pushed upon Curtis, it absolutely applies to the former Fulham man.
At 20 years old, our Portuguese born Fábio could be on the verge of something special. When Liverpool signed Phil from Inter Milan in the summer of 2013, we weren't entirely sure what we were signing. Brendan Rodgers seemed intent on a certain brand of domestic recruitment, whilst the transfer committee (long since disbanded) were far more meticulous and wide spread in their pursuits. With a couple of loans at Espanyol and Vasco da Gama (after signing for the Italian giants in 2008), he quickly became a player deemed too small, without a workable position of play, therefore the reds were able to sign him for a very moderate £7m fee. 
In a side that was built to service the world class abilities of Luis Suarez, every single attacking player exploded into rich veins of form during the Uruguayans tenure at Liverpool. Though Phil was more of an attacking midfielder (in a diamond system) during his opening period at Anfield, it would be under Klopp that he would truly flourish from the left wing. His diminutive style and ability to slide past defenders gave us a new dimension, and his goal threat ( and overall contribution) allowed that sensational fee from Spain to materialise.
Though we can't compare the level we saw in Phil and that which we currently see Carvalho, there may be similarities it how we move forward with this young player. Though a left wing role would be a wider version than he's accustomed to, our overlapping left backs could mean an out to in scenario could create more avenues for him. In Darwin we possess a physical specimen not dissimilar from his former Fulham colleague, and he could allow an elite variation to work with. What is important is to not try to replicate what either Mane, Diaz or Jota have offered from the left, and allow the system to migrate towards what best suits the players that are available. This season has seen multiple attempts at finding a certain pattern of play, and in Fábio we have to allow his game every opportunity to evolve.
Patience within the fan base is most definitely teetering, yet with the coaching department there has to be that trait when considering such young talents. Players of a certain age need time to develop and the allowance for mistakes. The likes of Calvin Ramsey, Stefan Bajetic, Ben Doak, Curtis Jones and Fábio Carvalho could become regular features in the coming weeks, certainly given our expanding injury list. When these players make these mistakes, we have to stand fast and make sure the pressure situations aren't intensified by the support.
When analysing that problematic left sided role, perhaps this moment could see yet another player primed and ready to take his chance. Little Phil was once that player who fought to become a Liverpool starter, perhaps it isn't unthinkable to see Fábio Carvalho do the same.