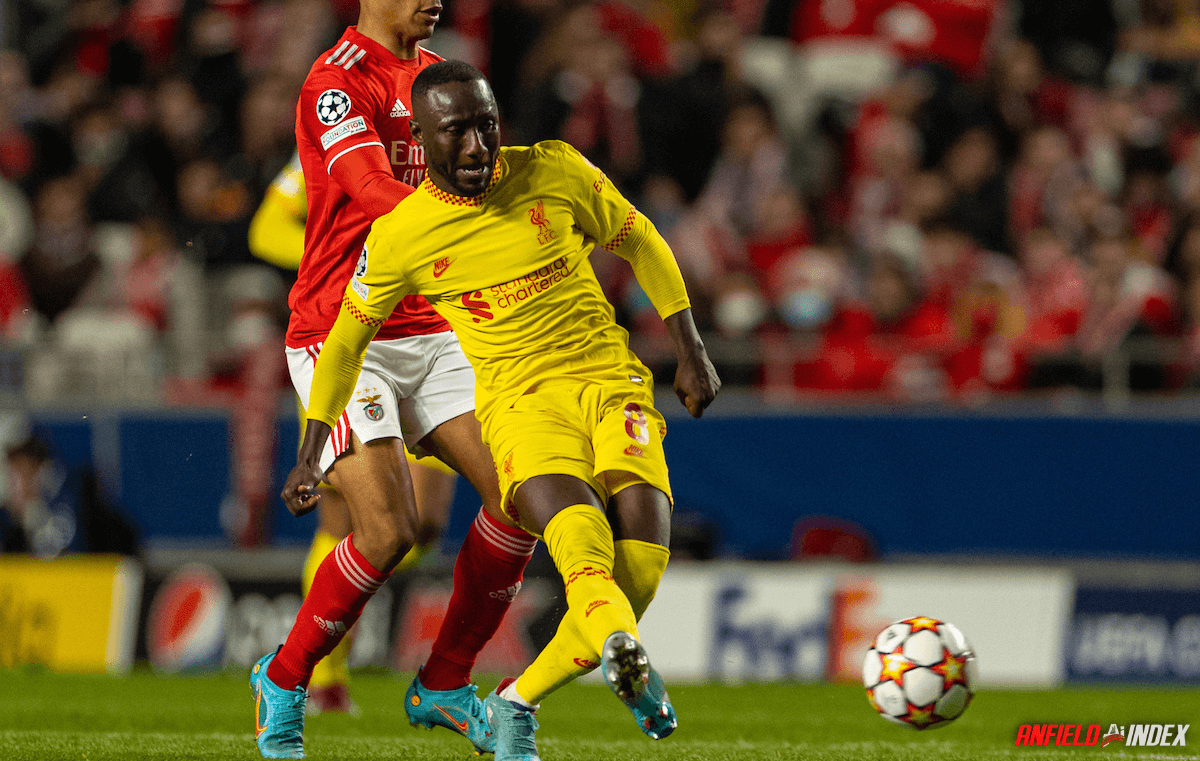 Can Naby Secure His Liverpool Future and Stop the Reds Bleeding Money
Can Naby Secure His Reds Future and Stop the Reds Bleeding Money
On the 10th February next year Naby Keïta will turn 28-years of age, which should signify the peak moment of his footballing career. His arrival from RB Leipzig was supposed to see Steven Gerrard's famous number 8 rightfully deployed, with the little Guineans' signing seen as a major coup for the Reds. The following four and a half years have been sporadic however, with the injuries and absentees far outweighing the superb performances produced. Where our gifted midfielder divides opinion in our fanbase (due to the injuries), what cannot be denied is his level of play when he is up and running, and that is the only thing that could possibly see his deal renewed before it expires in the summer.
In a deal that cost £52m in transfer fees and another £32m in wages, our former Sporting Director, Michael Edwards, committed the Reds to approximately £84m on a player that could now be about to walk away for free. There may be something that can be engineered this coming January, which could make him some sort of makeweight in the deal for Jude Bellingham. In that scenario, at least the club would be able to recoup some of their money. To imagine he walks away (for free) like Emre Can, Georginio Wijnaldum, Adam Lallana and perhaps James Milner & Alex Oxlade-Chamberlain, the strong assumption is that they will join our number 8 in leaving the club for no fee this summer, and that is damning.

Below are the details of those fees and wages spent (two are ongoing), which are of course appropriate and based upon reported wages during their respective tenure. It's also quite intriguing that it is mostly the central midfield players that have been allowed to walk away so often, without the proper replacements recruited.
Emre Can
£10m fee paid to Bayer Leverkusen in 2014 & £15.50m in wages till his move to Juventus in 2018.
Total outlay £25.5m
James Milner
No fee paid to Manchester City in 2015 & £62.5m in wages till the summer of 2023.
Total outlay £62.5m
Georginio Wijnaldum
£25m fee paid to Newcastle in 2016 & £23.5m in wages till his move to PSG in 2021.
Total outlay £48.5m
Adam Lallana
£25m fee paid to Southampton in 2014 & £37.5m in wages till his move to BHA in 2020.
Total outlay £62.5m
Alex Oxlade Chamberlain
£35m fee paid to Arsenal in 2017 & £37.5m in wages till the summer of 2023.
Total outlay £72.5m
Divock Origi 
£10m fee paid to Lille in 2014 & £20m in wages till his move to Milan in 2022, loans incorporated.
Total outlay £30m
The above combined (with the potential £84m spent on Naby till next summer) equates to a staggering £385.5m, and shows an enormous amount of money invested without any transfer fees being recouped. We can look at each individual and argue the merits and that they've 'paid for themselves', but ultimately it is a continuing trend and lost opportunity to increase our transfer budget. For a club that has been so successful in selling fringe and reserve players, it seems Jurgen Klopp is commonly reluctant in selling senior players.
I look at our former Leipzig man from two angles, with the first being my want to give a great talent more of a chance to prove himself. The second point is purely financial, with a need to safeguard a valued asset rather than seeing another player walk away for nothing.
This next half season is nearly upon us and I just hope we get to see that LCM rotation from last year, that allowed Thiago & Naby to switch in and out as required. The balance that one controlling midfielder gave us almost saw us win the lot, and you could probably say that our domestic cup runs cost us the big two prizes in the end. This system has floundered and faulted without Thiago, but it has also struggled without Naby. Yes, he has had too many injury issues, but this is a man that still played 40 games last season and maintained a very good standard. Behind Alcantara, he was our most consistent central midfielder last season, and despite this early season injury, I want to see him back in the side once the campaign resumes.
It's a long shot that a new deal materialises, and it's very probable that the number 8 shirt is reassigned next summer. But there is still a glimmer and an opportunity for our controlling midfield man to show his worth. With Enzo & Jude constantly linked, it is the added numbers that can reduce his required minutes and allow him to become a good squad player. Last season saw him available more than any other (as a red), and if this next half season sees him fit and in form, I would not hesitate to re-up his current contract.
I'm in the minority and I admit it would probably be best for all parties to allow Naby to leave, but there are still so many reasons to see him remain. I want more elite level players for this group and I want Keïta to stay on, as I believe a squad (if assembled probably) can allow for gifted players such as Thiago & Naby to remain and compete across all competitions.
With the first starting whistle ever nearer, I hope to see our controversial number 8 drifting onto the pitch and putting in the performances we all love to see. With this, I'm hopeful we can see reinforcements brought in and also a new contract delivered to a player that can still offer so much for this glorious club. I saw he entered the pitch today for Thiago, as the club won their final Dubai friendly 4-1 against Ac Milan. If that trait continues, we will be a better team, and hopefully the Naby Keïta saga can continue.