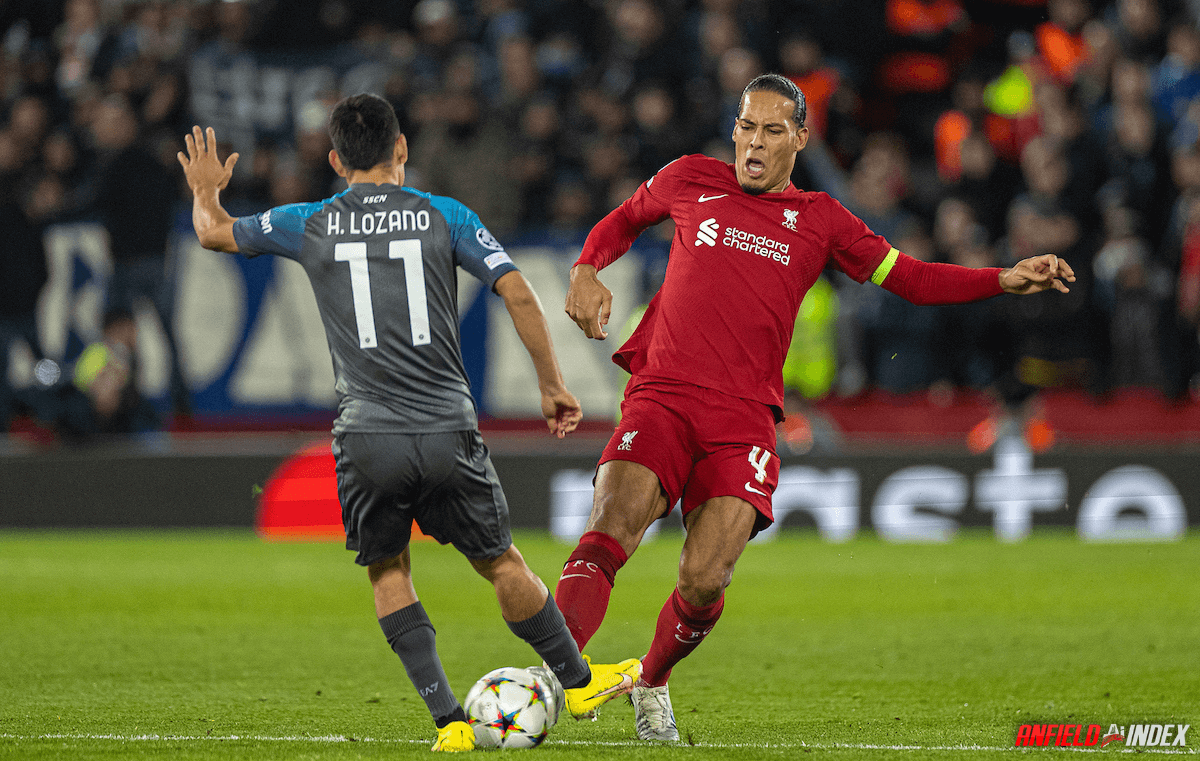 Virgil Van Dijk: All Eyes On Second Half Of The Season
Liverpool need a quick and effective start to the second half of the season, of that there's no doubt. The margin for error is flirting with the non-existent, as the race for the top four looks like being as competitive as ever. To ensure the 'minimum expectation' as Jurgen Klopp defined it is that the Reds will need all their big players to hit the ground running and for many of those to raise their level above what we've seen to date. Whether the second half of the season is defined as successful will largely hang on the performances of Virgil Van Dijk and how the Dutch centre half leads a back line that's looked fragile to put it mildly in the opening months. There are no excuses or mitigating factors anymore.
The former Celtic man has been a mainstay at the heart of defence throughout the campaign to date and has largely evaded the spotlight that has fallen on others. There's been a few mutterings of discontent as appearances against United, Napoli, Brighton and Leeds amongst others have fallen well below expectation. A man of the match display against Manchester City and a nullifying of Erling Haaland raised hopes of a return to previous levels, but appears to have been the exception. There are mitigating factors though that have been pointed to and have to be looked at in context.
A mix of four different defensive partners (Matip, Gomez, Phillips and Konate) doesn't help any player build an understanding or rhythm and those aforementioned have badly struggled themselves at times. The focus towards a World Cup in Qatar and leading his country have also served as mitigation for the 31 year old and it would be understandable if the eye had wandered towards a different prize. There's belief amongst many Reds that a partnership with Ibrahima Konate would be Jurgen Klopp's best option, due to his front foot aggressive attributes gelling with the vice captain. Everyone will be hoping there are chances to evidence that theory, as only the win against Spurs serves as their full league match completed together.
Louis Van Gaal has deployed a back three for Holland, with Van Dijk at the heart of it so it would be unfair to place an additional grading on his performances based on this and in the biggest tournament of all. Another Dutch legend in the form of Marco Van Basten didn't hold back though and had been uber-critical of the Liverpool number four after the draw against Ecuador. "Van Dijk is just waiting and watching him shoot. What is he looking at? He just lets him shoot!" Whilst not excelling or making the team of the tournament, the Breda native did display flashes of his old self and the evidence has shown the key factors are still there.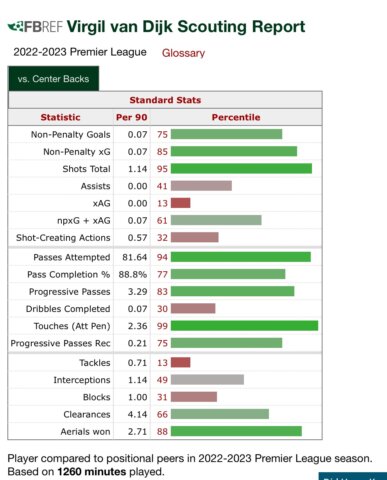 From a stats perspective, the natural focus will be around his pass volume, progressive passes and aerial duel success rate. Whilst the right-sided centre half will often be tasked with bringing the ball out, it's the £75 million signing whose famed for his raking balls forward and ability to dominate in the air from any manner of situations. This season in the Premier League the stats themselves aren't bad as evidenced by being in the 94th (passes attempted) and 88th (aerial success) percentiles. Maybe more notable though is being in the 31st (blocks) and 13th (tackles) percentiles for the basic defensive actions.
A lot more will be expected now that the World Cup is over and it's no surprise that the manager has chosen to give one of his leadership group an extended break, no doubt in the hope that he returns like some semblance of his old self. Van Dijk himself has admitted his struggles and not hidden away from the responsibility. The evidence suggests that he loves a big game and there's set to be plenty of those between now and the end of May. If Liverpool are to reach their realistic ambitions this season, we'll all need to watch him defend well regularly. The scoring will hopefully follow.