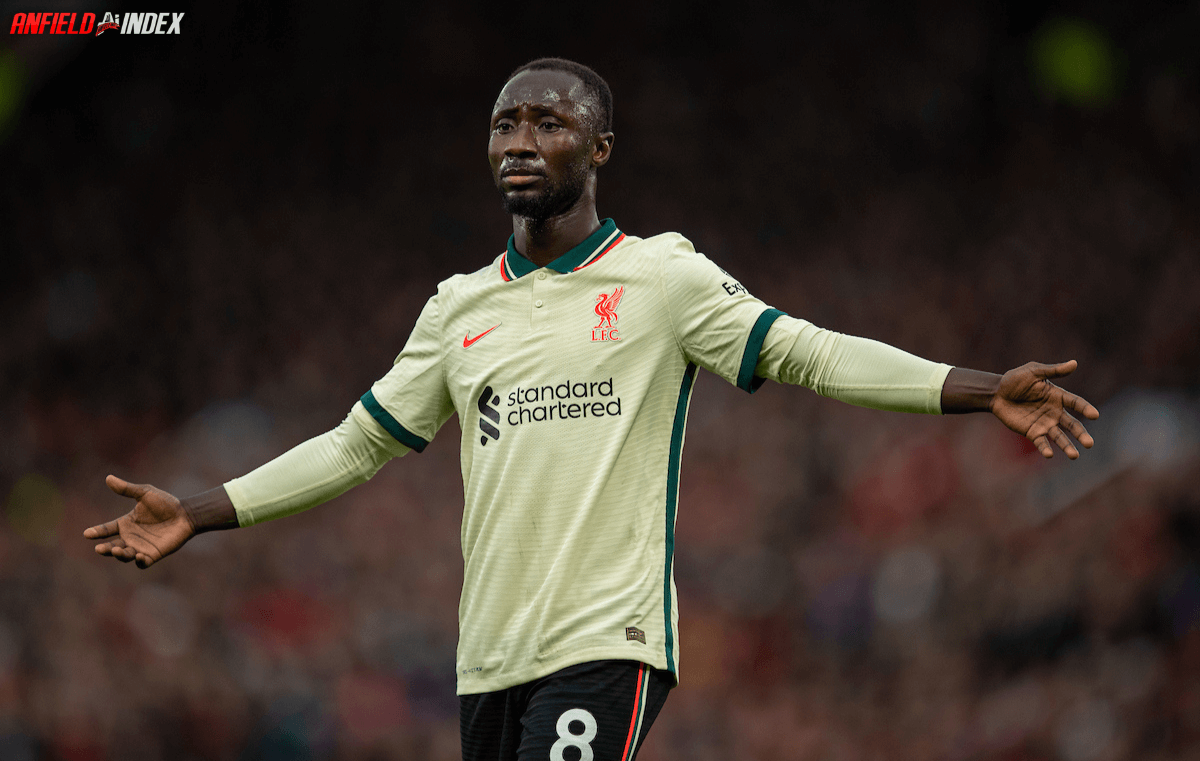 Why Naby Keita's time at Liverpool should be up this summer
Has a Liverpool player divided opinion quite like Naby Keita in the past 20 years?
To some, he's as good as Steven Gerrard, and to others, he's worse than Bruno Cheyrou (slight exaggeration, but you get my drift).
The Guinean arrived at Liverpool amid huge fanfare back in 2018, one year after initially signing, and was seen as the new midfield sensation at Anfield.

Alisson and Virgil van Dijk had come in as genuine game-changers in their respective positions and it is no exaggeration to say that there were similar expectations with Keita.
Endless YouTube compilations were consumed, Bundesliga experts wrote countless column inches on his brilliance and it felt like a transfer that couldn't go wrong. He looked an absolute gem.
On the face of it, Keita had all the tools required to be a monster at the heart of Liverpool's midfield, whether it be press resistance and an ability to break the lines on the ball, or relentless levels of pressing and intensity off it.
He was seemingly going to take the Reds to another level, at a point when Champions League and Premier League glory hadn't yet been achieved with Jurgen Klopp at the helm.
All of a sudden, though, four and a half years have passed and we're left assessing what has ended up being one of the more underwhelming Reds careers in recent memory.
That's not to say that Keita hasn't had patches of brilliance thrown in during that time, but considering what was expected of him – some tipped him as a future best midfielder in Europe – there is no doubt that he has been a disappointment.
Injuries have clearly held him back more than anything, which can cruelly affect any footballer, with constant niggles and longer-term issues constantly hampering his rhythm and form.
Incredibly, only 117 appearances have come Keita's way – Alisson and Fabinho have made 204 and 191 in that same time, in comparison – which further highlights his lack of availability.
The 27-year-old also hasn't performed anywhere near consistently enough when he has been fit, rarely ever feeling like a shoo-in in Liverpool's strongest XI, barring sporadic games here and there.
He has found himself substituted early by Klopp in some high-profile Champions League games, having left the midfield gaping, and has too often lacked the influence to justify being in ahead of the likes of Fabinho, Henderson, Gini Wijnaldum and Thiago consistently.
Time waits for no footballer, and almost from nowhere, Keita now finds himself heading into the final six months of his current deal, leaving Liverpool with a big decision to make in 2023.
The brutal truth is that, much like Alex Oxlade-Chamberlain, the Guinea star isn't worth persevering with when he is unavailable so often.
He is a subtle, intelligent footballer who has been an effective cog in the machine at times, but there comes a point when it is hard to justify keeping him, as became the case with Adam Lallana and Daniel Sturridge.
This is a player who has only made 72 starts for Liverpool, which seems almost unfathomable when you hark back to 2018 and think about how he was the player who was going to transform matters in the middle of the park.
The Reds got stronger while he floundered, though.
Klopp needs to do some major surgery in the middle of the park, starting with a new signing in January, before adding further reinforcements and removing deadwood in the summer.
Unfortunately, Keita now belongs in that deadwood category, even though some will point toward the fact that he made 40 appearances last season.
In 2022/23, however, he is yet to play a single minute of league action and there is forever a feeling that that next injury is always around the corner when he does return.
He is fit again now, but for how long, realistically?
During this glorious period under Klopp, there have been few failures in the transfer market, with the club nailing so many pieces of business to perfection.
Barring some sort of miracle, though, Keita is going to forever be seen as one addition that never reached his potential – someone who was harshly undone by injuries and who never quite felt like a leading man in this star-studded squad.
Once this season reaches its conclusion, it will be time for Naby to be shown the exit door on a free transfer, and he will no doubt have some handy suitors eager to snap him, most likely from the Bundesliga.
Once he moves on, his divisive nature will never change – see also: Henderson and Emre Can – but it is hard for even his most ardent supporter to call him a genuine success at Liverpool.
It simply hasn't worked out for various reasons, with sadness and frustration the overriding feelings.