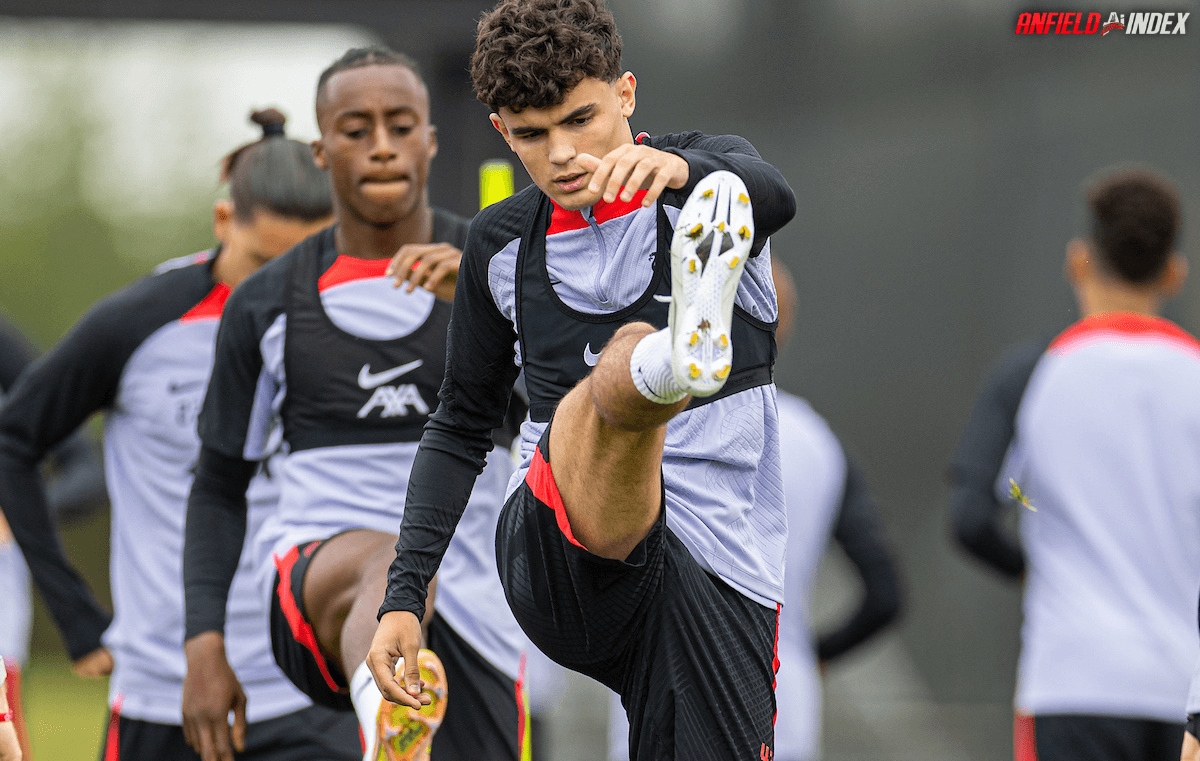 Stefan Bajcetic: Big Breakthrough Chance
"We want to give these boy chances". Distinct words from Pep Ljinders in his Carabao press conference when discussing Liverpool youngsters Stefan Bajcetic, Bobby Clark and Ben Doak. The talent of all three is clear for everyone to see and it would be more of a surprise if they didn't enjoy some minutes before the end of year. Sometimes circumstances can be the making of players and due to where Liverpool find themselves right now, it may be surprising to many who may have the breakthrough chance.
Bajcetic didn't steal any headlines or create the potential buzz of the other pair, but the 18 year old's performances clearly didn't go unnoticed. The former Celta player looked calm and assured in possession against Milan often winning possession and keeping it simple throughout, mirroring his Spanish colleague Thiago. Originally signed as a centre half, the Vigo native has impressed at Melwood – and now Kirkby – in a midfield role and as Ljinders admitted in the presser left Jurgen Klopp uttering the word 'wow' at full time.
Fabinho's struggles at number six have been well documented this campaign and with Jordon Henderson just back from international duty, it would be no surprise if Bajcetic did start against City. There may be no tougher challenge for the Spanish under 19 international than coming up against the likes of Kevin De Bruyne, but sometimes testing yourself at the highest level can be the boost that's needed. After Doak's cameo which showcased his pace, dribbling and an assist plus Clark's breathtaking pass against Milan, now might be the chance for Bajcetic to step into the spotlight.
His action has been pretty much limited to Derby in the previous round and whilst three Champions League appearances does sound impressive, they've added up to 22 minutes in total. Due to a lack of first team minutes (a singular Premier League appearance when beating Bournemouth 9-0 doesn't appear a true representation), it's difficult to compare Bajcetic against his midfield peers, but it's evident upon review that the Premier League 2 competition doesn't appear to provide the challenge he may need. With Fabinho and Henderson both back on Merseyside, further comparisons maybe prove difficult.
The Liverpool number 43 may also not get too many chances to impress due to the fact the margin for error in a so far stuttering campaign is practically non-existent. However, the City game and any other first team action in 2022 whilst others recover is the proverbial foot in the door. Whilst there's no suggestion that his long term future isn't at Anfield and no criticism should be attached to the 18 year old whatever happens, the chance to kick it down and establish himself maybe limited. It's not now or never, but this is a breakthrough chance.