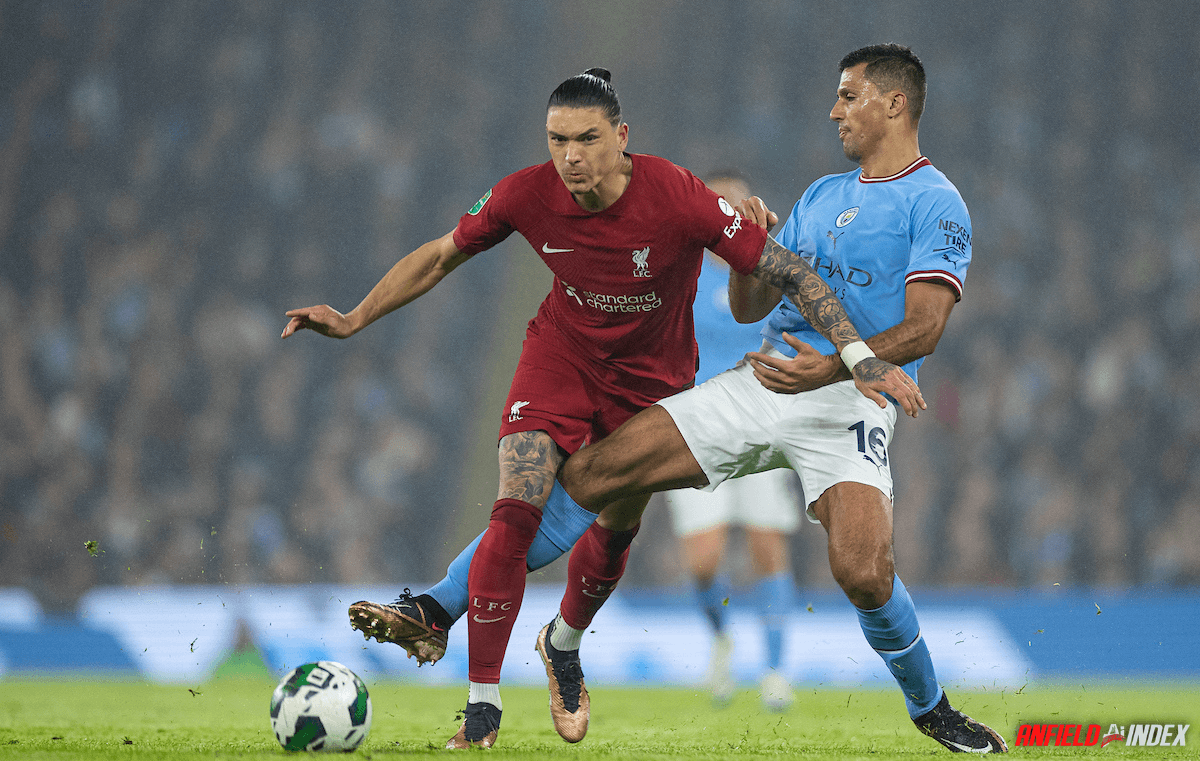 Lessons Learned: Manchester City (Carabao Cup)
That's why we missed club football! An end-to-end slugfest with goal mouth action, chances squandered and some real needle between the two teams. Aside form the World Cup Final, how many games could you genuinely say that about in the competition? This was the Carabao Cup and secretly there's a part of Jurgen Klopp that will be relieved we're out to bring a slight relief to a congested fixture list, with games to still be rearranged. A few may have seen it as a free hit or simply not have been bothered, but there's a few lessons that have been learnt for reds everywhere and that some players will need to take onboard quickly.
Don't Judge Darwin On This – But Needs To Sharpen Up Quickly!
Since Darwin Nunez's move to Liverpool, it seems there's a spotlight thrust upon every missed chance or imperfection and this game was no different. It's easy one for the press to bill too when Erling Haaland is starting for the opposition and the Uruguayan leads the line for us. The 23 year-old was guilty of wasting three prime chances, where you'd have expected him to at least hit the target, of that there's no doubt. Nunez hasn't been clinical since his arrival at Anfield, but the disappointment aside from his regular standard of working the keeper was that an unknown in Ortega wasn't even tested. His performance as a whole does need to be looked at in full context. Even Haaland looked rusty with a woeful attempt after Kelleher got caught in no man's land and Salah despite his goal, looked slightly off the pace too. Whilst his blistering pace against Laporte caught the eye, it was his decision making to perfectly square it for Salah and notch an assist that created one of the games 'wow' moments. The former Benfica man is an agent of chaos, Liverpool have bigger fish to fry and it'll be more concerning when he's not getting the chances. Don't judge him on this, but like others he'll need to sharpen up quickly.
Gomez Going Backwards
You'd love to be able to say this was a great surprise, but based on Joe Gomez's performances to date this season it was anything but. There was a slight hope that with the extended break we may see flashes of the 18-19 season player that excelled alongside VVD. Sadly, it wasn't to be here as a lack of reaction to Haaland's opener and getting caught time and time again, including a lack of reaction to a simple throw in sounded more alarm bells around the former Charlton man. Gomez always appears to be 'at the scene of the crime' and it tells it's own story when Liverpool's defence becomes stabler through the introduction of Nat Phillips. That's not being derogatory to the 'Bolton Baresi' who can now add Haaland after Zlatan to his collection, as Gomez could learn from his no-nonsense, alert style and look to keep it simple. Worryingly for the England international, the quiet sentiment being expressed by most reds was the relief that VVD and Konate will be back to help Matip soon enough. These seem like worrying times for his future at Anfield.

The Kids are Alright – But Need to Learn Quickly
Best to file this under mixed for the youngsters who got minutes. Fabio Carvalho took his goal in a clam and composed manner, whilst displaying some great touches and occasional link play. As a running theme though, he coughed up possession on a number of occasions and was lucky to stay out the book for repeated fouling. This wasn't a night that will live long in Harvey Elliott's memory either as our other former Fulham youngster struggled to get into the game at any point and similarly to Carvalho gave away possession on two many occasions. This was always going to be a tough ask for Stefan Bajcetic and it would be unfair to judge him in a huge step-up from anything that he's faced before. That being said, Gundogan spun him with the same 'chop' when he dived in on three separate occasions and City often seemed able to bypass him and get straight at the defence. It was telling that Liverpool looked far stronger when the senior midfielders were on the pitch, but in potentially the toughest away fixture of any season and facing Gundogan, De Bruyne and Rodri it's fair to ask what would be expected? Potentially the biggest disappointment was that Ben Doak wasn't given the chance to showcase his skills late on, but that will come. The phrase 'lightweight' may well uttered over the following days and any harsh, reactionary judgements aside the kids will have learnt a lot from this game. They'll need to embed those learnings quickly if they're continue their progression.