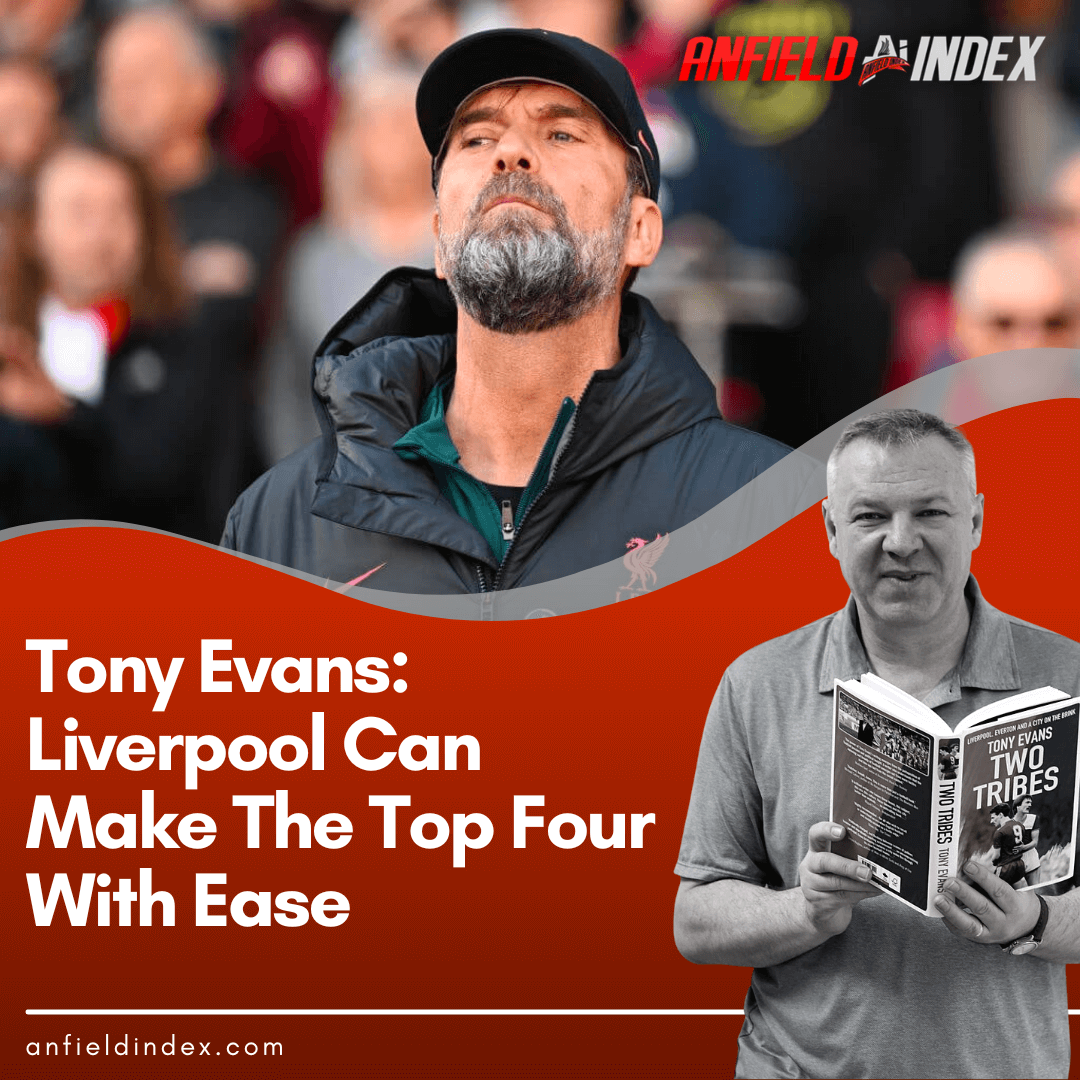 Tony Evans: Liverpool Can Make The Top Four With Ease

The World Cup was great – especially if you like sportswashing – and the final ended with tremendous drama. Interesting, though, that there's been a bout of collective amnesia and everyone appears to have forgotten how bad the first 79 minutes were. I'm glad Lionel Messi capped his career by winning the trophy. Not that glad, though. Domestic football couldn't come back quick enough.
Liverpool's return in the 3-2 defeat by Manchester City last night wasn't ideal but there were a fair amount of positives to take away from it. And some concerns. The Etihad's branding proved that sportswashing is equally effective in the Lancashire rain as under the desert sun.
No one likes losing to City but going out of the League Cup might not be the worst thing. Last season the squad was stretched to breaking point by competing on four fronts. They will need all their energy in the thrust for the top four in the next five months.
City dominated the first 20 minutes but Liverpool's vibrancy afterwards was impressive. Pep Guardiola has more depth across the squad and more quality in his first choice XI but Jurgen Klopp's strongest side is not far behind. Plus, our strength is where they are weakest. When Mo Salah gets the opportunity to play attack-and-defence with City's back four Liverpool will always be in the game. Darwin Nunez was good, too. Yes, he'll stray offside. Yes, he'll make bad decisions. And, yes, he'll miss some chances that Salah would probably score. But he's quick, strong and has loads of room for development.
Given Liverpool's defenders were up against a rampant Kevin De Bruyne with Erling Haaland lurking on their shoulders, they did okay. If City are not the best team in the world, then they're close. To not only challenge them on a regular basis but beat them more often than not in their golden era (this four-out-of-five titles run) is some achievement.
The worries are obvious. City can outbid anyone. So they get Haaland, Liverpool get Nunez. One is the finished product, the other is going to suffer growing pains. It's unlikely any new owners/investors will be able to change that.
There were signs last night that this team will get into the top four with ease and make a run at the Champions League. Despite losing, it's clear that Liverpool have got into the Etihad's hive mind. They'd rather play anyone than us. The duel with City is a long way from over.
*
Aston Villa on Monday will be a huge test. Unai Emery is a proper, top-class coach and has been able to work with his new players during the World Cup hiatus. Breaking them down will be much more difficult than scoring against City.
*
It's Christmas and the classic gammon carols get their inevitable airing. "Feed the Scousers," rang round the Etihad. Pathetic.
One of the areas where Mancunians can lord it over Liverpool is the political history of the cities. Manchester was a radical centre when Merseyside's nickname was 'Torytown.' Instead, they just embarrass themselves every time. The only thing they are feeding with this type of song is our contempt. I'm more inclined to laugh at them than be offended.
*
My mother died this week. She was 86 and suffering from dementia so in many ways it was a release rather than a tragedy.
Life was tough for her. Margaret was widowed in 1975 and left with four children, of whom I'm the eldest, in one of the country's poorest areas. There were plenty of high points, though.
She attended the first five European Cup finals. The first, in Rome in 1977, was one of the seminal moments in Liverpool history and she never let anyone forget she was there.
The train from Lime Street cost £59 – that translates to more than £300 today – and that included a ticket for the game. My younger brother went with her. Me? I was denied the trip because I was taking an exam. A Commerce 'O' Level to be precise. Parenting does not come worse (she undoubtedly couldn't afford to take two of us on a Tate & Lyle shiftworker's wage but I'm not letting her off that lightly).
The journey, on the sort of decrepit rolling stock used for football specials in the 70s, began on Monday morning. They arrived in the Italian capital early on Wednesday afternoon, stayed long enough for a quick squint at the Vatican before watching the team dispatch Borussia Mönchengladbach 3-1, and then set off for home in the early hours of Thursday.
There were barely any facilities on the trains – certainly no buffet cars. They broke down in Switzerland and spent the best part of 24 hours static without even water. Their transport limped into Liverpool at about 2am on Saturday morning. Alexei Sayle based his book Train To Hell on the trip.
Yet everyone who bounced off onto the platform that night in May was beaming like they'd just had the most wonderful experience of their lives. Because they had. That's what football at its best does for you. They were still giddy more than 72 hours after the final whistle.
The only miserable person in the station was me. And the resentment has only grown over the years. She'd sit there at family get-togethers and when the talk turned to Liverpool and Europe – as it always did – would turn to me and say: "The first time was the best, wasn't it lad?" There'd be a moment of silence and then she'd act like she suddenly remembered. "Oh, that's right, you didn't go, did you? That was a terrible game to miss. You must regret that." Everyone would laugh.
Very funny. It amused me every time. I'm not going to dance on her grave. Honest.
*
In all seriousness, she made sure as a single mother that we all got to our fair share of big games. Our flat in Burlington Street was always full of matchgoing youths – the proximity to town meant it was a stopping off point for both home and away games where you could grab something to eat and freshen up before heading back out on the ale. It wasn't unusual for five or six mates to crash on the floor after a big night or a late gig. There was always food available and cans in the fridge.
You look back with nostalgia sometimes but it's not the city of the 70s and 80s you yearn for. They were pretty crap times. It's the people you miss. So no dancing for a while.
But one thing's for sure. If there is any consciousness after death, she'll be supporting the Reds in the afterlife, telling St bloody Peter "I was in Rome in 77, you know. Ask our Tony if he was there when he finally shows up."
Changed my mind. Dancing shoes back on!