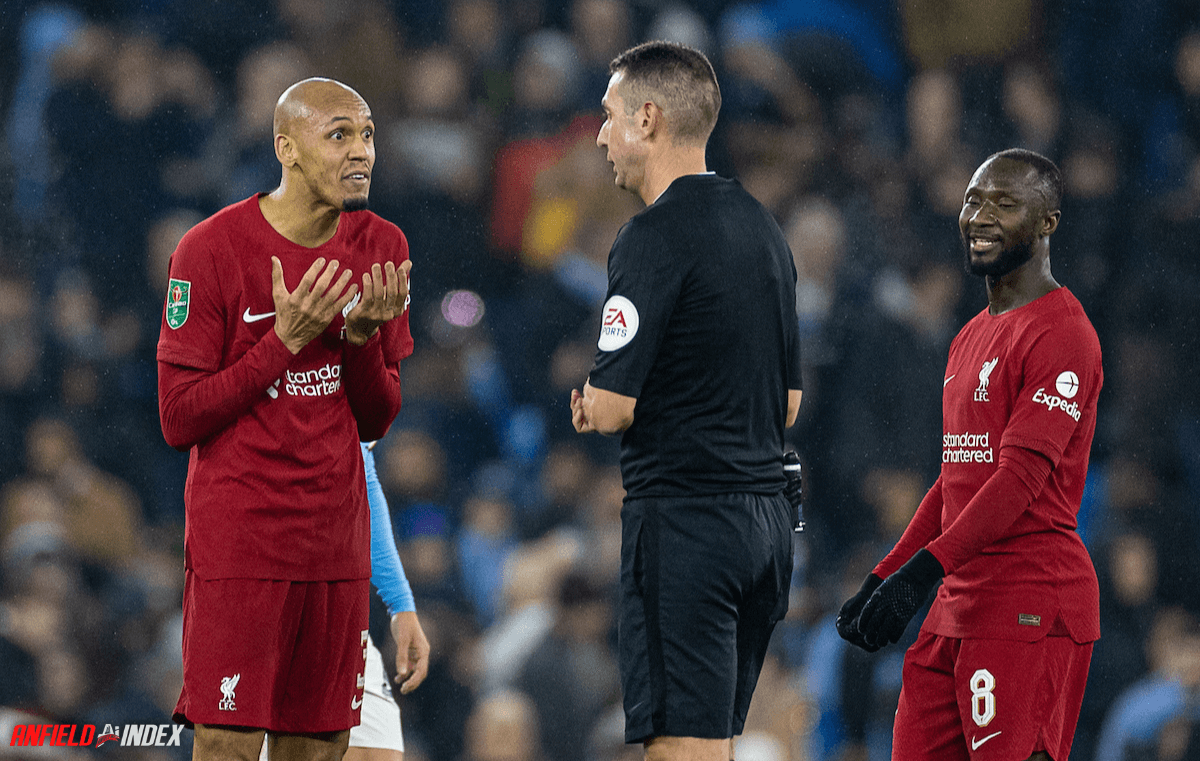 Manchester City 3 - 2 Liverpool - League Cup Post-Mortem 

It was a topsy turvy game that in all honesty should have been away from us by half time. In the end, the result was a fair one that allowed the stronger team to move into the next round. Liverpool have given up one of the trophies they garnered last season, but it is one that we can at least afford to pass up. This game had all the energy and intensity of a Premier League tie, yet the line ups and substitutions were more about preparations for the league restart and not so much this cup tie.
In terms of the performances, it seemed to place one more nail in the Anfield career of Joe Gomez, who had an absolute horror evening for the reds. It was looking very likely that he would be withdrawn at half time, if not for the unfortunate injury to James Milner late in that opening period. Our former Charlton defender seemed all at sea from the opening whistle, with an inability to mark, head, track or react to the movement of the Manchester City attack. Erling Haaland was gifted the opening goal due to a lack of strength and awareness by Joe, and the entirety of the half had him either chasing shadows or leaving men unmarked. The horror injury of a couple of seasons ago seems to have left this once excellent defender shorn of all his confidence, and it perhaps even drops him to 5th choice in the centre back pecking order.
In terms of the other defensive pieces, James Milner was given the absolute run-around until his 37th minute injury, with the disjointed nature of the team placing him either too high or simply too slow to counter the City attacks. Andy Robertson seemed to be surrounded at times and if not for the Thiago assistance (in receiving the ball), he would have been under even more pressure. With Gomez struggling so badly next to him, he must have been relieved to see Joel Matip switch to LCB, as big Nat Phillips entered the field for the injured skipper. In a half where we could not defend or head the ball away, Nat gave that ability to at least defend more of their own box. Matip had some bright moments, and the breakaway run to create Liverpool's opening goal was a nice moment. The entire first half and opening goal in the second half was just so bad, that I can't give praise to anybody in that back line. Our young keeper kept us in the game, which is a statement uttered far too often this term.
Without Thiago holding the midfield together (during that opening half), we would have been on the receiving end of far more attacks. The Spanish maestro seemed the only middle man able to receive and pass the ball without giving up possession. With a surrounding cast of inexperienced and overmatched kids, the Fabio Carvalho equaliser really did paper over those gaping first half cracks. The away side were able to rally a little bit, but if not for Caoimhin Kelleher, the game would have been dead by the break. Despite his goal, Fabio looked like a boy lost at times, highlighting the lack of depth in so many areas. Harvey Elliott once again proved a willing runner, but only really managed to prove that he is not a central midfielder.
Stefan Bajetic did not know quite what was going on, with a continuous press rendering him obsolete. In fairness to the reds manager, he was proactive enough to make some changes in order to bring their cup run back to life. Hendo did some nice bits here and there and was at least able to add the stature of a man, instead of a teenager being bullied. Fabinho looked a little nasty at times, which is the Brazilian brand of defensive play that we need from our enforcer. Alex Oxlade-Chamberlain added more muscle and drive, and suddenly, we did not look to bad as we entered the final stages.
The result was down to our inability to defend appropriately, however our lack of cutting edge in front of their goal is almost as worrying. The lack of cohesion between Mo & Darwin is still apparent, regardless of the well worked second goal. The key attributes of each man were utilised in achieving the brief 2-2 score line, but the rest of the partnership was driven by indecision and players operating on different wave lengths. Our man from Uruguay seems conflicted in front of goal and it's perhaps his new big tagline that is causing him to second guess his choices. At Benfica, Darwin would have scored at least two of those chances last night, with his role as sole destroyer within that Portuguese team cemented. I don't believe a second's hesitation would have entered his mind for his previous employers, with his ruthless efficiency made very clear to us just last season. This season we have seen Jurgen move our raging bull around the board too often, with his standing in that front line yet to be determined. Our Egyptian King, Mohamed Salah, still very much the top dog, so I believe our number 27 is unsure whether he is to be Batman or Robin, thus causing him to fluff his lines in critical moments. We need some ruthless energy in front of goal and though we sometimes moan at Salah's perceived selfishness in front of goal, I truly want some of that single minded nature to run off on his young strike partner.
Overall, the games result probably benefits the reds going forward. We have not the workable squad to fight fires on too many fronts, and the EFL cup is very much a second-tier tournament. If we had won last night my comments would almost certainly have been different, but we did not, so now the competition is rendered worthless. Aston Villa away is the moment that matters most, therefore this loss must be seen as a dress rehearsal to the main show. I am happy for the mistakes to be undertaken away from the Premier League, as hopefully this was nothing more than a load building exercise. We cannot afford passengers going forward and despite people's reluctance to accept it, Naby Keita being back in the Thiago rotation is brilliant for everyone involved.
If we can achieve maximum points over the Christmas period, this game will be more than worth the loss. Though it was a painful watch at times, we must view it as a preseason exercise designed to iron out the creases. The next stop for this group is Villa Park, and with a more senior looking starting line-up, I think we will be ready to really kick on.