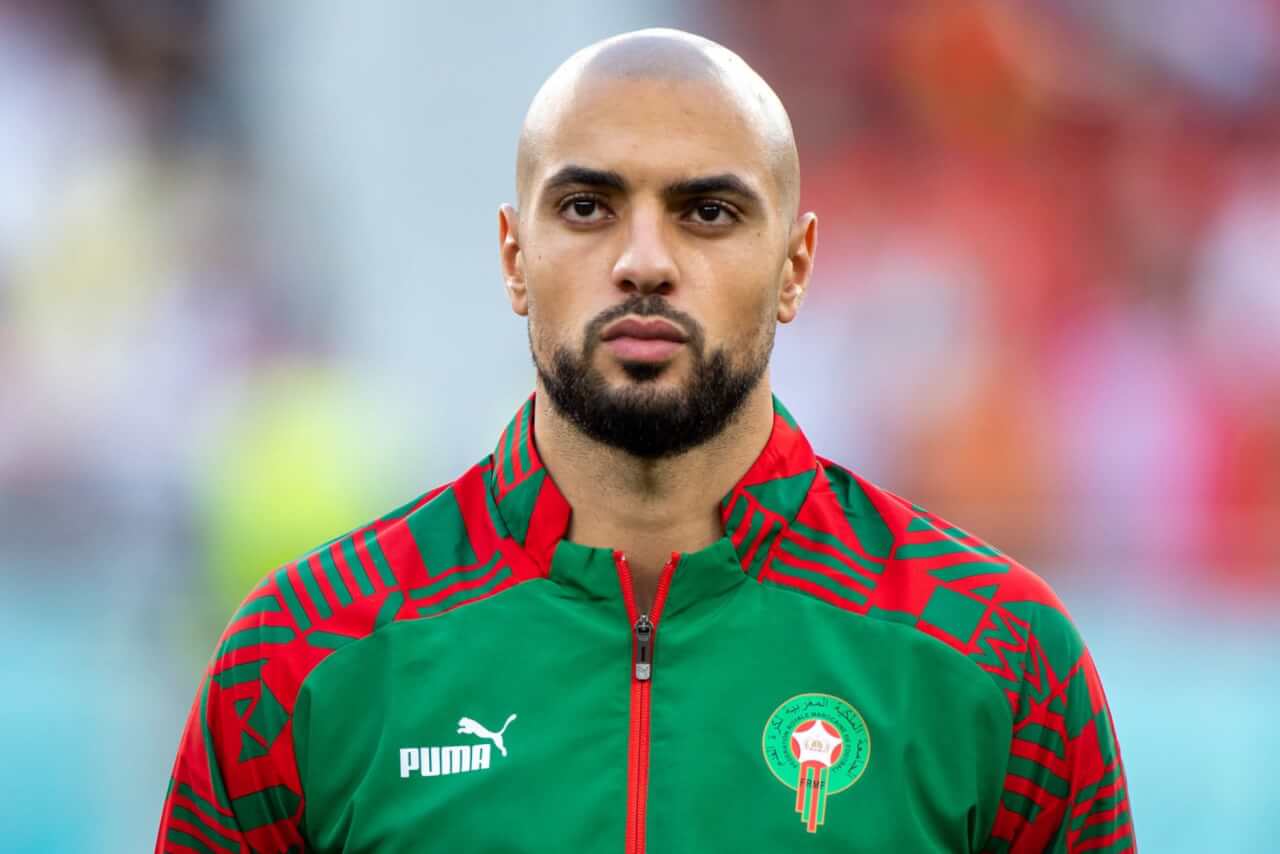 Sofyan Amrabat & The Low-Cost Alternative 

By stepping away from the Enzo & Jude propaganda for a moment, it brings the realisation that a more affordable midfielder may be needed this coming January. No single man (apart from perhaps John Henry) can be aware of the funds that are currently available, especially with Julian Ward serving his final few months as Liverpool's Sporting Director. With that in mind, recent links to other more attainable bodies may offer a more worthwhile look.
Having watched the World Cup come to its climatic close last Sunday, it primed us all for the return of domestic normality. The festive period will happily rush the Premier League to the sporting fore, with Christmas never really upon us without the Boxing Day fixtures and some Ally Pally Darts. With much of the fanbase focusing on the performances and results of our red men these next couple of weeks, someone will hopefully be looking into how we add to this underwhelming group. The January sales are all about grabbing a low-cost bargain and if we all being honest, £100m moves are highly unlikely in the new year. With that in mind, there are hopefully still some funds available to Jurgen Klopp and with the ultra-busy period ahead of us, we can't risk being left short again. If we do fail to act in the market this coming January, it could further jeopardize our chances of Champions League qualification, which could cause major issues down the road.
I'm not one for being drawn to footballers based solely upon international competitions, as performances will often differ from their normal club form. Good players can play badly and average ones can sometimes stand out, which is a nightmare window to judge a player's true level. The dynamic, systems, patterns of play, and surrounding cast (within international comps) can often dramatically impact of players level of play, so the reds would have to be certain of their strengths away from this arena, before making any concrete move.
Sofyan Amrabat was an absolute revelation for Morocco in the recent World Cup. The level of play in Qatar was to such a high degree that he was surely the stand out midfielder of the entire tournament. With a desire and ferocious want to improve his nations' fortunes, it really was a joy to behold his all-action displays. In losing to France (2-0 in the semi-finals), it closed the door on Morocco's unlikely quest for ultimate glory. That game saw them bow out to a super power of world football, but it in no way stopped the African country from being the story of the competition. The 3rd place playoff loss to Croatia (2-1) meant very little, as this represented a fixture when so much momentum would have already been lost. Where Argentina was able to take the eventual plaudits (after their triumphant final), it has to be Morocco that gained the most recognition with their own respective run. Within that nations group, one man stood head and shoulders above all else, and that was undoubtedly Sofyan Amrabat.
Below are some key facts regarding the player:
Sofyan Amrabat
Current Club – Fiorentina
Age – 26 years old (DOB 21/8/1996)
Height – 6ft 0 inches
Weight – 70kg
Senior club appearances – 221 games
Senior club goals – 6 goals
Total minutes played – 20,841
International caps & goals – 46 games / 0 goals
With 78 games played for Fiorentina since his arrival in 2020, it's fair to say that his career to date has been pretty unspectacular. After beginning his professional journey in the Netherlands (at Utrecht in 2014), his 2017 switch to Feyenoord was supposed to mark his break out season. That 33-game season in ended with a low-key move to Club Brugge in 2018, before a further switch to Hellas Verona in 2019. A deal was orchestrated to sell him immediately to Fiorentina (upon his arrival), and though that transfer did materialise, a yearlong loan was spent at Verona as part of the deal.
This series of transfers across Europe did little to cement the defensive midfielders place in the game, certainly not at an elite level anyway. For most sporting fans, this recent World Cup would have been the first time they would have witnessed Amrabat in action. It's undeniable that there can be something extraordinary to the former Netherlands under 15's best game, the issue is whether or not that best game can ever be consistently replicated for an elite team. We often see top tier sides monitor player progression through the supposed hierarchy of clubs below them. Only once an extended periods of scouting has been undertaken will a move be carried out. It's very unlikely that this individual was being watched too heavily prior to the winter internationals, but his moment in the spotlight appears to have the reds casting more than an eye on his talents, especially with their midfield concerns at Anfield.
Across his career, the Serie A based midfielder has played pretty much exclusively as a defensive midfielder. His role as the 6 would definitely aid the reds current situation, with various questions raised over Fabinho and his potential regression. With only Jordan Henderson and Stefan Bajetic available as viable alternatives, it most certainly would make sense to keep an eye on a man very much in his sporting moment. Whereas the likes of Moisés Caicedo, Jude Bellingham and Enzo Fernández can operate further forward as 8's, the 46-cap Morocco international is a holding midfielder only, therefore somewhat limited from a positional point of view. His tireless coverage of the pitch would clearly aid certain aspects of our game, but again it's difficult to gauge his productivity within a team that is often possession heavy. Whereas it's a brilliant sight to see dramatic interceptions or bone crunching challenges, much of Liverpool's midfield game is about smart positioning and on ball awareness. Our midfielders require the ability to receive and emit passes in tight situations, with a clear intent to play through the opposition press. Though Amrabat is not lacking in his on-ball work, it would still be a huge step for him to jump into Klopp's midfield, especially when we have seen such little evidence to support his current credentials.
It's clear we are going to be regenerating our midfield group over the coming windows, so to sign this player would clearly offer good coverage and support to the squad right now. As someone that would act purely as a Fabinho back up however, it's difficult to imagine a player that will start next season as a 27-year-old, can be the logical and long-term signing we really need.
If investment limitations are apparent this coming January, then a £30m deal on this player would represent a short-term solution without absolute long-term gains. If we are looking at a viable candidate to offer solutions within a certainty an area, then hopefully the short list will include some more names. Though I'm in no way against this signing, it seems reactionary to a snapshot in time and perhaps against our ideals. Though Moisés Caicedo would be far more expensive, this would still be a deal far more affordable than those £100m names already mentioned. This would be a player perfect for today and tomorrow, with a decent enough sample to be confident of what we were getting.
We are just days away from that window opening. When soon all will be revealed. Who the targets really are is anyone's guess, but if Sofyan Amrabat is the man we want, it would certainly aid our hopes of a top four finish this season and there is nothing wrong with that.