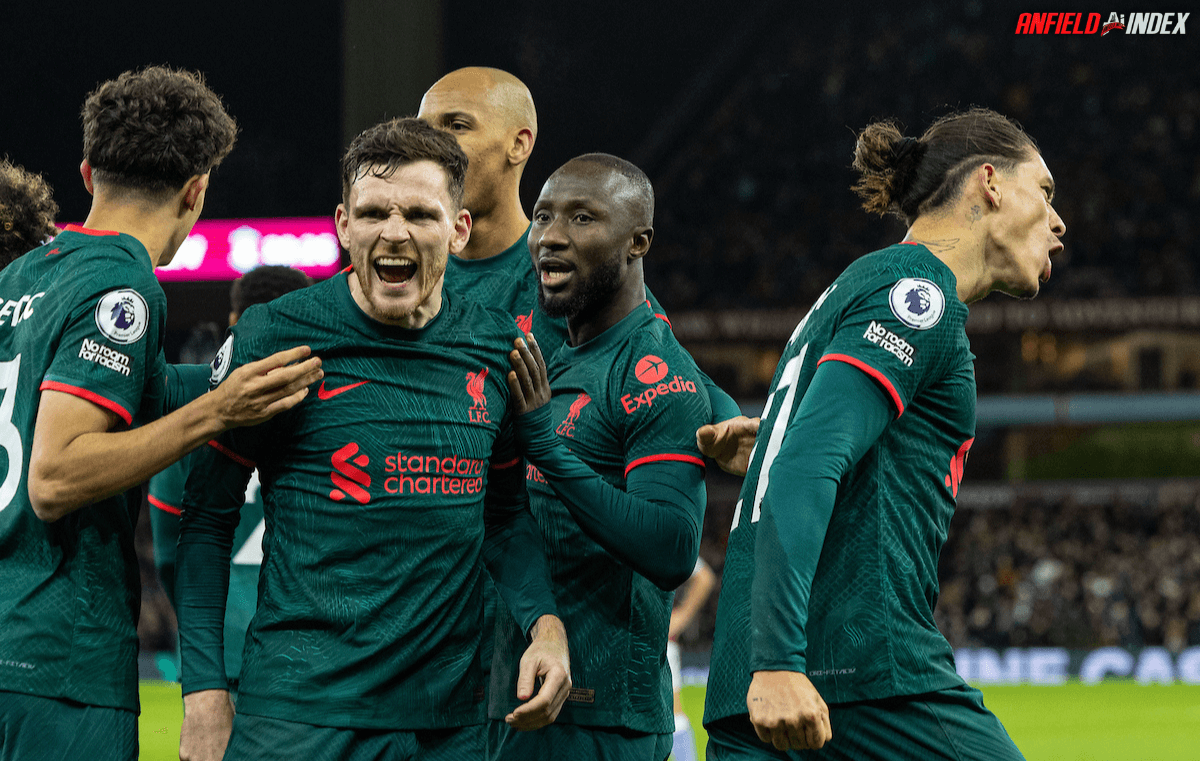 Aston Villa 1 - 3 Liverpool - The PL Post-mortem 
A win is a win and three points to kickstart the reds Premier League campaign could prove vital. Though our red men dragged their second half feet in getting there, all that mattered was victory, and that is what we achieved.
On a day when a surprising move for Cody Gakpo is deal close to completion, it proved a very eventful and fulfilling day for all Liverpool supporters. With at least one of our top four rivals dropping points (Spurs drew 1-1 away to Brentford), we can at least be assured of some fairly good form to carry us into next week.
I've got no desire to look back at the Manchester City loss, with that EFL cup defeat being used to get the available squad ready for the trip to Villa. In a starting eleven that saw the following players, it was pretty much as we expected prior to kick off, especially given our very limited bench.

GK – Alisson Becker
RB – Trent Alexander-Arnold
LB – Andy Robertson
RCB – Joël Matip
LCB – Virgil van Dijk
RCM – Jordan Henderson (c)
LCM – Thiago Alcantara
LF – Alex Oxlade Chamberlain
CF – Darwin Núñez
RF – Mohamed Salah
Substitutions:
67' Naby Keïta – Thiago Alcantara
67' Harvey Elliott – Alex Oxlade Chamberlain
79' Joe Gomez – Trent Alexander Arnold
79' Stefan Bajetic – Jordan Henderson
88' Ben Doak – Darwin Nunez
For a group of individuals that have either been part of international camps, or subject to a mid-season break (requiring a second preseason), this was pretty enthralling football. Liverpool seemed under sporadic pressure throughout the first half, but showed more cutting edge to race into a 2-0 lead. The opening exchanges were set apart most by the emphatic on ball ability by Trent, with his variation in passing a sight to behold. England's 3rd or 4th choice right-back was in full playmaker mode, which was something the Midlands team couldn't live with during the first half. It's curious to recall Gareth Southgate's Three Lions searching for creativity, as they bowed out to France in the World Cup. When you see our number 66 so refined and dangerous, it does leave you searching for why he wasn't called upon when his country desperately needed a goal.
Trent's vision and Robbo's awareness gifted the Reds the lead, with our Egyptian King able to harness his penalty box positioning. With that, the game saw Liverpool cruise through to half time, albeit with the odd piece of work from the returning Alisson Becker. The second goal was a delightful and clinical finish across the keeper, as our opening scorer turned provider to Virgil at the back stick. The Dutch captain had been in full leadership mode from the opening whistle, with the structure of defence looking to catch out the home sides varying attacks. It was his well taken goal which saw him edge out a few others for my man of the match, with his presence providing the steel that we needed to prevail.
Much of the game was spent urging Darwin on, as the young Uruguay striker continually set alarm bells ringing behind the Villa defence. Our charismatic forward played like a stallion that's not quite broken in, as his unorthodox style of play caused all manner of issues for the opposition. The negative issue surrounds his finishing of good chances, or lack thereof. Despite crafting and immersing himself into so much of what was bright, it was Darwin's lack of conviction that allowed the home side to creep back into the game. There's hope that experience will see him prevail as an elite scorer, as there's so much to love about his enthusiasm on the pitch.
As the January transfer window starts to creep open, our second half troubles made it alarmingly clear how much we require reinforcements. With a midfield three that are around or above 30-years of age, you could see the energy gulf between the team chasing, alongside those clinging onto their lead. With just threadbare options at Jurgen Klopp disposal, it was actually Stefan Bajetic that was able to decide matters from the bench. After some brilliant and lung busting work by our central striker, he was able to assist superbly. With some work still to do, the Spaniard was able to settle the match, causing the red support to breathe a collective sigh of relief.
Overall, the game was a success and if transfer indications are to be believed, the reinforcements are being assembled as we speak. How we get our form back may still be painful at times, but results are all that matter right now. With Mo & Darwin on the pitch, we are always able to create chances within the attacking third. Ibou Konate returns this week and hopefully the fitness of Naby can be managed, as his ability to rotate could be imperative.
We would all have taken this result (prior to kick off), especially with the results we have witnessed so far this season. Momentum is all about building into form and the positives certainly outweighed the negatives on the night. We welcome Leicester next before heading to Brentford, and do so with a real chance of closing the top four gap further. With nine points on offer over this festive period, three are in the bag with six just waiting to be taken, which could make 2023 a very interesting watch.