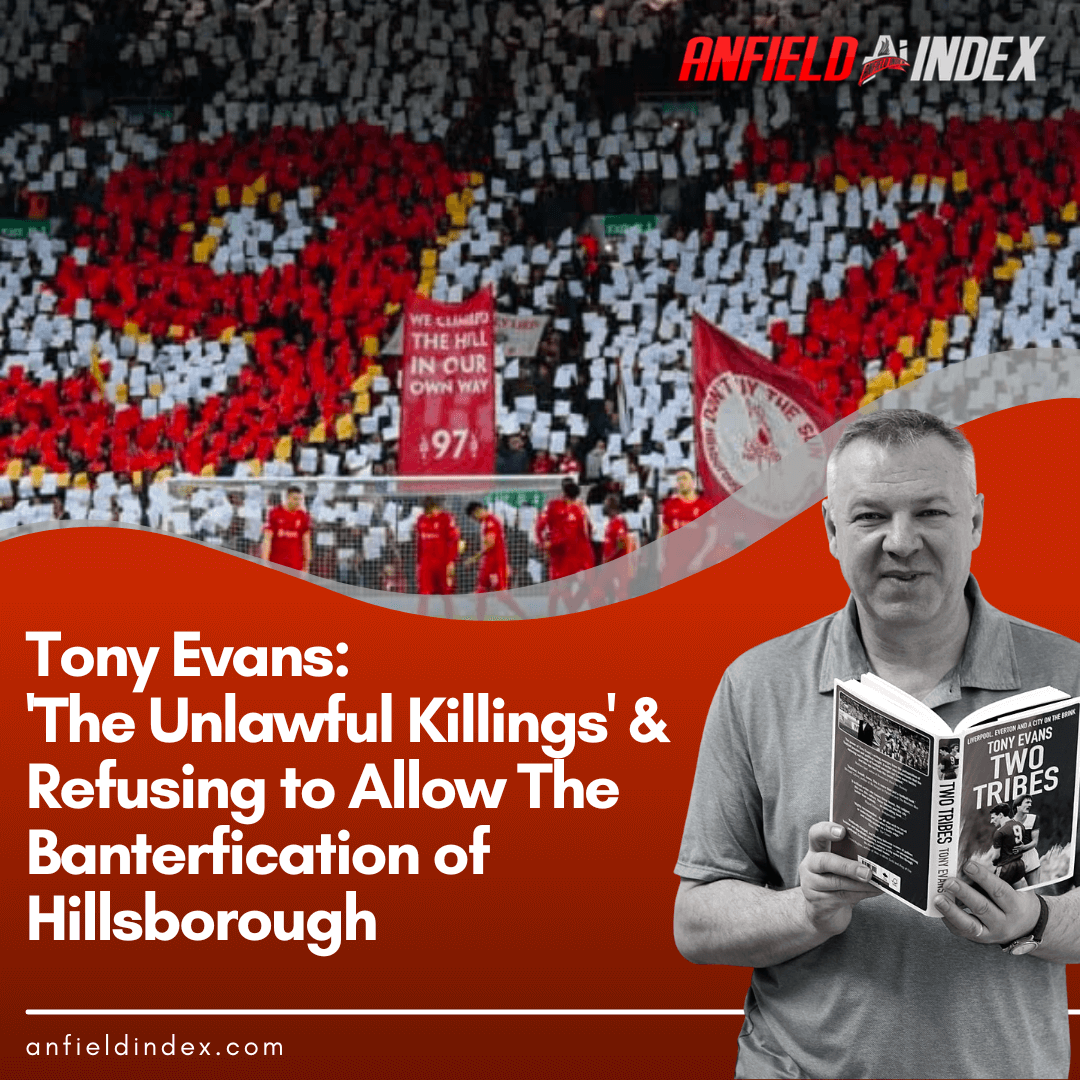 Tony Evans: 'The Unlawful Killings' & Refusing to Allow The Banterfication of Hillsborough

How was 2022 for you? The answer has to be "crap" in a general sense. From a Liverpool perspective it's been a mixed year.
We forget quickly but the first five months were as uplifting as any period in my supporting life. The quest for the quad was special. To go into the last week of the campaign with the possibility of winning all four trophies was an astonishing feat.
The final two games were disappointing and Paris was disheartening off the pitch but we were lucky to have experienced those heady days when a clean sweep seemed not only possible but inevitable. Even those who have lived through the Shankly, Paisley and Dalglish eras were left stunned.
Us arl arses who'd smile and shake our heads sadly and think, "the young'uns will never see anything like we saw," were confounded. The football was phenomenal, the excitement was on the top note for weeks on end and the joy of the game was at its peak. You will be lucky to ever see another spring like that.
Yet by June there were people complaining that we "only" won two crappy cups. Mindboggling.
You've been watching a golden era, people. This team flirted with the ultimate glory and lost out by the tightest margins to a club that can bully everyone in the sport with money (Manchester City) and a team (Real Madrid) whose heritage gives them an advantage over everyone else, including the oil-money nouveau riche.
Moaners are always going to moan but when City and Real are the only sides that come out in front of you, things are pretty damn good. If you define those five splendid months by seven days, you deserve pity.
*
Of course, the nature of fandom means that other supporters will always resent your pleasure. That's natural. But when you are a Liverpool fan there are extra burdens.
Throughout this year the toxic evocation of Hillsborough grew uglier and uglier. Ten days into the new year, Shrewsbury Town supporters were at it.
There used to be a handful of clubs from whom you could expect abuse. The rest would never touch the subject.
That balance has tipped. There are now just a handful of clubs whose supporters won't use the deaths of 97 people to score points. Hillsborough denial is the worst it has ever been. Worse, even, than in the immediate aftermath of the disaster.
Actually, we need to stop using the word 'disaster.' It leaves too much scope for misinterpretation. Let's call it what it was: the unlawful killings.
It's grim. It will get worse. We need to call it out whenever it occurs and fight to keep the real narrative to the fore.
The banterfication of Hillsborough is well under way. We cannot allow this to happen.
*
One of the side-effects of Hillsborough (and let's not forget Heysel) is that we will be held to higher standards than other supporters. This means incidents like the missile thrown at the Etihad that injured a teenage girl have to be condemned unequivocally.
No excuses. No whataboutery. Don't be a prick even if the opposition are being pricks. We should be – and need to be – better than that.
*
Us at our best was shown by the response to events in Paris. Frankly, the way the police, authorities and some locals behaved, they could have had no complaints if Liverpool supporters had torn their city apart.
As it was, catastrophe was averted by the calm reaction of Reds fans. The attempt to place the blame on those wronged (again) was dismantled with forensic brilliance by those caught up in the danger. The support from (particularly local) journalists was uplifting. It was quickly clear who was at fault.
Nevertheless, the same old question kept coming up from the deluded. "Why is it always them?" It gets asked over and over again.
I'll tell you why, dickheads. It's because Liverpool get to big games. It's because football's ruling bodies, entire cities and police forces can't organise a big event securely and safely. It's because they have a warped view of the threat fans present – not just Liverpool fans, but all football fans.
One day the "why is it always them" crew will get to a big game and it'll go wrong from them. They'll find out. If it happens, they'll deserve all they get but I wouldn't wish what we've seen on our worst enemies.
*
May was the high point. There was never any chance the new season would maintain the intensity of the previous campaign but the drop-off was still disappointing.
It brought out the least credible group in the fanbase: the FSG-outers. And guess what? FSG want out.
That's been the worst part of the autumn. The concern about what comes next.
Some may be happy with any ownership. Some actually crave a deep-pocketed dirty regime. For most of us, though, a City or Newcastle-style takeover would cause some deep soul-searching and stretch our relationship with the club even further.
FSG have been pretty benign for venture capitalists. They've been far from perfect but things could have been so much worse. We could do without so much uncertainty entering the new year.
*
FSG are not daft. Finishing outside the top four would diminish the value of the club. So, of course they are going to spend in the transfer window. Cody Gakpo will not be the last arrival in January.
Do I know who else might be coming? No. Do I care? Nope. The recruitment department and Jurgen Klopp know what they need to do and will live and die by their decisions.
The second worst section of the fanbase behind the FSG-outers are the transfer ultras. Invariably, they have never heard of a "target" before last week but he's now their new favourite player. I can't be arsed with any of it.
Where will Gakpo play? Where Klopp deploys him. Will he be any good? I hope so for that price. Are the club stretching themselves financially? Well, anyone who's watched FSG knows that this sort of move isn't really in their playbook. There's only one conclusion. They are speculating to accumulate.
*
Darwin Nunez is quick and makes things happen. How he kept the ball in play for the third goal against Aston Villa was amazing. He'll give us an entertaining 2023. I could watch the daft get all day.
*
Have a great new year. Remember, if you feel down, you could support ******* [redacted to avoid abuse on social media]