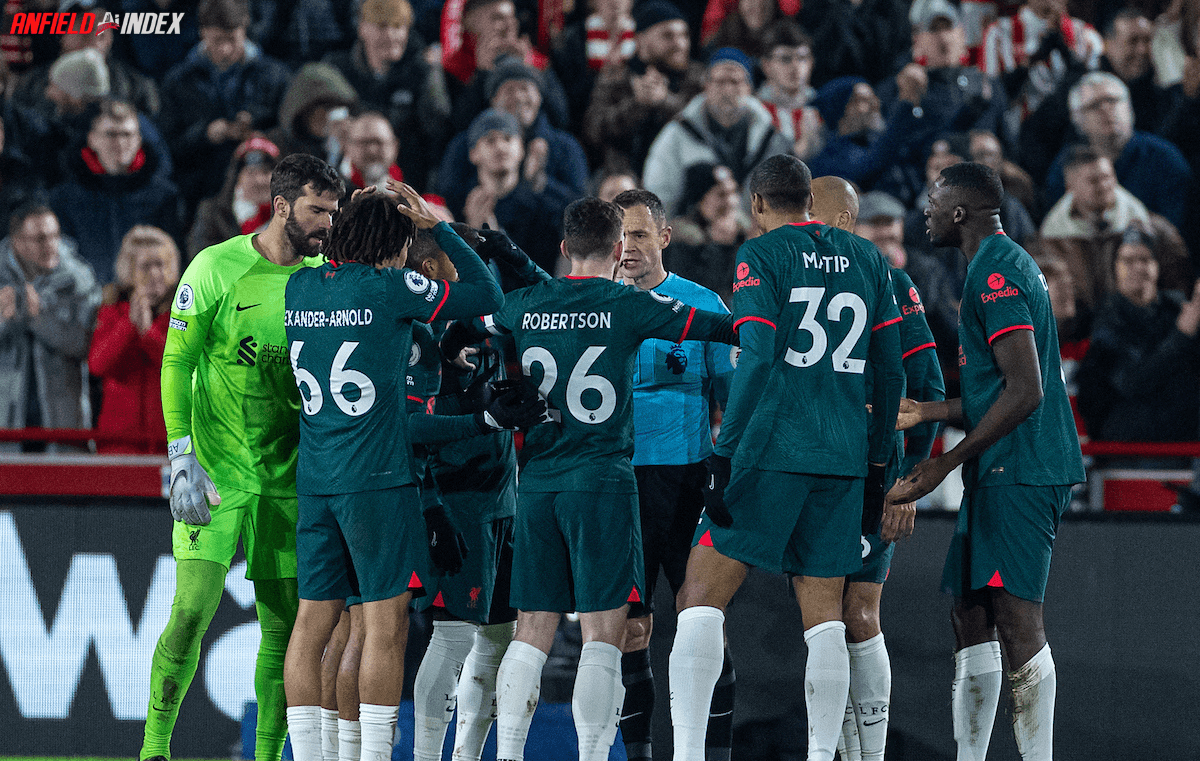 Brentford 3 - 1 Liverpool - Premier League Player Ratings
Brentford 3 – 1 Liverpool – Premier League Player Ratings
Alisson Becker – 6.0
Made a super one on save in the early stages, only to see an own goal slip past him with the resulting corner. So unlucky with the second goal, with his team continuing to let him down. Was let down again for the final goal.

Trent Alexander Arnold – 6.0
Had a great game versus Leicester, but lacked that level of form through the opening stages. Was caught outmanned at the back post for the second goal, and seemed stunned at his team's capitulation. A superb far post ball created the goal for Ox, as the reds tried to fight their way back. Kept working.
Kostas Tsimikas – 3.0
His chance to equalise and general freedom at the Brentford back post should have been capitalised upon, whilst looking likely to make a mistake at the back.
Subbed – 45 mins
Ibrahima Konate – 4.0
So unlucky with the own goal, with the ball needing to be won before it even struck him. Couldn't cope with much of what was coming his way, as the determination of the London side proved too much. So poor for the final goal, when a simple ball into touch was all that was needed.
Virgil van Dijk – 4.0
Pulled about before and after the opening goal, as the home side continued to cause issues. Struggled to organise his back line as the pressure mounted into a second goal. Hopefully not a bad injury at half time.
Subbed – 45 mins
Thiago Alcantara – 5.0
Tried to set a positive tempo and get on the ball as the reds laboured behind. His level never got too high, but he continued to work in tandem with Naby through the second half to recycle possession.
Harvey Elliott – 3.0
Continues to drift out of a defensive position, and really only seems capable when in the attacking third. Just not a centre midfielder.
Subbed – 45 mins
Fabinho – 5.0
Was okay positionally, with much of Brentford's build up coming from wide, or straight into the penalty box. The opening goal needed him to attack the first ball, and he was more a conduit for Thiago & Naby through the possession heavy second half.
Mohamed Salah – 4.0
A beautiful pass in the early minutes nearly saw Darwin score, and from there it was all scrappy and about conceding goals. He drifted in and out of the game as Brentford's organisation showed. This team needs more.
Alex Oxlade Chamberlain – 6.0
An encouraging first period with a good running and opportunities to create havoc, and then everything went wrong for the visitors. A great headed goal was the start of the red's comeback, and he looked to drive forward whenever possible.
Subbed – 83 mins
Darwin Nunez – 6.0
Caused alarm from minute one, and had a great chance cleared off the line early on. His ferocious and powerful running was a delight, but again he was unable to convert his chances. The home sides low block took away much of the space in the sexond half, and apart from the disallowed goal, his opportunities were fleeting
Subs;
Naby Keita – 6.0 (on 45)
Came on the add control, and really increased the midfield energy and quality.
Andy Robertson – 6.0 (on 45)
Had to come on, and immediately showed more drive.
Joel Matip – 5.0 (on 45)
Did lttle wrong and looked to bring the ball out.
Curtis Jones – 5.0 (on 83)
Came in to add a goal threat.
The Manager;
Jurgen Klopp – 5.0
Went with strong starting line-up, with a clear intention to get both Konate & Fabinho back in the team.
The first half was a melee of horror and luck, with some bright if annoying moments for the reds. The system continued to fail the away side, with a continual inability to defend sensibly.
The manager was very decisive at half time, with three changes designed to impact a game that was just about lost. There appeared to be far more urgency and willingness from his team, yet the first half was just so bad at times. The game drifted into the latter stages, where Brentford deservedly put the game to bed.
A bad day all around.
Pre-match Prediction;
Brentford 1 – 3 Liverpool
Steven Smith