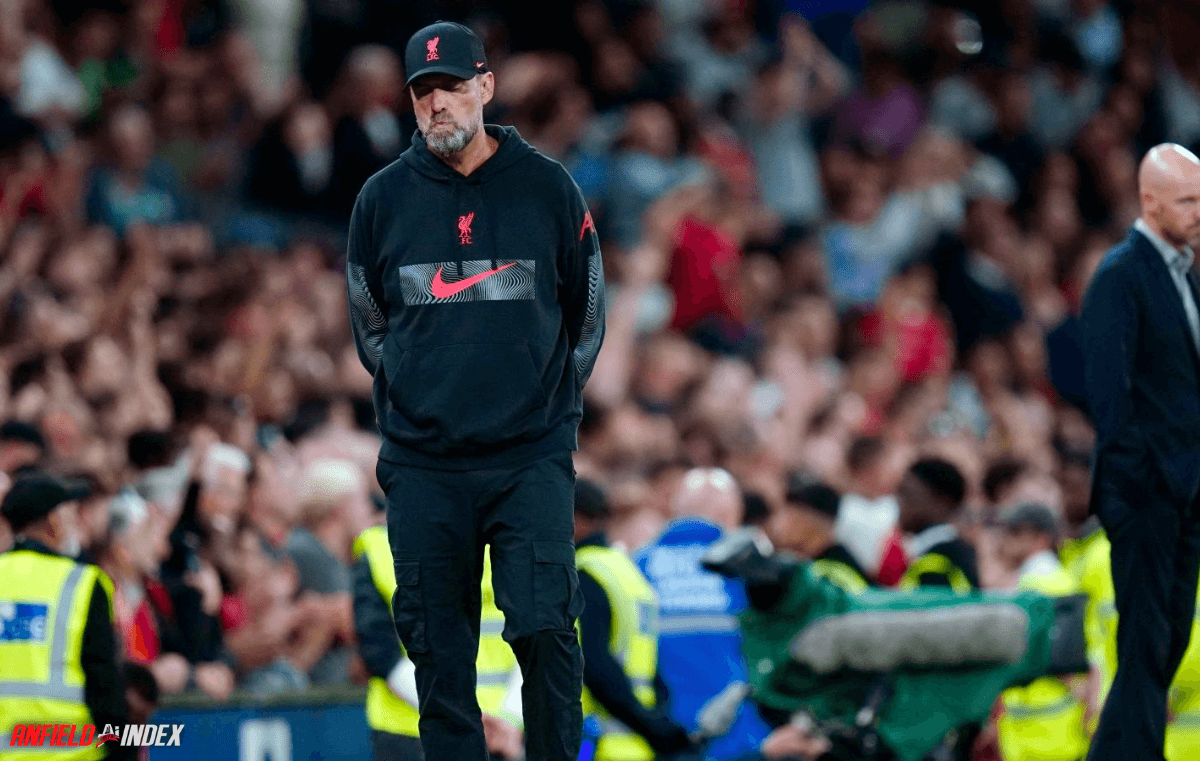 Bellingham Funds: Time to Break Glass as Emergency

It's annoying to use a quote that Gary Neville's made in recent times, but as he's stated "things are never as bad as they seem and never as good as they appear". Things don't appear to be good with Liverpool's team and especially the midfield right now, but it's not beyond repair and the season isn't over as some Reds seem to be intimating. Certain plans will need to be accelerated and the intentions may have to change, but in this case it's for the good of the team. It's time to break into that Jude Bellingham fund.
Liverpool have been linked with Bellingham throughout the summer and rumours only intensified to fever pitch with every outing or session alongside the likes of Trent or Hendo in Qatar. The suggestions are that with a competitive market that includes all of Europe's big hitters that Dortmund won't sell for anything less than £120 million. The projected fee around Enzo Fernandez, his age, the fabled English tax and his performances in the World Cup, Bundesliga and Champions League to date means there's little chance the Signal Iduna Park natives would consider anything less.
According to multiple reports, the player is Jurgen Klopp's and FSG's number one target for the summer with the funds ring-fenced and ready to go. That all seems great in the long term but the reality of right now tells a different story. Liverpool's midfield is being regularly overrun and offering little protection, as a side that's already conceded 51 big chances to date toils in the chase for the top four. With ageing legs and a lack of speed or physicality amongst the current crop, it seems difficult to believe the former Birmingham starlet would join a team not competing in Europe's elite competition over other established sides.
The risk is imminent and the likes of Jamie Carragher, Neil Jones and James Pearce have been blunt in their assessments. For all the apparent work that's been undertaken in Dubai and the excitement and bullishness Klopp has portrayed about the return of the Premier League, it's clear Liverpool need reinforcements in midfield right now. A serious concern around all recent transfer links being based on arriving for the next campaign (Matthues Nunes and Manu Kone the latest two) has the feeling of reacting after the horse has bolted or whatever platitude you wish to insert.
If the funds are available then now is the time to act and even in a difficult January market, every red knows that a pot of up to £120 million can go a long way. It would enable Jurgen Klopp (avoiding mention of Ljinders here for natural reasons) to bring in young, hungry and physical players such as a Kone, Caicedo, Thuram or others that have been mentioned. Virgil Van Dijk talked earlier in the window about how he was looking forward to 'welcoming new players to our football club' (emphasis on the plural), so it's hard to see how reacting now would fail to give everyone a welcome boost.
Yes there would have to be sacrifices made against the normal strategy and the likes of Adrian potentially removed from the second half squad list, but needs must at certain times. Indeed if Caicedo were to be one of the options then he could occupy an under-21 spot as per Premier League rules (https://www.premierleague.com/news/2786707). The key point isn't to throw names out though, it's to look at the reality and Liverpool's needs. Missing out on Bellingham would be a distinct possibility either way. It's time to break glass and access the emergency funds.