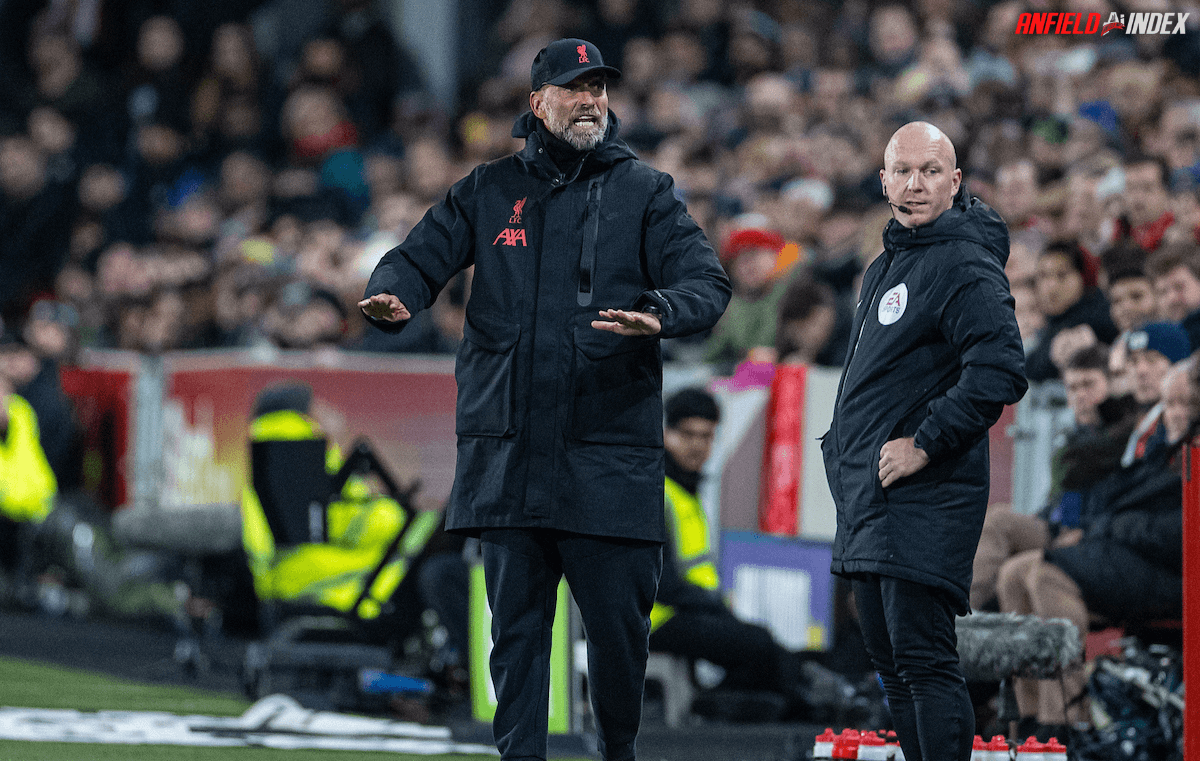 Brentford 3 - 1 Liverpool - Premier League Post-Mortem 
With a couple of days to reflect and take a sensible view on Liverpool's last outing, it was still something close to dreadful. We have had too many abject performances so far this term, with resulting theories and opinions thrown about by the fan base like confetti. The conspiracies surrounding Pep Lijnders and his influence on team affairs is now swirling, which could get worse for him before it gets better.
Without delving too much into the political landscape of the club, the Reds' trip to Brentford turned out to be a London horror show. The home side bullied, harassed, outworked, outgunned, and generally outplayed, and were full value in garnering maximum points. With the Liverpool skipper missing due to a concussion, it was a shame not to have seen Naby Keïta recalled into the starting eleven. Instead, we were gifted Harvey Elliott, an out AMD out winger who continually struggles in midfield, whilst Alex Oxlade Chamberlain continued to play wide on the left. To at least switch those two around would have made much more sense, even if the management team did not want to put our Guinean central midfielder in his natural position.
The early stages of the Brentford tie could have seen the Reds score first, with a relatively good opening creating a mouth-watering chance for Darwin Núñez. Obviously, this chance wasn't converted, and the remainder of the half saw Thomas Frank's team have their way. With a direct and aggressive style of play, it's possible that the manager had read Pepijn Lijnders' debut book to his players, as the title of 'Intensity' more than summed up their own approach to this game. Liverpool were horrible in tracking midfield runners, were atrocious in staying positionally disciplined, laughable in their attempts at winning the first ball and absent whenever a second ball was there to be won. That closing 30 minutes of the first half was a repeat of what we saw in Naples, and like how our defeat against Manchester United unfolded. A lacklustre half at the Gtech Community Stadium created a 2-0 score line, and only then did the management team choose to react.

In the last day or so have we become fully aware of the Virgil van Dijk injury, with a hamstring strain more serious than first thought. His own half time substitution maybe explains his poor first half showing, yet the other two players that departed on 45 minutes can have no such excuse. Certain players can be labelled very quickly as good time performers, who can emit very nice moments when the team is purring. This current campaign has seen many players level drop, which has made the weaker players really struggle amongst the general muck on view. Harvey Elliott has every chance of establishing himself as a top tier player, but that road cannot be travelled within the centre of a Liverpool midfield. His inability to play this position (when times are tough) are damning, with a performance likened to a little boy lost. Kostas Tsimikas was also painfully poor at times, especially when good final third moments presented themselves. Certain players simply require other pieces on the board to be performing, in order for their own game to rise. This season it is a bitter truth, which is true of far too many players right now.
Joël Matip came on for the injured and underperforming stand in captain, Virgil, whilst Naby and Andy Robertson entered the fray for Harvey & Kostas. The reaction and improvement were almost immediate, with a level of control returning to the previously lopsided midfield. Various degrees of penetration and patterns of play started to emerge, which eventually led to the Ox scoring from a decent Trent cross. This urgency soon dropped off how we, with Thomas Frank's men dropping sensibly into a controlled low block.
With an advantage gained through a first half of ruthless endeavour, it was a tactical switch of a team in control of the match. The Reds were scrambling without looking likely of achieving much, whilst the eventual winners bided their time from a position of comfort.
The signs of our struggles were starting to show against Villa, they were printed in bright neon marker against Leicester, whilst this very game was the result of everything bad, we have seen this year. It was a staggering bad performance and much of the blame must be levelled at the preparation and coaching that is being administered. To consider that this group has just undertaken a second training camp since the summer is worrying, as it clearly means that issues are being ignored.
Something is very wrong in the Liverpool camp right now, and major internal adjustments must be undertaken if we are to improve. The raft of stories coming out of Kirby this week have been enlightening, but what we need is positive change ahead of any lynchings. Whatever has occurred in our training methods or ideologies has to be corrected, whilst new blood simply has to be sought in order to shake up a very comfortable group.
What we saw at Brentford is just about as unacceptable as it gets, especially for a team that was once Europe's best not so long ago. In the build up to our FA Cup tie with Wolves next Saturday, there must be some real decisions made on how to proceed, or this season could become the most disappointing in Jurgen Klopp's reign.