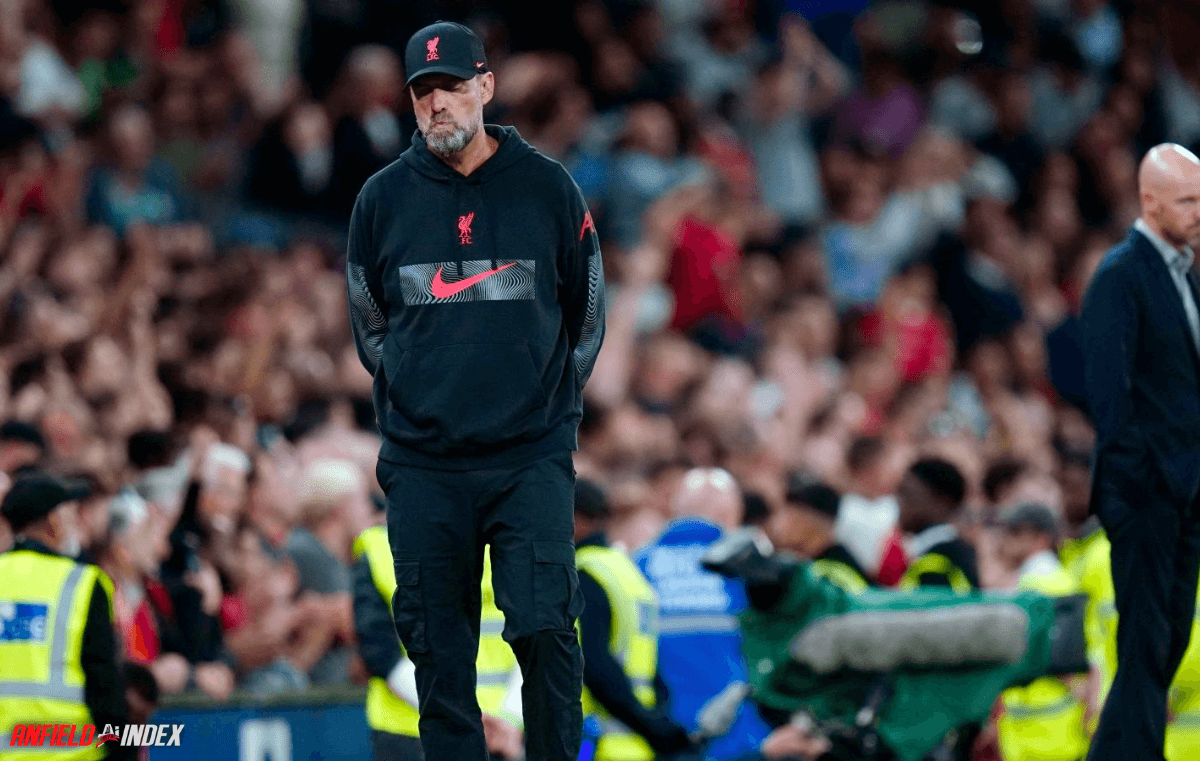 Liverpool in Crisis: This is Klopp's Responsibility

A loss of physicality, humility and desire
Three years ago this week Chris Wilder said this about Liverpool "they won every first ball, every second ball. Ran forward and ran back. They did that miles better than us… had the humility and desire to do that as World Champions, as European Champions… Tactically and technically they are superb but the physical side, if that's good enough for them it's good enough for anyone".
Fast forward to today and a national newspaper cites a Premier League team who recently played Liverpool. It says "Three main weaknesses were identified before his team's recent meeting with the Reds: Liverpool's vulnerability on transitions (ideal for teams who are happy to let Klopp's side have the ball and counter-attack them), the ease with which they concede clear chances and – most damningly – their frequent inability to stand up to physicality."
(I am reminded of the Martin Johnson quote about the 1986 England cricket team: "there are only three things wrong with this England team. They can't bat, can't bowl, and can't field.")
This is quite the turn-around. It will be hurting Klopp and his team.
The data backs up the eye test. We were very poor against Leicester and calamitous against Brentford. Wolves was no better. We concede first often, we are bullied easily, we have a soft centre, we give up more big chances than any side except Leeds. We create a lot of big chances but miss most of them.  We don't, with a few exceptions, look like a team dripping with desire, fighting for every ball.
And now Paul Joyce today states the players are unable to do what Klopp wants.
For a team feared for its physicality, and who had in the past two years combined that with greater control and precision – this is a total train wreck. Carragher wasn't wrong here "When I watch Liverpool now, and certainly in midfield, it feels like Jurgen Klopp's team is morphing into something else… it reminds me of Arsenal under Arsene Wenger. Yes, they were a great football team. But with their actual pace and physicality, teams could not cope with it. Then that team morphed into something really technical and they never won again."
A startling decline 
The decline has been startling. Even the biggest doomsters could not have thought it would be this stark, this dramatic. Even top 4 now looks very unlikely. Unthinkable. But while the decline has been faster and deeper than anyone expected, it is not unsurprising given the lack of investment on the pitch. Between 2016 and 2020 it felt like Liverpool cracked the secret code. Every decision looked smart, money was spent well, frugally but targeted with laser like precision into the areas of greatest need. It culminated in a  league run (across seasons) of P38, W36, D2, L0. 110 points from 114. The fact this only gave up a single league title is a great curiosity.
A series of bad decisions 
But then, a series of bad decisions, all linked by one thing (Klopp). The Henderson contract (2.5 more years of this left everybody!). Pushing Michael Edwards (and subsequently his team) out, ignoring the scouts (Enzo!). Letting someone else take players who were available and would have helped enormously (Bruno Guimarães the most glaring one). Even the Thiago transfer looks odd, in retrospect (without other additions). We are now (apparently) chasing Caicedo and Enzo. Both have a half season in a proper league, both were available for under £10million and would now cost approaching £150m+ for the pair. We know the script. We won't get them. The disastrous new pre-season schedule. The glut of hamstring and muscle injuries. The bafflingly naïve new tactics. It goes on.
Each act of self-harm, each time driven by poor decision making. Emotional decision making. Irrational decision making. Perhaps even hubris (which is, after all "the world's most renewable resource").
No quick fixes 
Can it be fixed? Probably not to be honest, not quickly, and not to anything like the level we saw from 2018-2022. Fixing it would need changes that just seem so unlikely. A change of manager? No thanks. A change of assistant manager? Not if you want the keep the manager. A return of Edwards? Not a chance unless you change the manager. A new all-seeing genius Sporting Director? Unlikely anyone that good wants the role if they don't have decision-making power. And the manager won't acquiesce to that. A whopping new kitty? Possible at some point, but unless a new owner is super rich and prepared to invest huge sums in the squad (several £100s of millions)… and maybe change the manager to boot (good luck with that).
It goes on. And, by the way, we should reject any shouts that this is a transitional season. It isn't; at least not in a positive sense. There is precisely zero signs of a positive transition  (it is if transitioning means going from a top 3 club in the world to merely a top 6 to 8 side in England).
All roads lead back to Klopp
Just as we adore him for what he has brought, so we can be critical for the mistakes that rest on his shoulders. It's very easy to attack Pep Lijnders. But he's not acting as a rogue agent. All he does is with Klopp's say so. Presumably even that dreadful and arrogant book, with its calamitous self-owning title.
How we ended up – from the team that won every first ball, every second ball etc – to Carvalho and Elliott as our midfield away to Everton in September is one for the historians to ponder. But it's on Klopp to fix it. The first step is to be more solid, smarter. Cut down the big chances against. Fight harder for the ball, match teams physically. Whether this can be achieved without several new players – I doubt it; but we will find out.