 January Scouting Report: Teun Koopmeiners

You could argue he's a name that came from nowhere but such is the nature of Liverpool transfers and rumours nowadays. Teun Koopmeiners won't have been on any lists, but the Dutchman seems like he's clearly been considered as an option by the people that matter. Liverpool need at least one midfielder this January transfer window and we take a look at a player that doesn't appear all too popular with the majority of the fan base as an option.
WHAT'S BEEN SAID?
Quite a few things by a number of parties over the last few days. Jacque Talbot for footballtransfers.com appeared to break the story on Monday, stating that Atalanta will refuse to sell the player in January due to other departures and their desire to reach the Europa League. Word had clearly reached the player himself who was quick to diffuse any speculation. "I saw the links and stories about Liverpool — nice to see that but I'm 100% focused on Atalanta. I'm so happy to play here."
WHAT DOES HE BRING?
The former AZ Alkmaar player possess a varied and impressive skill-set which may well have drawn the Reds' eye. Naturally left footed, Koopmeiners typically operates in a defensive midfield role, but is known for his ability to bring the ball forwards. The 24 year old isn't quick but does have a burst of pace and ability to change direction quickly when under pressure. His long range shooting is a speciality and his strike the other night against Bologna was a timely reminder of this.
STATS AND INFO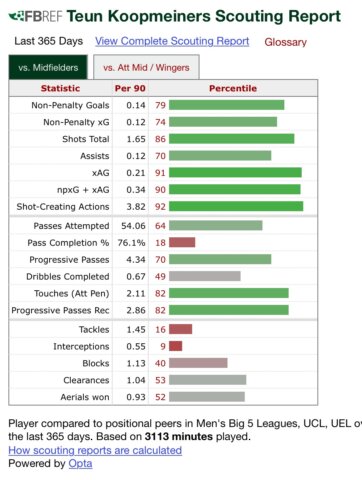 The Castricum native has 15 caps to his name, but remained an unused option for the Dutch in the World Cup. His basic stats are impressive as he has five goals and two assists in 17 Serie A appearances this campaign. From a stats perspective, his passes attempted average per 90 minutes of 54 is in keeping with Liverpool's other midfielders, but a pass completion rate of 76% is nothing to write home about. A rumoured weekly wage of below €37,000 per week according to Capology.com wouldn't prove any issue for the Reds and the player will have two years remaining on his current deal, with the option for one more in the summer.
PRICE TAG AND REALISTIC
This one sounds like it maybe over before it's begun and it's hard to believe there'll be too many tears around it. Koopmeiners rumoured fee of around €40 million wouldn't be out of Liverpool's range, but at a time when the midfield needs legs, pace and physicality, this doesn't seem like the right move for either party. The real excitement for most Reds in the Jacque Talbot article was around the links to Kone and Thuram, who seem to fit the profile to greater extent. No tears shed, Lijnders influence cries quickly extinguished, be astonished if we hear this one again.