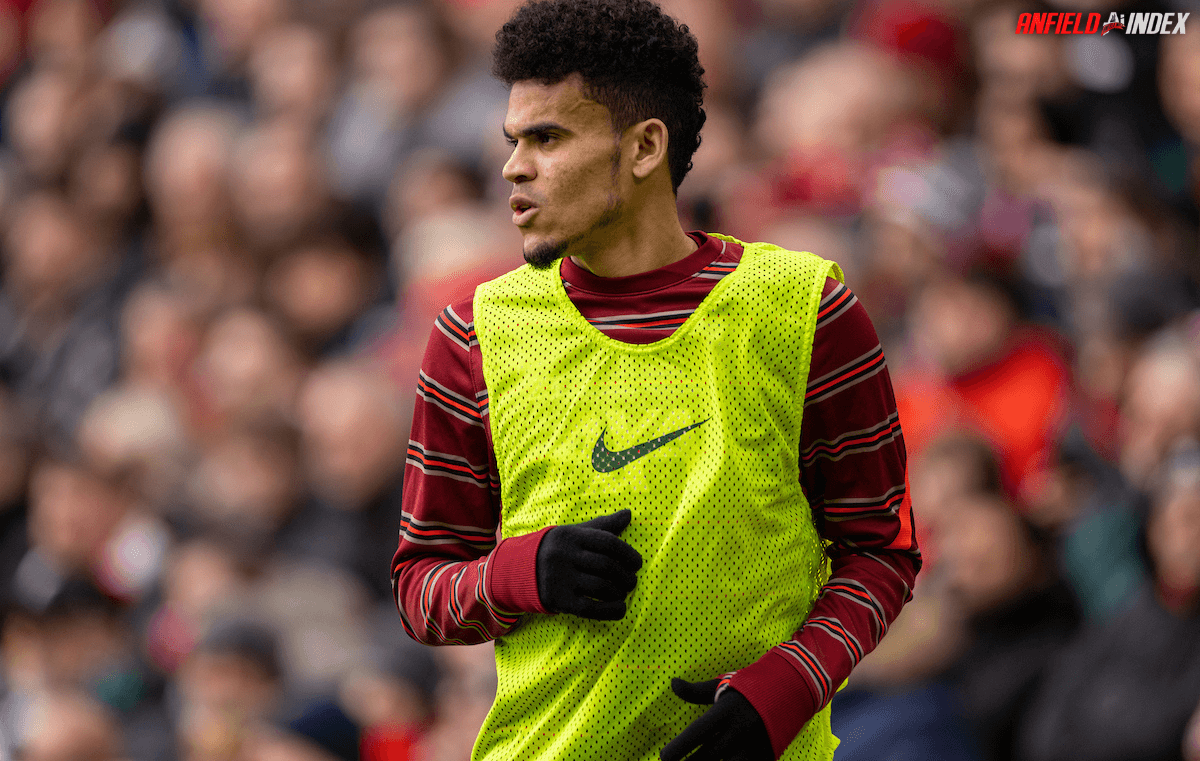 Absent Luis Diaz an underrated reason for Liverpool's struggles
A year ago, almost to the day, Liverpool were completing the signing of Luis Diaz, giving their 2021/22 season a much-needed injection of quality and fresh legs.
History may look back on that campaign differently, as the Reds lay on the cusp of an unprecedented quadruple at one point, but it was a grind at times.
When Diaz arrived, Liverpool were well adrift of Man City in the Premier League title race and their performances were often unconvincing.
Who else remembers that dismal 1-0 defeat away to Leicester in late December? Or the 2-2 draw at Tottenham earlier that month?
As soon as the Colombian came into the team, however, Jurgen Klopp's men were reinvigorated, with Sadio Mane excelling as a central striker and an assault across four competitions truly getting underway.
While Liverpool missed out on the two main pieces of silverware, the impact that Diaz made was enormous and he went into this season with many tipping him to find another gear.
Having been one of the Reds' brightest individuals in a stuttering first few months, disaster struck in the 3-2 defeat at Arsenal back in October.
Diaz's knee injury looked serious the second he went down at the Emirates and he hasn't played a single minute since, as the season has gone from worrying to bad to abysmal.
To rub salt into the wounds, the 25-year-old suffered a setback in his recovery at a training camp during the World Cup, meaning Liverpool fans are now unlikely to see him until the spring.
While there are endless reasons for the Reds' current malaise, whether it be a lifeless midfield, a wasteful attack or a system all at sea, the absence of the electric winger is also huge.
From the second Diaz arrived, he gave Liverpool something different out on the left wing – blistering pace, fearless, direct running and ability to create some magic out of nothing.
Granted, a little more end product would have been nice – 10 goals and six assists in 38 appearances isn't earth-shattering – but he was a defenders nightmare and his street-fighting style had echoes of Luis Suarez about it.
With Diaz out for months and Mane now long gone, Liverpool's left side has looked almost invisible since the injury, with the likes of Darwin Nunez, Fabio Carvalho and Alex Oxlade-Chamberlain tasked with filling the void.
None are naturals in that role, however, and with the former still trying to settle in a central role at Anfield, and Mo Salah not exactly in full flow, the attack has been horribly imbalanced and ineffective by recent high standards.
Diaz's return cannot come soon enough for Klopp, who is in desperate need of some youth, legs and matching-changing ability in his side.
Granted, Cody Gakpo has come in and will hopefully be a big hit, but he is less direct than Diaz and won't stretch and terrify opponents in the same way.
It remains to be seen when Liverpool's big-money signing will return from his lengthy layoff, but he has the ability to be a game-changer in those last few months of the campaign.
When others are potentially starting to tire after a long campaign – one that has seen some play in the World Cup, too – he could come back fresh as a daisy and wreak havoc.
Look back to the many pre-season predictions that took place back in the summer and many were tipping Diaz to be Liverpool's Player of the Year. That's how good he is.
In some ways, he has been forgotten about a little, which is understandable because of the many problems affecting Klopp at the moment, but a blistering spring comeback would be a timely reminder of his brilliance.
Will Diaz solve Liverpool's crisis? Absolutely not. Only a new midfielder this month will give that a chance of happening.
Can he help salvage the Reds' season and steer them to a top-four finish, and even an unlikely Champions League run? Absolutely.