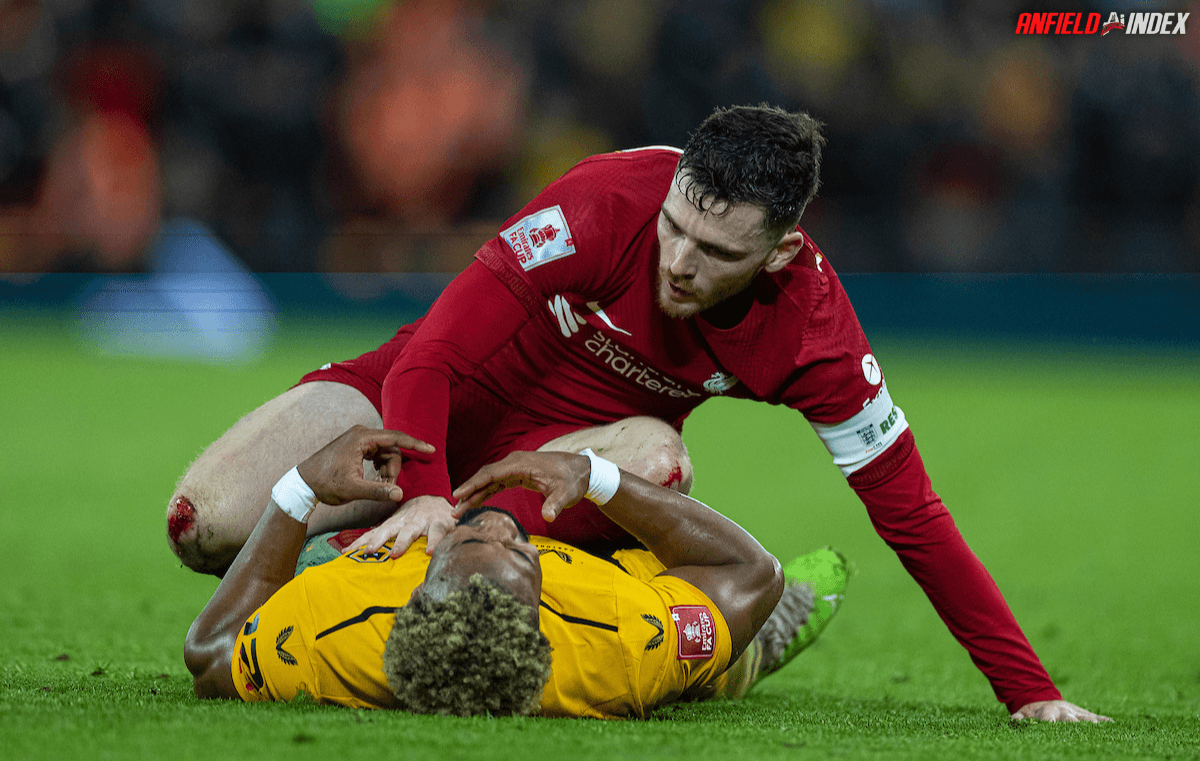 Liverpool 2 - 2 Wolves - The FA Cup Post-Mortem

As we approach another Premier League fixture, we can now look at the Reds as having struggled in every single competition this season. In the pre-match build up to Saturday's game there was a real sense of belief, with the manager opting for his most valuable starting eleven. That game saw Wolverhampton Wanderers arrive with a second-string side, only sprinkled with a few first team players. In what should have been a pathway to create rhythm, it only managed to further dampen a campaign that is perilously closing in on dismay.
GK – Alisson Becker
RB – Trent Alexander Arnold
LB – Andy Robertson
RCB – Joël Matip
LCB – Ibrahima Konaté
RCM – Jordan Henderson (c)
CDM – Fabinho
LCM – Thiago Alcantara
LF – Cody Gakpo
CF – Darwin Núñez
RF – Mohamed Salah
Substitutions:
68' Naby Keïta – Jordan Henderson
75' Harvey Elliott – Fabinho
84' Alex Oxlade Chamberlain – Cody Gakpo
85' Joe Gomez – Trent Alexander Arnold
85' Ben Doak – Mohamed Salah
Unsurprisingly, the Reds dropped to an early deficit. Jurgen Klopp's side now has an uncomfortable knack of conceding the opening goal in games, and this Gonçalo Guedes finish was about as painful as it gets. We had just been witnessing Joël Matip nearly being caught in possession, within his own penalty box, before our keeper decided to place a pass directly into Guedes, a mere eight yards from goal. I refuse to undermine Alisson Becker, as his heroics have papered over many cracks this season. It was a horrible goal to concede, again, and points to a real lack of decisiveness in too many of our players.
The Reds had started brightly, with a tempo and vigour to their game that allowed a glimmer of optimism. Mo Salah had become involved in the early proceedings, whilst Cody Gakpo showed a nice early first touch and strike on his club debut. Darwin was his ball of energy and pace, and the new front three looked tantalising. All the hope of an enjoyable game dampened down, however, once we became committed to giving the ball to the opposition in our own penalty box.
I have been asked this week whether Trent Alexander Arnold should be ushered into midfield, in order to fill that RCM spot. In essence, I believe he would be an upgrade on what we have witnessed in that position so far this year, though we just do not know to what level Trent could reach there, having never played in midfield as a senior pro. What we do know, is that our right back offers an elite ability in coming from deep, with Liverpool's equaliser coming about due to a truly wonderful assist from our famous 66. The finish from our Uruguay forward was instinctively clinical, with a deft first-time strike placed perfectly into the bottom corner.
To be fair to the Reds, whatever half time rollicking was handed down clearly had the desired effect. The opening second half tempo and intensity was raised considerably, with an improved willingness to win the ball and use it to our advantage. With Cody Gakpo having drifted away in that opening period, his drive inside and delivery into the box eventually found our Egyptian King, who finished like to world class forward we know him to be. The game should have been taken away from the visitors at that point, though we seemed unfamiliar in how to close out a game, with the inevitable equaliser forthcoming.
The Reds were far improved from their Brentford showing, with a better performance from many individual players. The continuing issue is the lack of mobility and intensity within the midfielder that once relied on this facet. Thiago is the player we need to facilitate, yet without his own brand of urgency, we would have lost this game. The captain was once again withdrawn, and this really does look like the end of days for his continuing starting career. With an immediate need for one starting midfielder this window, it is the position that looks drastic at times. We were enlightened to the brilliant physicality of Matheus Nunes late in the game, with the Wolves player leaving the fan base thinking, what if…? Perhaps the manager will be thinking the same thoughts, with rumours of a summer move for the Portuguese man.
Ibrahima Konate was impressive, with his combative style the highlight of our back line. His dual with the shiny armed Adama Traoré was a real battle of the bulge, as Ibou showed why he is the man to eventually succeed Virgil. The attack was unfamiliar with one another, which was to be expected. The substitutions pointed to a need to manage minutes, whilst the replay just adds more fixtures to our already congested list.
There is very little to take out of this game, with only a handful of players producing levels close to what we need. No single Liverpool player reached anywhere close to their individual best, with this game being another pointer to how much we are struggling right now. We travel to Brighton this weekend, where a certain Moisés Caicedo may eat this middle ground for breakfast. Our only hope is that we can overpower the south coast outfit in other areas, and then hopefully welcome the brilliant Ecuadorian to our very own dining room next week