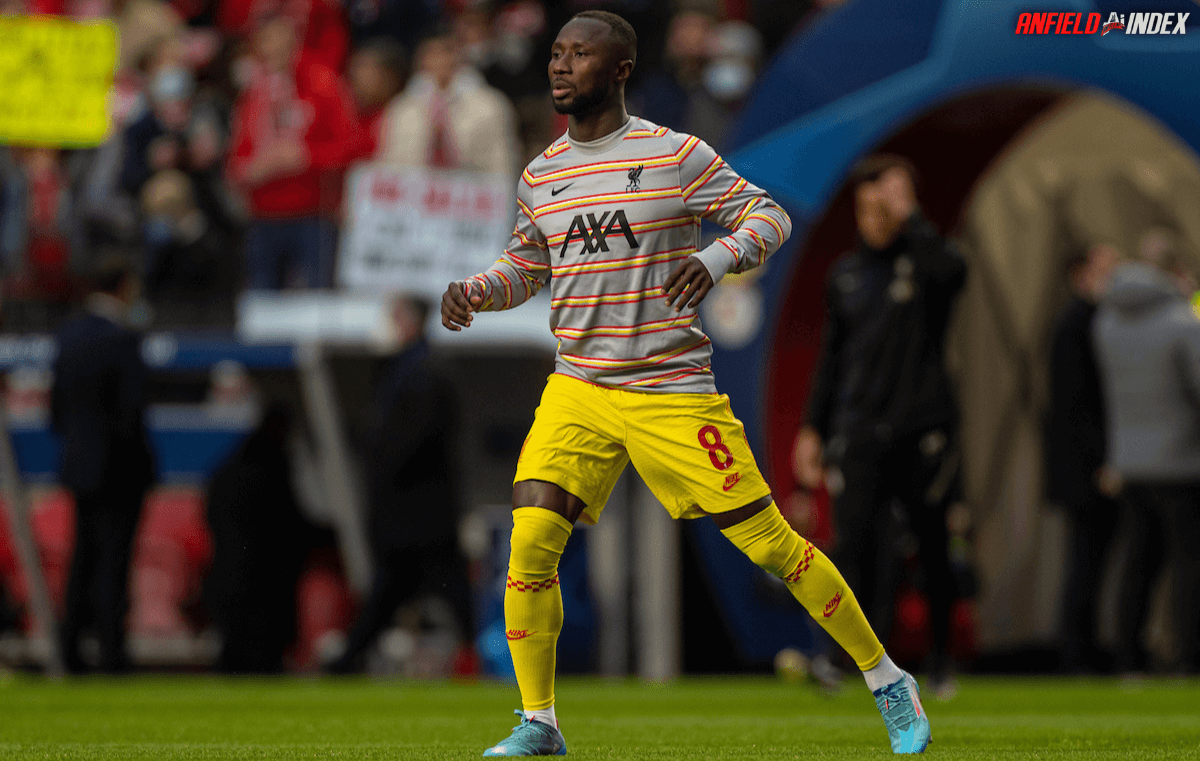 Time To Start Naby Keïta
Simon Brundish retweeted something on Tuesday, stating a very high win percentage for the games where Naby Keïta has started in recent years. I am a big fan of the little Guinean international, whereas much of the fanbase has become dissatisfied with his inability to stay fit. Last season saw him make forty appearances across all competitions for the Reds, becoming a big part in why we nearly won the unprecedented quadruple. To moan about his lack of availability this season seems slightly off right now, as he is currently fit and in the mix for a starting role, when many of our midfielders are vastly underperforming. The underlying stats point to his importance when playing, and in a similar (if lesser) degree to Thiago, it has become clear that the former RB Leipzig man has to start the forthcoming games.
Last season saw a continuing rotation of two key players, in order to maintain their individual fitness levels. Thiago & Naby would commonly take up the LCM role, as the controlling entity within a team that would beat just about anyone in their path. The use of a false nine (Bobby or later Mane) allowed a level of swarming within the middle areas, that would see us win the ball back at ease as we condensed the pitch. The general opposition tactic would involve a low block, on top of an unwillingness to engage a superior side. That whole structure and pattern of play has been blown apart this campaign, and Jurgen Klopp simply must react to what is now in front of him. The holding back of this player, or reverting to the safety of what once worked must now be thrown out the window, and the players that help us win games have to become more apparent.
When analysing our controversial skipper and his regression, it's arguable that we have been carrying Jordan Henderson for years. The Reds' continuing domination of teams (that never wanted the ball) allowed this, until Fulham took the fight to us on the opening day of this very season. That bullish approach to our team of serial winning professionals seemed to rock the rest of the league into action, with pretty much every team realising that this team was there to be got at. The physical attributes that made us fearsome have been on the wane for some time, yet it was the individual brilliance of the surrounding cast that allowed our weaknesses to hide within. We don't enjoy that precious fortune this season, and squad management needs to fall behind the much needed first team necessities.

I believe a midfielder will come in this season and that it will occur after this weekend's game against Brighton. I see Moisés Caicedo as the perfect player to help stabilise us, and help us regain control of an area so often overwhelmed. Before and after that potential move, our German manager must be proactive in finding solutions, even if it upsets certain senior players and their fans. Jordan Henderson has to now become that last 20 minutes per game player, that can inject energy and leadership into the latter part of matches. He is now openly being targeted by the opposition, with his body now struggling to do what was once so effective. In our number eight, Naby Keïta, we have an ultra-talented player that can positively impact games in both directions, thereby increasing our chance of winning. Whilst he is fit and whilst we are in need, we must take advantage of his abilities and perhaps he can repeat his common availability of last season. He did have some moments where he was dispossessed, in coming on against Wolves, yet that was in a game that we were struggling to get a hold off. His introduction stabilised us and made the midfield a tougher area to player through, and this weekend must see his name on that starting team sheet.
I wrote an article last month where I stated a new contract should be offered to our marmite midfielder, something I still stand by. The economic gains aside, this is a good footballer that fits effortlessly into our preferred patterns of play. If we are to continue with three central players in midfield, then that means we probably need a minimum of three new players in the next two windows. These players would have to be starting quality, and to then have Thiago, Fabinho, Naby & Henderson alongside them (in the squad) would be ideal. To see Enzo, Nunes & Caicedo come through the door would be perfect, whilst still holding those four experienced players to rotate in and out.
I do not want to see this Liverpool team continuing to struggle, whilst our rivals regenerate. I hope these next few months will see new direction, new funding, new ideas, and ultimately more opportunities for the squad to grow. Until that point, whenever it may be, we must be winning as many games as possible. Right now, we are waiting on some key pieces to return, yet one that is ready and waiting is Naby Keïta, and he simply must be a starting player in this current team.
There, I said it…