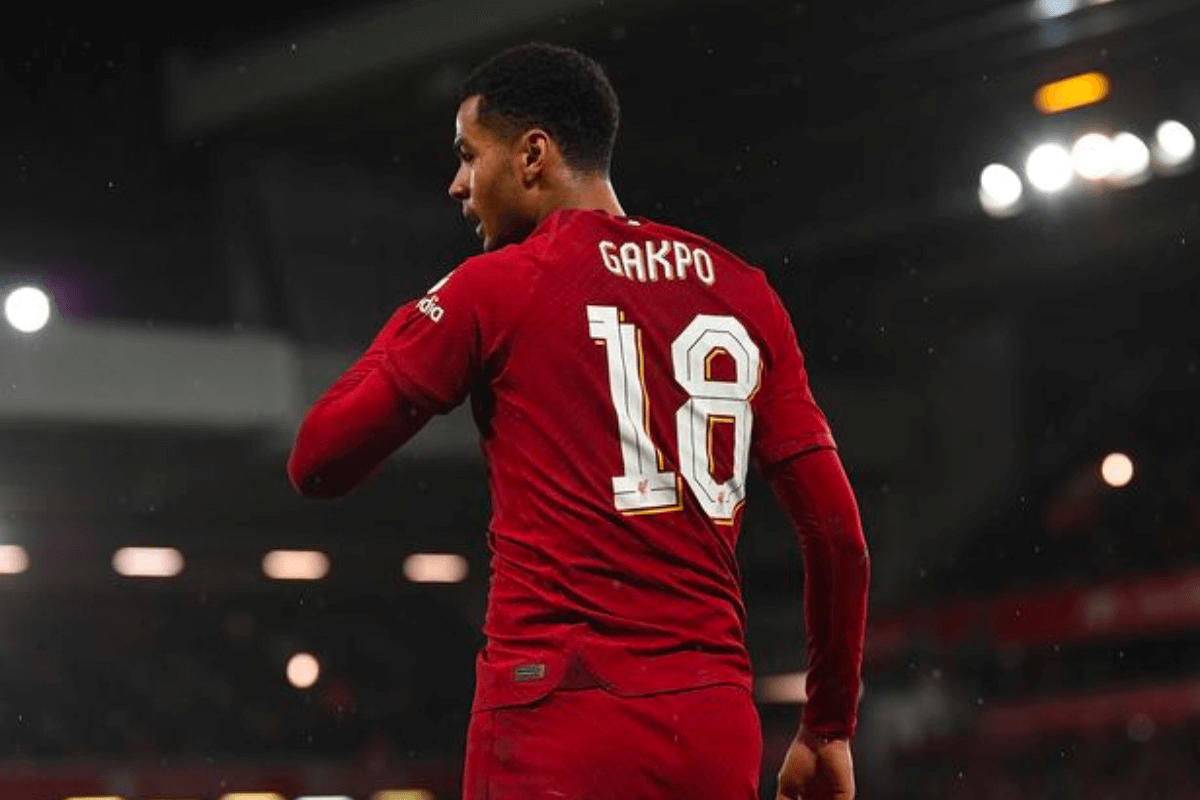 Our First Glimpse of Cody Gakpo

I am still a little bit annoyed that a forward was brought in before a central midfielder, yet I still believe that will be sorted in the coming weeks. It's probably a little premature to look too heavily into Cody Gakpo (after his first 83 minutes vs Wolves), yet right now is all about searching for any type of positive.
For the most part, the continuing regeneration of our attack has been pretty fluid. Sadio Mané followed the likes of Divock Origi and Takumi Minamino out of the door this last summer, to make way for the incoming Darwin Núñez. It always seemed like there was one more attacker needed, even after last winter's acquisition of the Columbia flyer, Luis Díaz. That assumption came to life at the start of the January transfer window, with the arrival of the much-coveted Gakpo. Jurgen Klopp did not hesitate to put the former PSV man straight into the starting line-up last Saturday, especially after the red's disastrous 1-3 loss at Brentwood last week. Though this FA Cup home tie ended in a 2-2draw (thus requiring a replay next Tuesday), we were still witness to moments of good play that can perhaps drag his side to more success going forward.
The 23-year-old will play as that left forward, certainly until the return of Luis Díaz. At that point it will be interesting to see how our German manager utilises his array of front men, especially with Diogo Jota still primed for his own return from injury. At 6ft 4inch's tall, our Dutch international adds further physicality to our new look forward line, which was once a plethora of ample sized individuals. It would appear our continuing crossing enterprise is something we will looking to harness, though only once we start getting our patterns of play in line. With further giant-sized targets for Trent to aim at, it's obvious this is an on-going shift in how we attack low block teams.
In terms of how Cody performed and what we could expect, I was impressed without being overwhelmed. The overall transition into this team and league will take time, whilst we are already trying to integrate our Raging Bull, Darwin Núñez. It's clear that there was a lack of real incision on that left flank once Jota and Díaz succumbed to their injuries, so we can assume that our new number 18 will be given a good run in that spot. With a delicate touch and ability to move inside and out, he offered glimpses of unpredictability in our play, that can continue to enhance the opportunities for those around him. 
The Wolves game saw the reds take a 2-1 second half lead, before inevitably conceding the fourth goal of the game shortly thereafter. That second Liverpool goal was scored by Mohamed Salah, who finished with a clinical nature that we adore. Despite a defensive mistake causing the ball to continue into the path of our Egyptian King, it was the trickery and flighted ball into the box that created the opportunity for Salah, with that impressive creation coming from our new wide man. Without this moment of superb incision, we may have continued to struggle, therefore it offers a possible insight into how we can hurt opposing sides in the coming fixtures.
With the midfield struggles this season impacting the defensive capabilities we so often demand; you feel a more potent threat across the entirety of our forward line can help us attack our way from troubles. We saw back in the days of Luis Suárez how a vibrant and dynamic attack can paper over the cracks throughout a team, so this new attacking trio could offer the short-term salvation we desperately need. 
Though Cody Gakpo would not have been my first choice signing, he's still an ultra-talented player that can be moulded into what we desire. His stature, pace, creativity, and eye for goal will be something to watch for in the coming games, whilst everyone will be hoping he can make the immediate impact we all crave. We head to Brighton this Saturday, with an urgency to gain three points that is leaning heavily towards desperation. Last weekend we saw the first glimpse of Cody Gakpo in a red shirt, hopefully this weekend will offer a more celebrated look of what this young man can be.