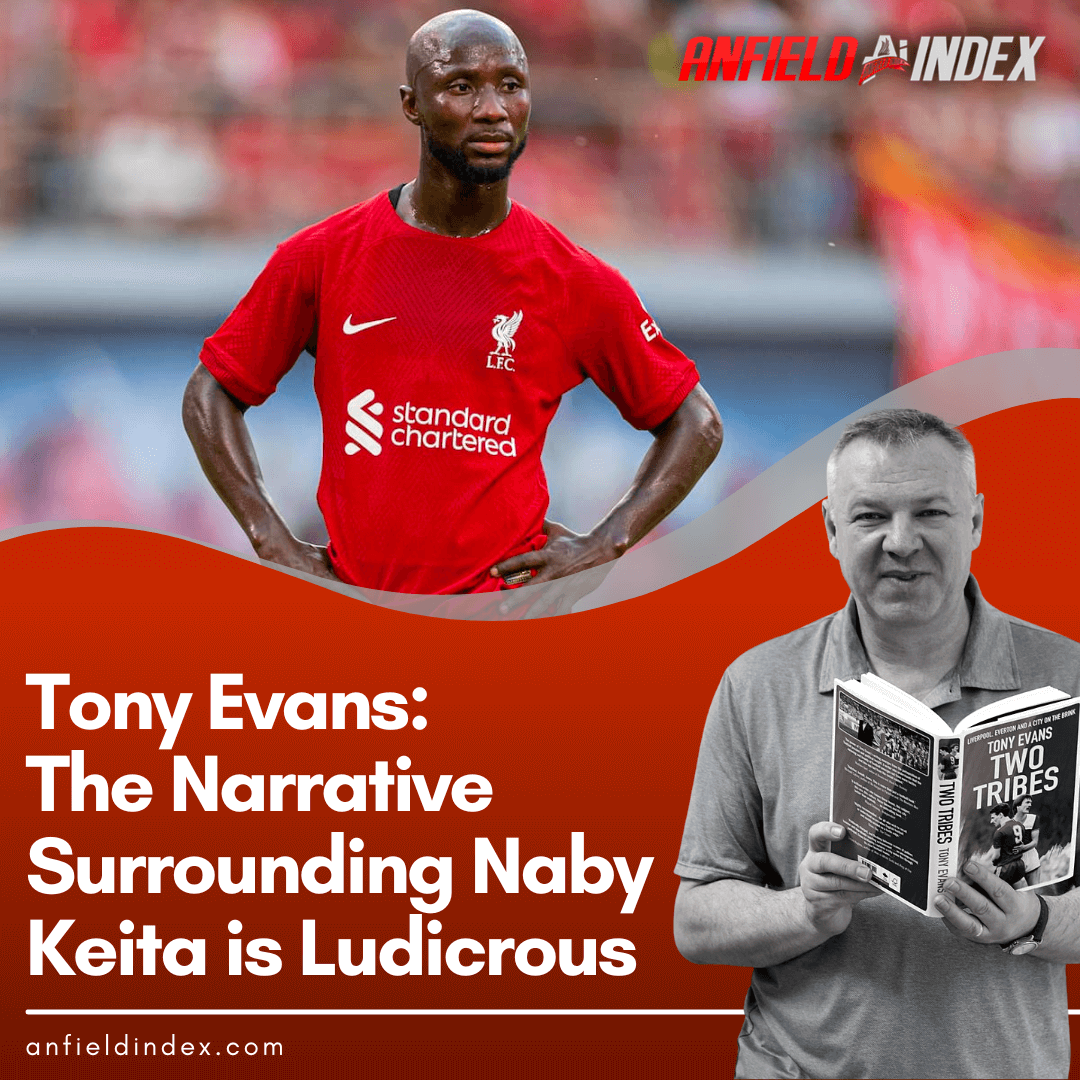 Tony Evans: The Narrative Surrounding Naby Keita is Ludicrous

The best quality a footballer can have is availability. It doesn't matter how good you are if you can't play. Daniel Sturridge might have been the best English striker of the previous decade but he didn't get onto the pitch enough. Harry Kane would not have been close to becoming England's leading goalscorer if Sturridge would have been robust.
And so to Naby Keita. There were so many high hopes for the 27-year-old and so many disappointments. Rail all you like against FSG, Jurgen Klopp and the recruitment staff but the crisis of age and confidence in the midfield was supposed to be solved before it started by Keita.
The Guinean has become a divisive figure – at least on social media. Tweet anything remotely negative about him and the accusations of racism pour in. Yeah, sure, all us white boys would love to see Brexit midfields on a weekly basis.
Some of the discourse about Keita verges on ludicrous.
When he arrived from Red Bull Leipzig five years ago his performances in the Bundesliga suggested that Liverpool had bought a fully-formed first-teamer. So did the price.
The side had just been beaten in the Champions League final by Real Madrid and – along with upgrading the goalkeeper – revamping the midfield appeared to be a priority. Quite a lot of people argued that the Kiev trio of Milner, Henderson and Wijnaldum was the worst midfield to play in European football's showpiece game this century (that was when the first 'Brexit midfield' mentions began). Actually, it turned out to be two-thirds of a pretty good unit.
But the point is that Keita was a sure-fire bet to improve things. That notion didn't last long. A couple of weeks after his arrival, someone at the club told me, "He's seen his arse in training" at the physicality. It didn't bode well.
It's not just injuries, though. There's a sense that he never completely won the trust of Klopp. From being thought of as a nailed-on success, he became a project. The work in progress is still a long way from being finished.
The likelihood is that he will leave in the summer. He's out of contract so can expect a significant signing bonus from a new club and higher wages. Between now and May it would be wonderful if he can finally put in a series of performances that match the expectations of five years ago. There is no doubt that he can improve a misfiring midfield. And, of course, if he plays well, he will attract more suitors.
Playing exposes your flaws. Sitting on the sidelines allows supporters to project their desires onto you. Sometimes that verges on fantasy.
This is the last chance for Keita to provide some good memories. If he helps the team into the Champions League – or even, dare we say it, win the competition – it will at least sweeten a fairly sour tenure at Anfield.
All anyone ever wanted was for him to be a success. Opportunity was available. Too often he wasn't.
*
Another crush at Hillsborough, this time before the FA Cup tie between Sheffield Wednesday and Newcastle United. In the tunnel at the Leppings Lane end. How the hell can this be happening 34 years on from when 97 people were unlawfully killed in and around this death-trap entry.
Narrow subway-style entrances have no place anywhere near crowds. The first thing that should have happened in the close season of 1989 is the FA and the club should have worked out ways of getting rid of the tunnel. If that meant knocking the stand down, so be it. But two rancid organisations continued to ignore the problem.
The saddest thing is the reaction of some Wednesday fans on social media. They seem to take it as a personal insult that the stadium was – and is – a death trap. As night follows day they recite the list of slurs – ticketless fans, late entry, drunkenness – like Kelvin MacKenzie bots.
The 'my-club-right-or-wrong' ethos should have limits. Let's hope Wednesday stay in a league where away support is minimal until they sort this out.
*
Back in the first half of the 1980s Brighton felt like a bogey team. They won at Anfield twice in two seasons and knocked the side that would go on to win the European Cup, title and League Cup out of the FA Cup in 1984.
The most memorable of the games against the Seagulls was in 1983, another FA Cup tie. It was Liverpool's first match played on a Sunday and the crowd was unexpectedly large – perhaps encouraged by rumours that the Sunday Observance Act meant that clubs could not charge for entry into the ground. They could.
As a result of lingering over a pint in the Flat Iron, myself and a considerable number of other laggards found ourselves locked out. At least a couple of thousand hung around until three-quarter time when the gates were opened.
What did we miss? Brighton manager Jimmy Melia, whose Scouse credentials were impeccable – St Anthony's to Anfield and 268 appearances for the Reds – put Jimmy Case on Graeme Souness. That was a battle I'd have love to have seen in full. Case scored the winner just before we got onto the Kop but we arrived in time to see Phil Neal put a penalty wide. Not only that, I tripped running up the steps and gashed my chin. I looked like I'd tangled with Case.
Since then Brighton have made me nervous. Sort it out on Saturday, lads.
*
One of the things I like about Darwin Nunez is he doesn't let things get him down. Misses a chance? Have another go.
Over the years a lot of people in football – and in other sports – have said that one of the best attributes a player can have is the ability to forget. That's especially true for strikers and goalkeepers, whose mistakes can be glaring. Put them aside until after the game and carry on. You can learn from them afterwards. There's nothing to be gained from thinking about them until the final whistle.
Nunez is good at forgetting. Love it. He just needs to remember to score more often. It will happen.