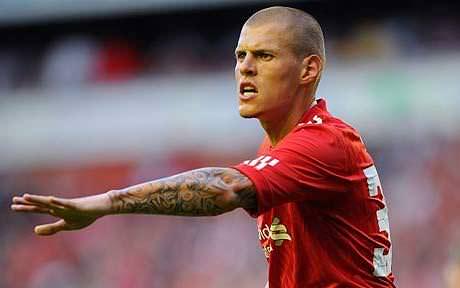 Martin Skrtel | Steady as we go Vs Spurs | Stats
Martin Skrtel has split opinions on Merseyside for years. Ever since his move from Zenit St. Petersburg in January 2008, the Slovak has drifted in and out of the Liverpool back line. He has partnered many players in the Reds' defence; Soto Kyrgiakos, Sebastien Coates, Jamie Carragher, and most recently, Daniel Agger. Skrtel is quietly going about his business at the moment, and is sneaking his name into the hat for Liverpool's player of the season.
Kenny Dalglish took the brave – but correct – decision to ease Jamie Carragher out of the team after years of solidity, in favour of the youthful partnership of Agger and Skrtel. No one has looked back ever since, not even Carragher, who himself admits it is time for a new centre-back pairing and will happily step aside for the Dane and Slovak.
It is as clear as daylight that Martin Skrtel is playing the best football of his Liverpool career. Playing next to the calmness and elegance of Agger has helped him immensely. Daniel Agger is the momentum from the back; he brings the ball out of defence better than anyone in the Premier League, while Skrtel is the no-nonsense, 'you're not getting past me' defender.

Martin has spoken of the reason for his improvement in form. He said that playing next to Carragher, he was shaky as Carra squawked at him for 90 minutes every week. With Agger, they both have a sense of confidence in each other and the partnership clicks. Skrtel is now dominant in the air and on the ground – he even brings the ball out of defence, bringing some attacking fluidity to the side.
This brings me to last night's performance against Tottenham at Anfield. Once again, the Slovak got on with his job with no fuss, keeping both Emmanuel Adebayor and Gareth Bale shackled – an impressive feat that not many defenders can claim to have done.
He only had to make one tackle, which he won, so I suppose we better praise him for his 100% success rate. Is that me clutching at straws a little? Maybe, but he deserves his praise none-the-less.
His aerial ability didn't let him down, either, winning both of his duels. His possession duels were okay, where he won 4 out his 7.
Although those statistics don't make you sit up and spit your coffee out, this next one is good enough reason to do so: Skrtel won possession 8 times in the defensive third and twice in the midfield area. This means that on 10 occasions, he won the ball back and moved the ball forward, possibly starting another attack.
It's difficult to describe the importance of a defender who wins the ball as many times as Skrtel does. Let's say that without dispossessing Spurs 10 times, Liverpool would have had 10 less attacks, and would have to defend against 10 attacks. You with me? Say Spurs had 10 opportunities to attack the Reds' defence, how many shots do you think they would have had? Now, Pepe Reina is an excellent goalkeeper, one of the best in world, but even he can't save every shot. Without Skrtel's ability to consistently win the ball back (and move it forward), Liverpool may well have lost last night, and in the process, heaping even more pressure on the club – and Dalglish – to finish fourth. It's a domino effect.
Not one player dribbled past him, either. Another sign of his solid and reliable form. You can throw his one interception into the mix there as well.
His six clearances and one block also strengthen his performance. Least surprising is this stat: zero defensive errors. In past seasons, there was confidence in Skrtel's ability but there was always a small, niggling feeling that made you think he could slip up soon. Not now. Now, he's a colossus in defence, a dream for any goalkeeper.
It's never nice seeing a legend like Jamie Carragher eased out of the team but it's always satisfying when his replacement is as solid and composed as anyone around. There are many top-quality defenders in the Premier League; Kompany and Vidic to name just two. But the pairing of Agger and Skrtel looks so comfortable and strong that they are staking a claim to be in the mix with the best. Personally, I've always seen Daniel Agger as one of the best in the league. He falls into my top 5 defenders, for sure. But now Skrtel is making people take notice – his partnership with Agger is the best in England right now. The statistics don't lie, 10 clean sheets (joint highest in the division), highlights the strength of the pair.
If they can both stay fit and keep improving then the Slovak and the Dane will be ever-presents for years to come.
@JackWatsonLFC