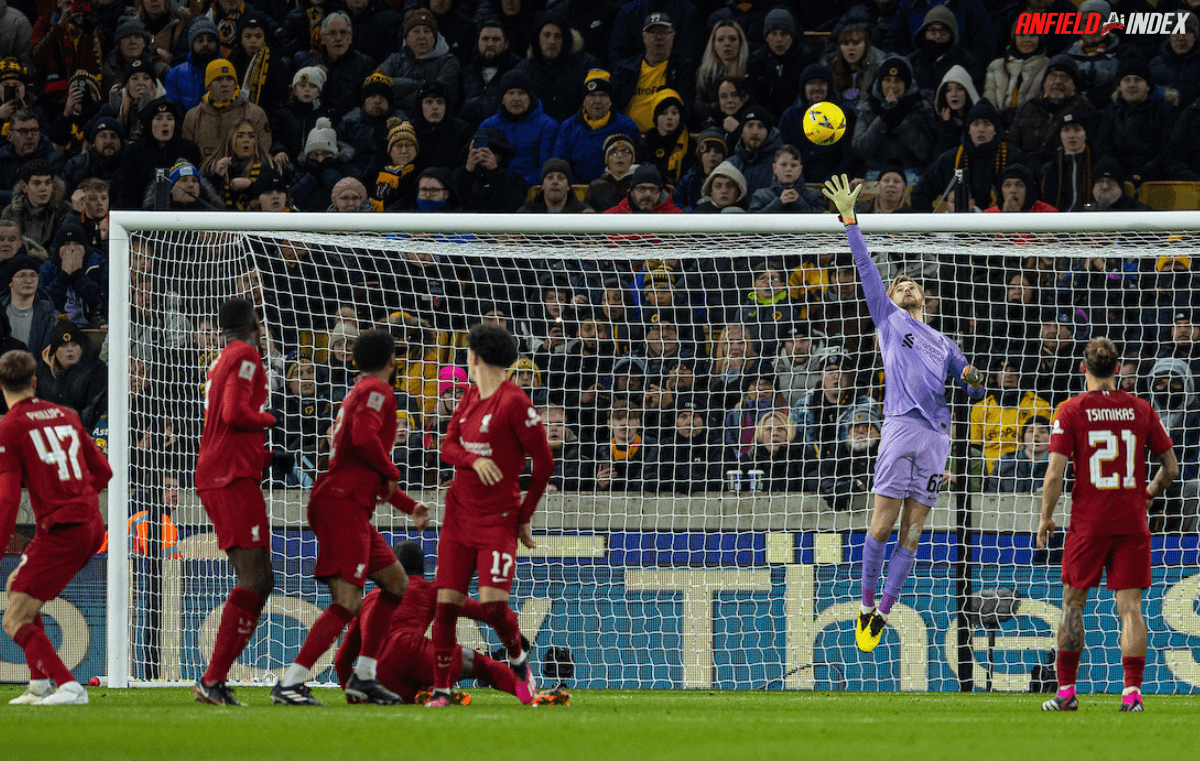 Wolves 0 - 1 Liverpool - The FA Cup Post-Mortem 

It seems like all I do lately is decide which players performed well enough, in order to be awarded a rating of 5 out of 10. With so many player and team failures of late, this latest result was a surprise to much of the fan base. After the first tie and the disastrous trip to Brighton, there was cause for panic when considering this replay. The Reds emerged however, and it was a result which the football club needed.
GK – Caoimhin Kelleher
RB – James Milner (c)
LB – Kostas Tsimikas
RCB – Ibrahima Konaté
LCB – Joe Gomez 
RCM – Naby Keïta 
CDM – Stefan Bajčetić
LCM – Thiago Alcantara 
LF – Fábio Carvalho
CF – Cody Gakpo
RF – Harvey Elliott 
Substitutions;
65' – Mohamed Salah – Cody Gakpo
65' Curtis Jones – Fábio Carvalho
65' Nat Phillips – James Milner 
75' Ben Doak – Thiago Alcantara
75' Fabinho – Stefan Bajčetić
With the line ups and substitutions as shown above, the match started and ended with the Reds asserting their control.
13' Wolves 0 – 0 Liverpool 
Elliott goal (Thiago assist)
The only goal of the game was an exceptional strike by a very talented young player. Though the Wolves keeper, José Sá, was very suspect in his positioning, little can be taken away from the former Fulham players long range effort. With an obvious desire to impact further up the field, perhaps our celebrated manager can now move away from Harvey's central midfield experiment. It seems that playing a wide attacking player in his natural position works, so hopefully the teenager can start to build momentum in a role in which he can excel. His overall performance was good, with some infectious work rate undertaken. The issue has always been his inability to stay defensively disciplined and though our previous domination of games allowed more freedom in the RCM, that is no longer the case.
From the opening bell to the closing whistle, the Reds looked confident and comfortable about their in-game strategy. There seemed to be a lack of time gifted to the home side (when in possession), which is a trait that has been absent this campaign. When I saw the team sheet and realised both Naby & Thiago were starting, I was automatically assured of more midfield control. These two intelligent and tenacious players were able to demonstrate a level play so often lacking from others, with their positional play allowing the structure of the team to blossom. We are all aware of the need for more bodies, but in the meantime these guys have to be on the pitch as starting pieces.
In the midfield defensive role, we saw Stefan Bajčetić exert an extremely mature display. His size, first touch, awareness, and aggressive play mounded perfectly in between two guys that controlled their zones. With a visit from Chelsea on Saturday, there must now be the urge to see this same trio rolled out. With the captain, Jordan Henderson, so painfully ineffective in how we need to play, it does make a major change justifiable for Klopp. In Fabinho there is still some good moments, though his lack of tenacity and mobility is still a worry. In the young Spaniard there appears a genuine ability to complement the system, therefore I would not hesitate to start him at Anfield this weekend.
Through the defensive line there was only positives. I am a big Joe Gomez fan, so his horrible run of form this season has been a difficult watch at times. On Tuesday night we saw something different, with a young and exiting partnership portrayed by Joe & Ibrahima Konaté. What we all witnessed was a blend of power, pace, aggression, and decisiveness in their actions. Though it is hard to get too excited about one good outing, this will surely be a partnership that continues into the next game. We have so many uncertainties in our game, so to see a controlled backbone to our team was refreshing. At full back, James Milner did his usual thing, with his better moments coming higher up the pitch. Kostas was good on the opposite flank, with a measured display built to disrupt anything Wolves threw at them. We seemed to work harder in our tracking and show an intent to offer coverage when needed, thus restricting Julen Lopetegui's men to only minimal chances.
In the Reds' attack, Cody Gakpo produced a display of moments without substance. He looks like a refined and talented forward that is finding his feet, and good minutes will only improve his eventual output. With a calm and cultured style, it is quite the contrast to what we often we see in Darwin, therefore it should be fun to see how these talented players integrate. Harvey produced a game and goal which rightly earned him the plaudits, whereas Fábio Carvalho once again seemed ineffective. With only a slight frame, he just appears too small to cope with robust challenges. His trickery and technical ability cannot be questioned, however another spell in the Championship (on loan) would do this young man wonders.
Off the bench I was happy to see Curtis Jones introduced, with a more powerful and purposeful intent to his game. Fabinho looked shaky, which was perhaps due to a long spell on the bench. Salah would have benefited from a little rest, whilst Nat Phillips came in to add further penalty box stability. Ben Doak was someone I thought would start, though it is probably more responsible to hold this young Scotsman back. The substitutes appeared measured, but also aided what we needed in the game. 
Overall, the manager, fans, and players had a very good away day. With a defensive pattern of play far more familiar to what we are accustomed to, it does pose some interesting questions before the weekend. Klopp had earlier remarked about whether certain players were now past what he required, therefore this transitional season could be more about internal change, instead of new additions arriving. Though I am certain Ali, Trent, Robbo & Mo will return to the starting eleven, I can't be sure about Fabinho & the skipper. Our German manager has now reached a crossroads with certain assets of the club, it is now up to him which direction he takes.
Watch this space…