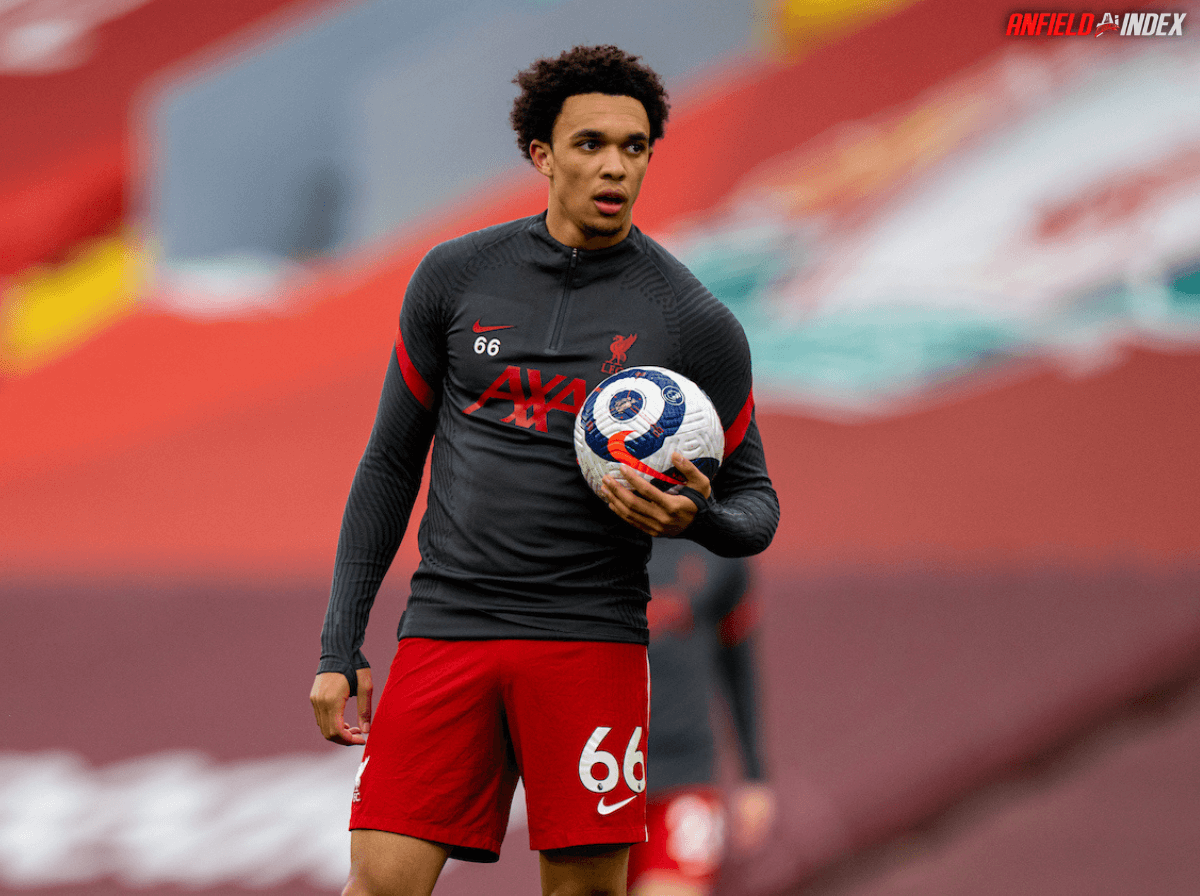 Why We Have to Resist the Urge to Push Trent into Central Midfield 

On several occasions, I have considered the idea of Trent Alexander-Arnold in a midfield three. I was even asked by a fellow supporter recently why this was not happening, and I immediately found myself defending the logic in keeping him there, despite writing articles pointing out the plus points and why it could be the case. There seems to be so many reasons to try him in a different position, yet I always come back to the same conclusion.
Jurgen Klopp once aided our number 66 in becoming one of the finest attacking fullbacks in the modern game. There was a period (only a couple of years ago), where the Reds were undeniably the best team on the planet. That period saw a good few players rise to elite or world class levels, with one of those players being Trent. Without his prolific chance creation and playmaking ability, we would not have been that team which was so successful. Up until this very campaign, there would not have been a single manager on the planet who would not have traded their right back for ours, and though his form has dropped this season, it is the structure of the team that must be changed in order to facilitate players like him.
In essence, we have not even seen the peak years of our local lad yet, and the player that was so celebrated is very much still within. As a club and management group we have failed certain individuals with a lack of organisation and structure. It is now the job of Klopp and the recruitment team to rebuild a side that can fully facilitate the patterns of play which our England international requires. Though I would not be against seeing a 4-4-2 system with the 18 times capped player on the right wing, I just cannot see the benefit of putting him into a central midfield, when we already know he possesses the skillset to become the best attacking fullback on the planet.
Therefore, the forthcoming regeneration of our side must be engineered to enhance the greatest components within the squad. For anyone to ignore the previous four seasons of Trent's career would be ignorant, as this 24-year-old is still one of the most talented and influential players in Europe. Our greatest success was always being able to strangle our opponents of the ball, and allow the more dangerous assets to dominate the game. This season we have seen a midfield unable to either protect the back line or assist the forwards. It would be very easy to throw TAA into the middle, in the knowledge that he often operates from a middle to final third position anyway. The pitfall of that is that we have no idea whether he can actually thrive in key midfield scenarios which take years of tactical instruction and training. The resulting factor could be that we damage a full back that would become an all-time great, or we just show patience and make the alterations to the problem areas, without lessening the future levels of others.
The best iteration of our midfield has always been about control, intensity, off ball awareness, and pressing as a well-rehearsed unit. Our academy graduate has often achieved greatness due to those willing workers around him, with a superb positional coverage that allowed him to act as a virtual winger. Though the fundamentals of a central midfielder are all there, to pit him into that middle area could see him lose out of possession, especially when the wide starting position and ability to create from deep are so ingrained in his best game. Only this season we have witnessed how inefficient Joe Gomez can look in a centre back role, whereas he always looks more comfortable at full back. To operate centrally would require vast amounts of tinkering to an already sublime skill set, which is why now would be the worst moment to engineer a change in Trent's natural position.
This season is painful and it will probably continue to be so. Until we sort the ownership fiasco, there will be continuing unrest and uncertainty throughout all levels of our historical club. What we must do (and what I believe Klopp is doing), is damage limitation with players like Trent. This period could become nothing more than a horrible snapshot in time, and preparation for the next phase of this team is vital to our evolution. The Premier League's 2019/20 young player of the year is not the central midfield saviour we need, he is simply an option some are grasping at in a dire time of need. The next phase of this team will be centred around what he can be, and that will be based around the impact he has proven over a large period.
Players like Alisson Becker, Ibrahima Konaté, Darwin Núñez, Luis Díaz, Mohamed Salah and Trent Alexander Arnold need to be the bedrock of what comes next, with a team designed to bring out the best in each one. Liverpool will emerge once more, and our three-time PFA team of the year right back will become one of the greatest players the game has seen, but not if we start moving him around the board.