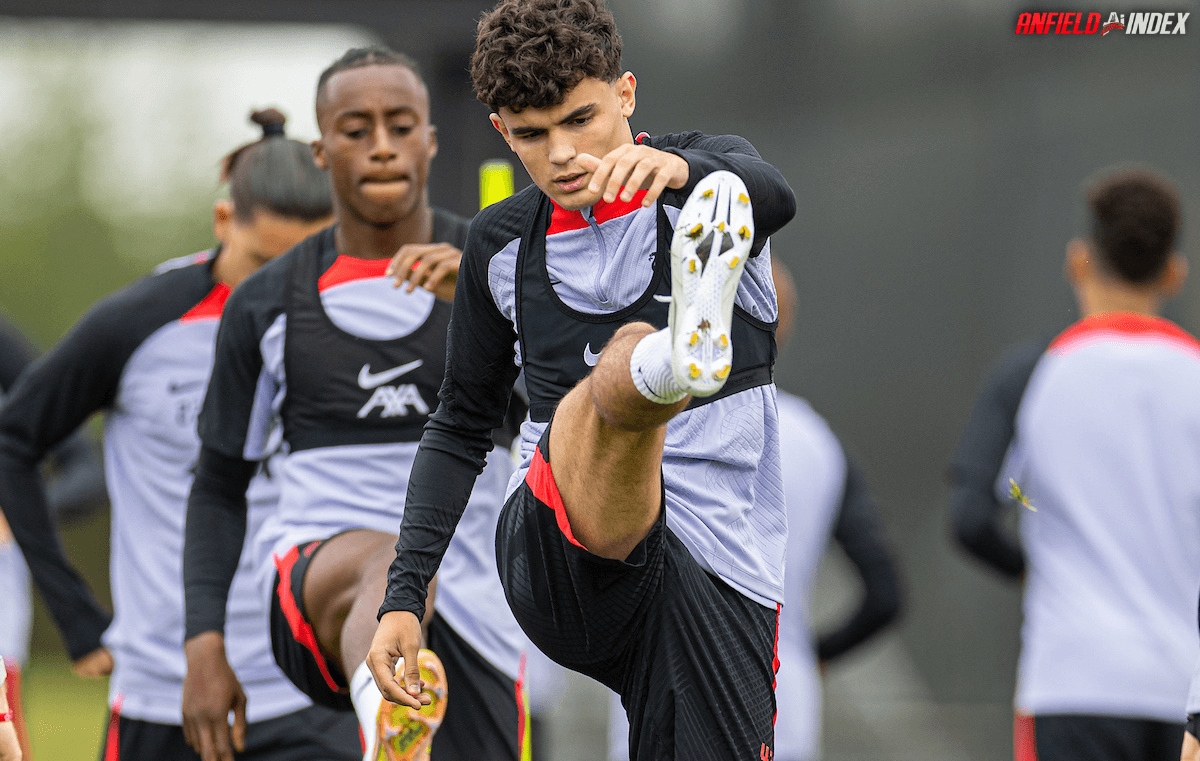 Stefan Bajcetic: Fabinho's Natural Heir?

Football fans can be guilty of going overboard about a gifted young player, talking him up and predicting great things, only for him not to match the hype and be forgotten about.

Anyway, speaking of which: Stefan Bajcetic is a footballer of unbelievable potential – one who can become as good as Sergio Busquets!
In all seriousness, the 18-year-old looks like a genuinely special talent, having enjoyed a smattering of appearances for Liverpool this season.
While some youngsters can look overawed by being thrown into a high-profile team, especially one that is struggling for form, there is a poise and calm about Bajcetic that immediately stands out.
That was perfectly evident when he scored the match-sealing strike away to Aston Villa on Boxing Day, as he danced around a tackle and finished with aplomb.
He always seems to have time on the ball – his spacial awareness is a talent you often can't teach – and there is also a tenacity about his game that catches the eye.
On Tuesday night, Liverpool were badly in need of a few heroes, following such a grim run of form, and Bajcetic stood out as the Reds' best player in the 1-0 win at Wolves.
Along with the similarly excellent Thiago and Naby Keita, the Spaniard brought energy and technical quality to a Liverpool midfield that looked lifeless for much of this season.
Bajcetic won five of his six ground duels at Molineux, not to mention making three tackles and two interceptions, and while there were a few careless losses of possession, he was always forward-thinking on the ball.
At 18, the midfield is clearly still a maturing footballer and not someone who will solve Liverpool's midfield woes on his own, but he has reached a stage where he already looks like genuine competition for Fabinho in the No.6 role.
The Brazilian is having a torrid campaign, running in cement for much of it and seemingly losing the intensity and influence that once made him the best in Europe in his position.
Fabinho certainly hasn't been helped by others, most notably the equally struggling Jordan Henderson, but anyone trying overly hard to defend him is simply being too kind at this point.
He is only 29, but with so many years of relentless minutes in his legs, there is a strong argument to say that he has peaked as a footballer and will never quite be the force he once was.
The hope, of course, is that Fabinho is just suffering a malaise, at a time when he has recently become a father, but that feels increasingly hopeful more than anything.
A long-term replacement is clearly paramount at Liverpool and Bajcetic really does look like the player who could eventually fill that role moving forward, serious injury permitting.
He is thought of extremely highly at the club and it now wouldn't be a surprise, or a risk, to see him being named in more starting lineups by Jurgen Klopp.
On Saturday, Liverpool face a massive Premier League clash with Chelsea at Anfield, with both sides badly in need of a win in the top-four battle.
In the past, the thought of starting Bajcetic for such a big match felt unthinkable, but Tuesday's performance, other cameos this season and Fabinho's haplessness mean his inclusion would be welcomed by many.
In fact, Klopp should stick with the midfield that shone so brightly at Wolves, with both Bajcetic and Keita providing the pressing and intensity that have been so sorely lacking in Fabinho and Henderson's legs.
Will Klopp start Bajcetic against Chelsea? I highly doubt it. But it wouldn't be an issue if he did.
That's not to say that he isn't still a raw player who won't mistakes, as is the case with the unfairly-maligned Harvey Elliott, but he is displaying a fearlessness and maturity that makes him a genuine option now.
The need for new midfielders at Liverpool this summer is absolutely paramount, with the likes of Jude Bellingham and Matheus Nunes ideal targets, but in Bajcetic, the Reds may have sorted Fabinho's long-term successor.
There will be bumps along the way, which is only natural, but he has all the tools to grow into a formidable player.