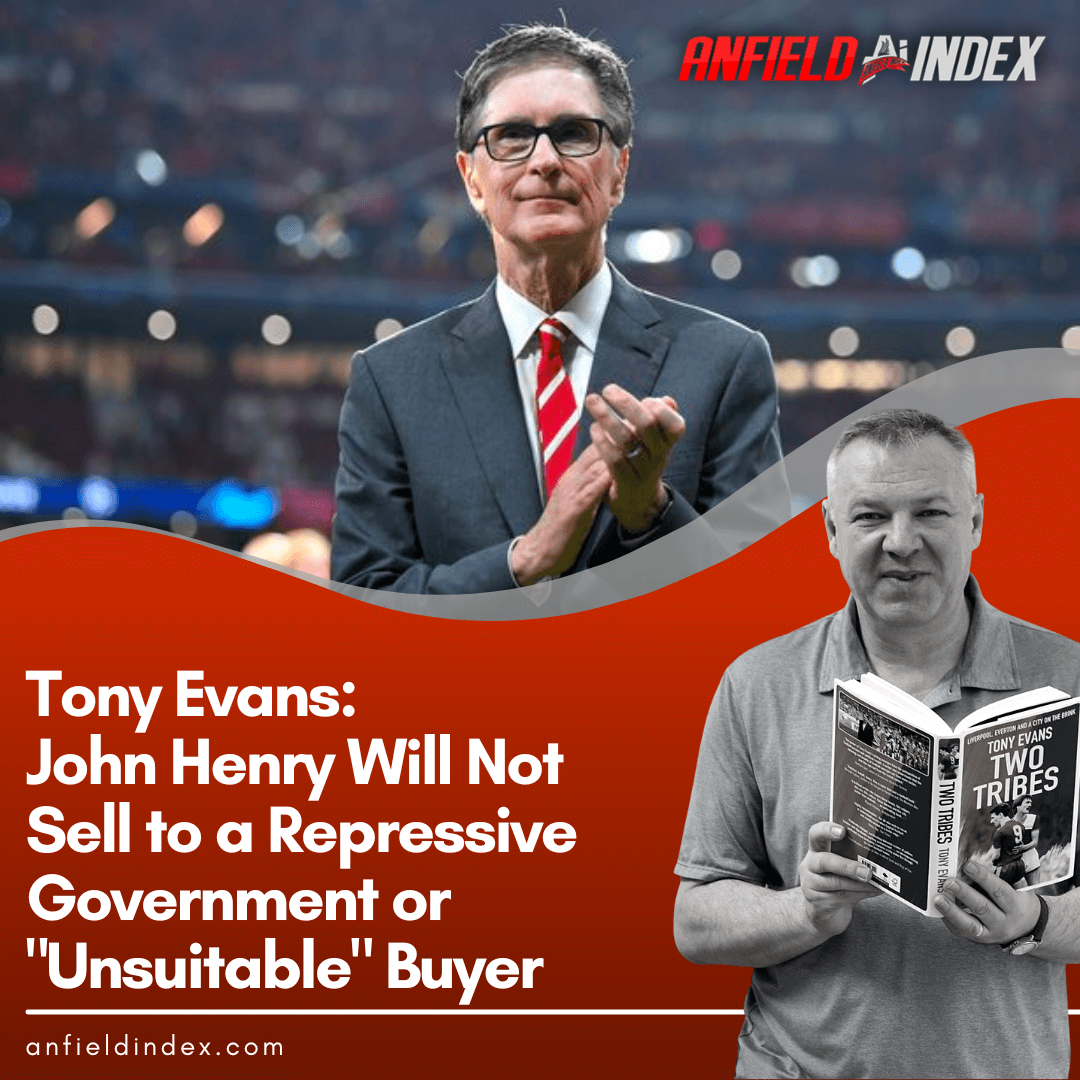 Tony Evans: John Henry Will Not Sell to a Repressive Government or "Unsuitable" Buyer

The hysteria over a potential takeover ramped up a notch this week. Rumours of a Qatari buyout spread like wildfire. Twitter was ablaze.
The only problem was that no one whose knowledge is trustworthy seemed to know anything about it. Someone who is rarely wrong on these matters texted: "There is no buyer."
The follow-up message emphasised the individual's scepticism. They were, it said, "bemused by the entire process."
So we won't be welcoming our new Qatari overlords. At least not for the moment.
The problem with events like takeovers is they are fluid. What can be 100 per cent correct one day can be completely wrong 24 hours on. It's the same with transfers. These deals are pretty complex and even when negotiations are under way, they can fall apart quickly.
Here's what we know for sure. Fenway Sports Group have had it in mind to sell for a long time. John W Henry first discussed the subject with me eight years ago. He was adamant about a couple of things, though.
First, they didn't need to offload the club. They would wait for the right offer.
Second, he was conscious of his legacy. He did not want to leave Anfield in the hands of anyone he deemed "unsuitable." That may have been a blag but he appeared pretty convincing to me.
That must be caveated by another conversation we had 11 years ago on our first meeting. Then, he wondered aloud whether there was a way of passing on the ownership to supporters.
I'm pretty sure that was blagging.
Given how much Henry and FSG resent the state-owned clubs – Manchester City, Paris Saint-Germain and Newcastle United – it would be a shocker if the Americans sold Liverpool to anyone connected with Middle Eastern royal families or a wealth fund associated with a repressive government. After all, the reason (aside from cashing in their profits) that Fenway are getting out of the game is that Abu Dhabi, Qatar and Saudi Arabia have skewed the competitive balance and the owners can't and won't try to match their spending.
Selling to similar entities would be hypocrisy of the highest degree. It's impossible to rule out such a scenario, however.
For now, no one is prepared to pay the sums that FSG demand. A new owner would have to take over the rebuilding process and that would not be an appetising prospect if the team fails to reach the Champions League.
And don't worry. At the first sign of a credible buyer the media will be all over them.
Everyone wants an end to the uncertainty. Can't see that happening in the immediate future.
*
The performance at Brighton was shocking. Wolves was better but hardly the basis for boundless optimism. The rest of the season's going to have a living-on-the-edge feel to it.
The youngsters were encouraging at Molineux. Harvey Elliott's goal was splendid and Stefan Bajcetic's effort was excellent.
Generally, though, kids don't thrive in dysfunctional teams. For all their potential, it's unfair to expect them to be saviours.
What does the midfield need? Energy primarily. There's often chatter about whether Trent Alexander-Arnold should be tried in a central role. I'm not a fan of the idea, at least not at this stage of his career.
What struck me at Brighton, though, was maybe it would be worth giving Andy Robertson a go in midfield. He's mobile, aggressive, will run forever and Kostas Tsimikas isn't such a massive dropoff at left back.
Whether Robertson would have the tactical acumen to adjust is another question. Playing in unfamiliar roles is a challenge. If things continue to malfunction in the central areas, it might be worth a try. Especially if Robertson's just going to be standing on the halfway line while the opposition score, like he did at Brighton.
That's not criticism of Robertson. Klopp wants his full backs to get upfield and start attacks. Someone should be aware that cover is needed. Either the system needs to change or the manager needs to find short-cut solutions to stop opponents exploiting space out wide.
One thing's for sure, Trent can't amble back after attacks like he did at Brighton. If any good is to come out of this season, everyone needs to pull their weight for every moment they're on the pitch. No switching off. Ever.
*
Chelsea are in a proper mess. I think we can all take a bit of pleasure from that.
It's extra fun seeing Todd Boehly do that American-new-to-football thing that we all enjoyed so much in the early years of FSG's tenure.
The Premier League scene appears full of unimpressive characters to outsiders. The likes of JWH and Boehly suddenly find themselves in a situation where they think they're the cleverest person in the room and they think the new game will be easy.
Well, it doesn't work that way. Boehly will learn some difficult lessons over the next few months. Hopefully Liverpool have caught Chelsea at a good time.
*
Naby Keita's moment has arrived, edition No 323: Yes, it's that time again. It'll be really good to see him up against N'Golo Kante in the 'time-in-traction' midfield clash on Saturday. Up the Guinean Sicknote!
*
It's Klopp's 1,000th game as a manager on Saturday; 411 have been in charge of Liverpool. What a time it's been to be a fan. Stop obsessing about spending, transfers and all the associated guff around football. The past five years are the best you'll ever see. You've been lucky to live through the Klopp era.
*
Hey, Man City are the richest club in the world! Thanks Deloitte, we'd never have worked that one out.
Liverpool are, of course, third in the annual money league. So the club are not exactly paupers and should be challenging City. Even so, imagine how Klopp would have fared in an era without such extreme financial doping.