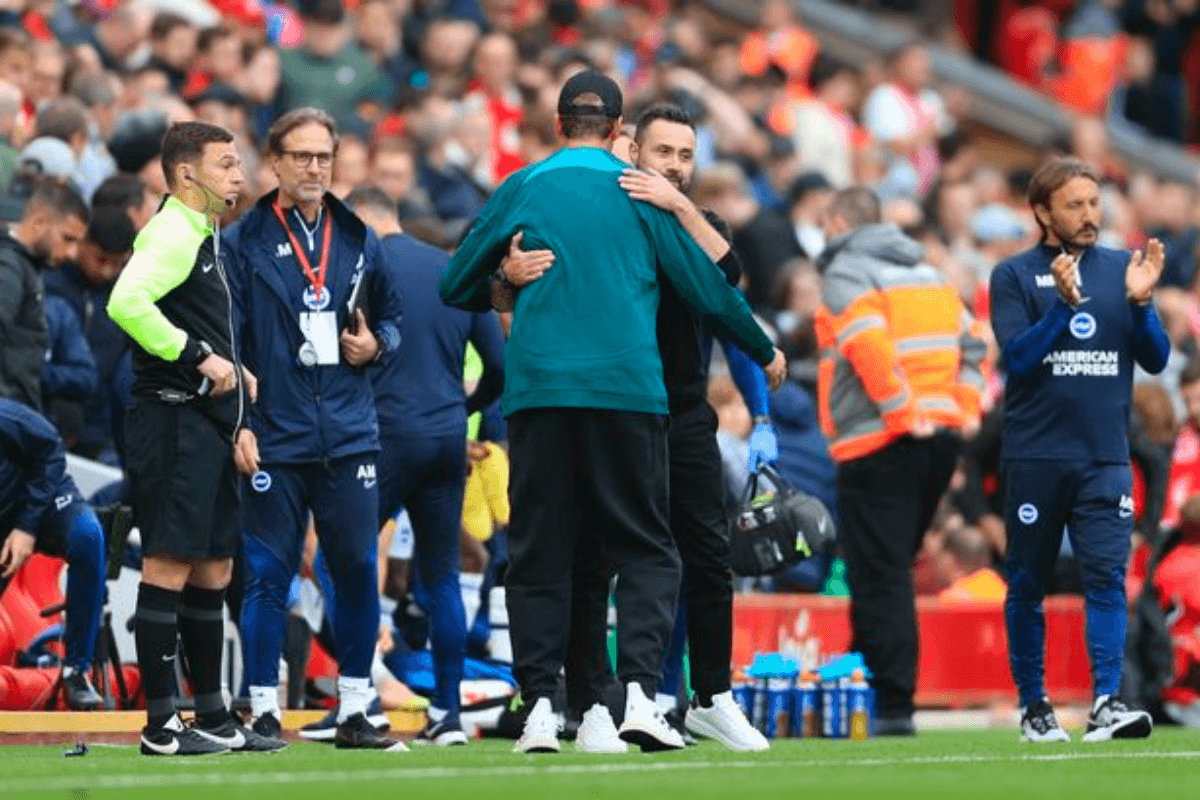 Could Roberto De Zerbi Be The Long Term Successor To Klopp
I wrote previously how it could be a choice as to who leaves the club first, Jurgen Klopp or FSG. Given the underwhelming result against Chelsea this past weekend, I still think the big German could depart his post, certainly if results were to continue in an unsatisfactory manner. My hope is that the club's sale process speeds up and something can be done within this January transfer window. If that does not transpire, it could make for a very difficult second half of the campaign, one which could make a manager's position untenable.
It's well documented that there was a supposed seven year shelf-life for our manager, that would mirror his stints at both Borussia Dortmund & Mainz. This season has been a horrifying blend of inconsistent form, which may force the hand of our celebrated head coach, if we're to continue to spiral into the bottom half of the Premier League. I am still fully committed to Klopp operating under a new and more supportive regime, which would allow him to oversee the regeneration of our ageing assets. The underlying fact remains however, that we may find ourselves in the midst of a bigger rebuild, one that would require a new management structure to be installed.

This season saw the impressive Graham Potter depart Brighton & Hove Albion, with a huge step up to the Reds' mid-table foes, Chelsea. Much like Klopp, Potter is in the midst of some erratic form and will need to improve dramatically in order to justify the blues £500m outlay. It is his previous post that intrigues me the most however, with a side that was left as a well-organised and structured side (upon the resignation) by their former boss. The brilliantly run club has been a revelation in their recruitment process as their Chairman , Tony Bloom, has pushed the club to possess one of the best analytically driven clubs in the game. It would appear that their process of selection isn't just restricted to their playing squad, with the new manager making an instant impact during his short time on the south coast.
Roberto De Zerbi was a midfielder that could probably be best described as a journeyman, with 259 games spread out almost exclusively through the multiple tiers of Italian football. After hanging up his boots at 33-years-old, he immediately continued his journey through his homeland, before eventually landing in the Serie A, with Sassuolo. Despite the financial limitations at this club, his reign saw him achieve consecutive top half finishes before heading to Shakhtar Donetsk. Due to the on going problems within Ukraine, he left the club with them sitting top of the UPL, having won the Ukrainian Super Cup in the season prior. His departure was indeed a premature one, but one that allowed him to make a move to the Premier League, where a talented Brighton was more than willing to offer him his next managerial position.
Here is a few details, regarding his management exploits.
Roberto De Zerbi
Current Club – Brighton Hove & Albion 
Age – 43 years old (DOB 06/06/1979)
Management Career – 320 games
Wins / Draws / Losses – 130 / 78 / 112
Overall win percentage – 40.6 %
Much of that data is either misleading or irrelevant, with his overall management pathway being both progressive and indicative of a man in pursuit of more. With seven different posts in ten seasons, it's showing a man keen to ascend the managerial pyramid, with his attractive style of play eventually bringing him to the Premier League. Since arriving at the American Express Community Stadium, De Zerbi has managed to adapt the 3-4-3 system of the previous regime (under Potter), and incorporate his own 4-2-3-1 system. This switch in formation has allowed his style of play to unfold and in doing so, has created a very different dynamic to the Seagulls patterns of play. With a demand of more control of the ball, we have seen his players incorporate are far more risky approach to their possession, as they seek to play through the opposition press. 
Only last weekend, all Liverpool fans were witness to their team being utterly taken apart by Brighton, with a result and performance that was utterly dominant. The Reds have lost too many games this season and far too many players have performed to a horrid level. Yet upon losing to Brighton 3-0, it was due to a complete dismantling by a team that was assured, brave, ferocious, energised, and tactically switched on. That day by the seaside was a harsh lesson in how modern football has developed, and shows just how much the new manager has been able to imprint onto his new squad.
Often times we can see waves of good form and ideals stem from good coaching, only for the bigger job to take away that underdog mentality that was once driven into a certain set of players. The likes of Brendan Rodgers, Roberto Martínez, and Graham Potter were once lauded for their methods, yet all have struggled to take that next step. In Roberto De Zerbi there does appear something about his ideas and methods, and his recent history means the reds must surely be aware of his abilities. His preference for a coordinated build up play, is a method that creates openings and is something that wasn't always apparent under Potter. With a 43.8%-win ratio at Brighton, it is fair to say that De Zerbi is continuing to help his new club overachieve. With a 66.7%-win rate at his former club, Shakhtar Donetsk, and an affinity for attacking play, he must surely be inching his way onto the shortlist of many big clubs. 
Though this is a manger that will need far more attention before being considered as a Klopp replacement, we can no longer ignore the next crop of young coaches. The only thing the fanbase can hope for, is that matters resolve themselves and Jurgen is given the tools he desperately requires. But the longer we underperform and the longer we fail to invest, the more likely it is that wholesale change will follow.
If the unthinkable were to happen and our heavy metal manager were to leave, there would be a very short list of viable replacements. If the trajectory of a certain Italian continues in our FA Cup meeting (at the end of the month), Roberto De Zerbi could become a name that enters the list as one of the few that could eventually replace Jurgen Klopp.