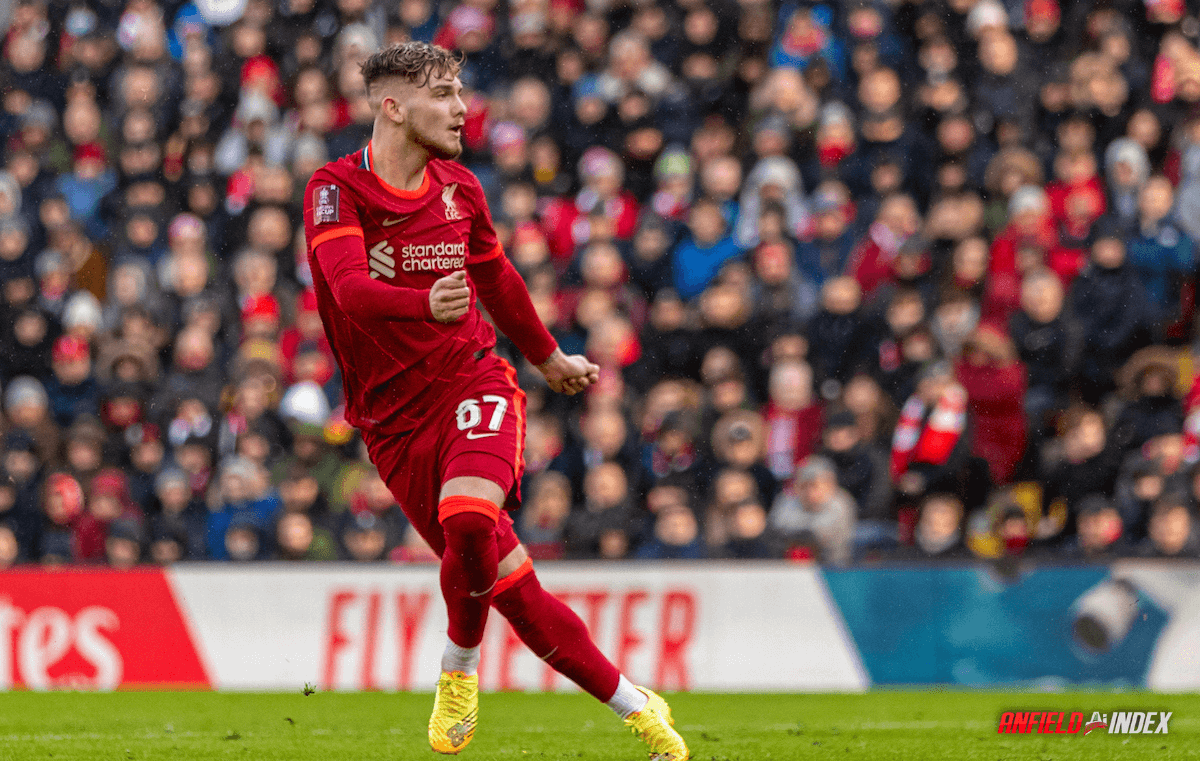 Is Klopp Mishandling Harvey Elliott?
When Liverpool signed Harvey Elliott from Fulham, it came after a long period of monitoring and negotiation. The eventual tribunal resulted in the 16-year-old signing for the Reds for an undisclosed fee, with the deal being deemed a successful acquisition of one of England's most talented young stars. This type of deal was always supposed to be about recruiting a long-term attacking player, one that would be tasked as the potential long term successor to Mohamed Salah. What we have seen in these past 18 months have been misuse, misdirection, and a stagnation in a career that should be driving towards the edge of an elite level.
Just last week, we witnessed the 5ft 7inch Harvey score an amazing goal in the FA Cup victory over Wolves, in one of the rare games that he played as a right sided forward/winger. The main issue will now re-emerge however, with Klopp choosing to continually move the Surrey-born man around the Liverpool board, especially into areas that do not suit his skill set. Though most of us were excited to see him tasked into an attacking RCM position (at the start of last season), it was within a side that was blessed with huge control of games. This season has seen much of that control deteriorate, with ample criticism being placed on Elliott's slight shoulders. With some brief redeployment being found on the flanks in recent weeks, it appears that whatever plan that was previously in the work. is now subject to a weekly re-write. This air of uncertainty (regarding Harvey's best position) has surely been a hindrance to the players growth and footballing education, with no clear direction in how the manager actually views his infectious number 19.
This season Harvey has been under fire for his lack of control in central areas, especially when the Reds are operating off the ball. With so much indecision within the middle ground, it has been difficult for the 19-year-old to find either rhythm or form. With 30 appearances over all competitions so far in this campaign, he has been dropped into that RCM zone, therefore more of his play has been about defensive awareness that attacking.

His positional stats for this season are listed below.
Centrally – 19 appearances
Right – 7 appearances
Left – 2 appearances
Goals & assists – 4 & 1
With so many fans clamouring for a system change this season, it appears that however Klopp once viewed Elliot's growth, it simply isn't viable through this transitional period. Liverpool's greatest (recent) accomplishments came with a hardened and ferocious midfield, that would out work and simply take the ball away from the opposition. Young Harvey simply does not possess the tools or physicality to replicate that which once worked so perfectly, thus making the need for more midfield players imperative.
In his short career, the former Blackburn Rovers loanee enjoyed his best ever season at Ewood Park. That campaign saw the youngster tasked as a right winger in 32 of his 43 games, with the remainder split between the attacking third positions. With seven goals and 12 assists recorded during that 2020/21 season, it allowed him to show his high ceiling as that right wing option. With manager, Tom Mowbray, channelling much of their attacking output through the talented teen, it was then a surprise to later see him moved to a RCM position within Klopp's midfield. The deteriorating form of Jordan Henderson was undoubtedly the prime reason for Klopp trying to reinvent Harvey's game, but it has only added to the problems that are now painfully present.
With news of midfielders being targeted in the coming summer, there's a clear indication that Elliott's central midfield experience is about to end. Within this period of trial and error, we may have set back our England under-21 international, thereby creating a positional issue going forward. I do not know how players like Harvey or Fábio Carvalho could ever fit into our preferred patterns of play, as so much of our previous success revolved around power and physicality. With a few months of inconsistency almost inevitable for Liverpool, I do hope that a summer loan can be orchestrated in order to realign the pathway of both the former Fulham players. If the issues do not resolve themselves and we continue to misuse these youngsters, there is a genuine risk that they fall away from the levels they were always meant to reach.