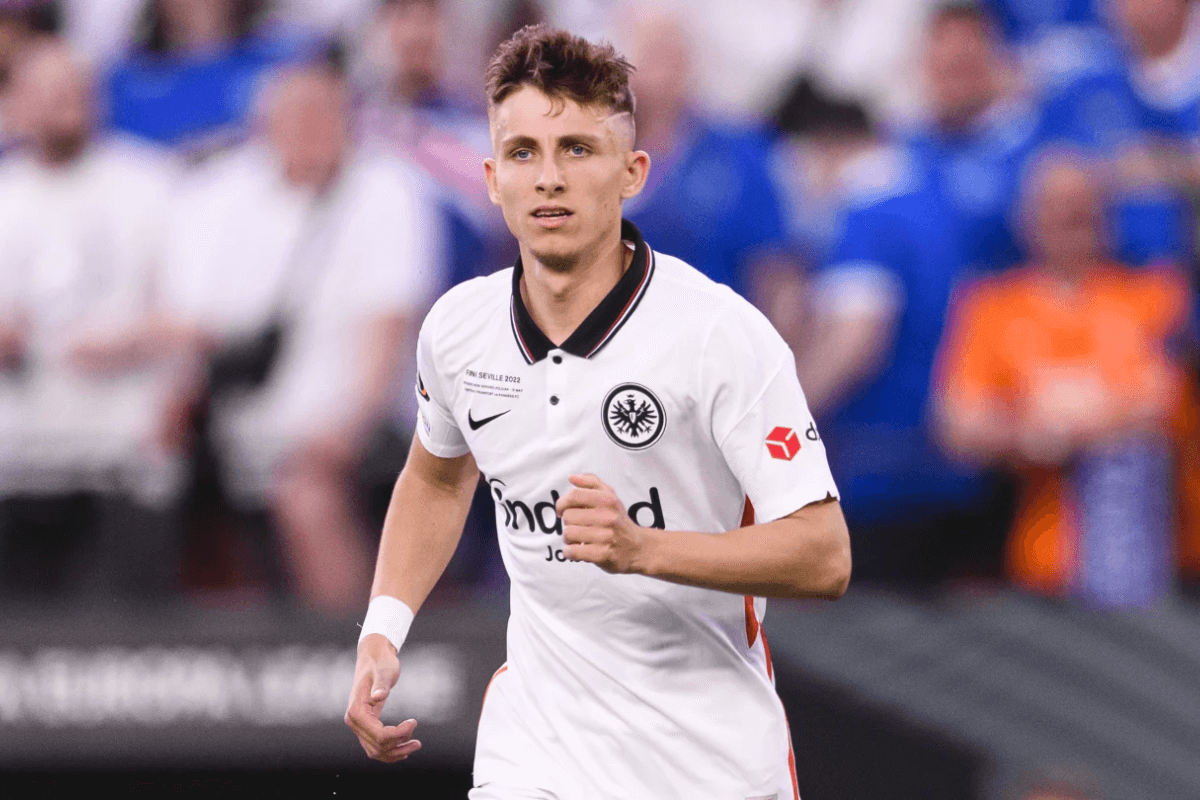 Jesper Lindstrøm Scouted – What to Expect From the Frankfurt Star?
There aren't a lot of football players in Europe with hotter names than Jesper Lindstrøm at the moment. The 22-year-old Eintracht Frankfurt ace has eight goals to his name so far this season and started twice for Denmark at the World Cup in Qatar. 
So, who is the young Danish midfielder, and what could he potentially add to Jürgen Klopp's struggling Liverpool side?
In Daniel Agger's footsteps 
Growing up in the Western outskirts of Copenhagen in a football mad family, Lindstrøm started playing football at the age of three. When he was 12 years old, Lindstrøm joined local pride, Brøndby IF, the club his entire family supported. From his boyhood room, he could see Brøndby Stadion and the legendary Sydsiden stand, from where his family watched the games, and making it to the first team was the ultimate dream for the midfielder. 

It didn't take the talented midfielder long to become one of the most promising youngsters in the academy, that has previously developed world beaters such as Michael Laudrup and of course Daniel Agger. 
And Daniel Agger exactly was one of the big idols for the young Jesper Lindstrøm. Agger had grown up in the same area as him, and also taken the trip from youth side to the first team and then on to Premier League before eventually returning to Brøndby to play the last years of his career at the club and give back. 
After extending his contract with Brøndby in 2020, Lindstrøm expressed a wish to follow in the footsteps of the legendary defender.  
"I have always said that I want to do like Daniel Agger and earn the club a lot of millions and then eventually returning home again," he told Danish newspaper BT. 
Lindstrøm had his big break through in the 2020/2021 season. From his position on the central midfield, he played a crucial role in Brøndby winning the Danish championship for the first time since 2005, when a certain Agger played in the central defence. 
The midfielder contributed with ten goals and a league high ten assists in 29 appearances. He was furthermore 4th in chances created and third in big chances created according to official data from the Superliga.dk website. 
The impressive season made the first part of Lindstrøm's dream come true. He earned a move to German side Eintracht Frankfurt, and became Brøndby's largest sale ever, narrowly beating the sale of Agger to Liverpool from 2006. 
At the German club, he made an immediate impact. In his first season, he had five goals and four assists in the Bundesliga to his name, and he helped Frankfurt win the Europa League as well.
This year, Lindstrøm has been even better. He was the man behind Frankfurt's first ever goal in the UEFA Champions League, and he has scored seven times in the Bundesliga already.
He was furthermore one of few bright spots in the Danish squad at the FIFA World Cup in November, where he started twice. Despite the Danes leaving the tournament prematurely, Lindstrøm impressed with his optimism and dynamic playing style. 
What could Lindstrøm bring to Liverpool?
Despite his young age, Lindstrøm already have an impressive career, and moving to Liverpool would be another dream coming true for the Dane as he is a self-proclaimed Liverpool fan. Becoming the next Dane in the Premier League would thus be the perfect move for him. 
"I've always said that I'm a Liverpool fan, so it could be insanely cool to play for Liverpool at some point," he said last summer.
He is a versatile midfielder that can be used on all the offensive positions. At Brøndby he played as a classic number eight on the central midfield. Here he was used as the main playmaker on the team, responsible for bringing the ball forward in a counter attacking style.
At Frankfurt he has primarily been used as an attacking midfielder on the number 10 position. He can, however, also be played on either wing, which is where he usually plays for the Danish national team. 
Lindstrøm is best when he plays centrally though. He has excellent positioning and movement around the pitch, and is skilled at getting in dangerous positions. His finishing is top class, and he is especially dangerous from the distance. 
Despite him being a midfielder, he is consistently outperforming his expected goals (xG). This season, he has scored seven goals on an xG of 5.08, and in his last season at Brøndby he scored ten goals on an xG of just 4.4. 
One of the remarkable feats of Lindstrøm is his pace when on the ball. While he is a relatively fast player based on top speed, he is incredible with the ball at his feet. This skill makes him capable of taking on most defenders and making them look silly. This was the case last weekend for example, when he scored a brilliant goal against Schalke 04. 
One thing often highlighted about Lindstrøm by his teammates is how he is a team player. He has a great eye for his teammates and is by no means selfish. At Brøndby, he finished as the league leader in assists in his break through season, and he is fantastic at setting up teammates in good positions. 
Jesper Lindstrøm would move to England as one of the most exciting young players in Europe at the moment, and having already played for a high pressing German side, he should be able to transition to Klopp's side easily and make an impact fast if the transfer does go through. 
Please do check out my website if you enjoyed my piece! – https://www.vilfortpark.dk/