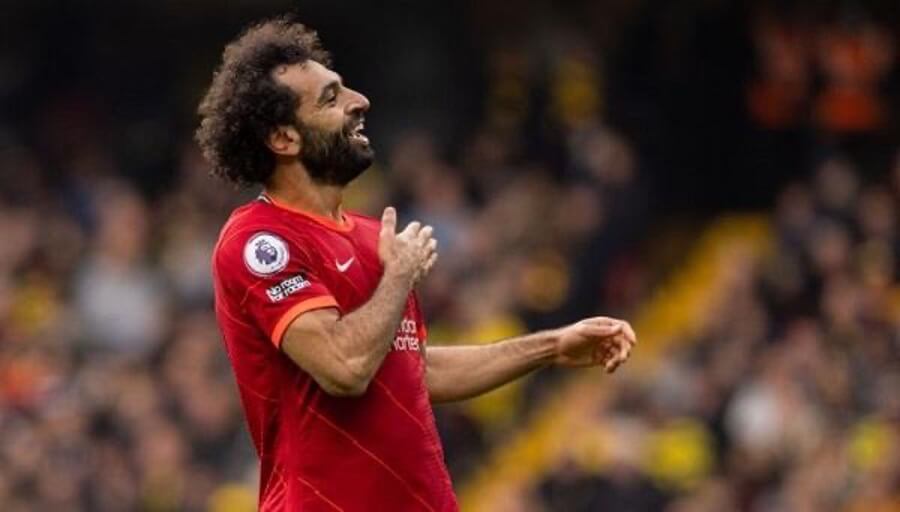 Mohamed Salah: Past his best or a victim of the system?
First thing's first: Mohamed Salah is one of the greatest footballers in Liverpool's long and trophy-laden history, regardless of what happens in the future.
Some may even argue that only Sir Kenny Dalglish and Steven Gerrard now lie ahead of him among the pantheon of Reds greats, although age and favouritism will always make for different answers among supporters, which is only natural.
Since joining in the summer of 2017, though, Salah has delivered astonishing numbers at a relentless rate, scoring 173 goals in 283 appearances and helping Liverpool win all there is to win.
There is an argument to say that no player during Jurgen Klopp's time at Anfield has been more influential, even though the likes of Virgil van Dijk, Alisson and Sadio Mane will have something to say about that.
All of a sudden, however, the Egyptian King has started to look human, delivering a constant stream of forgettable and lethargic performances this season.
By most players' standards, 17 goals in 29 appearances in 2022/23 so far is an excellent return, but Salah is a world-class icon and any slight dropoff is noticeable.
In the Premier League, he has found the net just seven times in total – a quickfire hat-trick at Rangers in the Champions League helped pad his overall statistics – and he has scored only once in six outings in 2023.
It was hoped that the World Cup break would be hugely beneficial to Salah, with Egpyt playing no part in the tournament and thus allowing him a nice rest that others weren't afforded.
Instead, the African superstar's form has actually got worse since the restart, with his league displays against Brentford, Brighton and Chelsea all alarmingly ineffective.
So how concerning is Salah's current malaise?
In truth, he hasn't been the same since a relentless AFCON campaign with Egpyt this time last year, in which he ended up playing four lots of 120 minutes en route to defeat in the final against Mane's Senegal.
Once he returned to action with Liverpool last February, only eight goals came his way despite the Reds battling across four competitions, in which time in made 25 appearances.
The energy looked to have sapped from his legs and the incredible form he found earlier in the season, in which he produced moments of genius against both Man City and Watford, deserted him.
This is, therefore, now a year-long dip by the standards that Salah has set in six seasons at Anfield, and there is an argument to say that he may have simply peaked as a player.
At 30, is his pace as unstoppable as it once was? Can he dribble past a man as effortlessly? Is his finishing as ruthless?
It's all debatable.
Salah has clearly become more wasteful this season – he is third when it comes to big chances missed – and his final pass and general decision-making have left supporters tearing their hair out at times.
Six assists are far from an earth-shattering return and only one has come his way since late October.
On the flip side, Salah has been part of a Liverpool team that has slowly been falling apart before his very eyes, which hasn't helped his game in the slightest.
Behind him, both Trent Alexander-Arnold and Jordan Henderson have dropped off spectacularly, with the former horribly out of form and the latter well past his best.
Meanwhile, Darwin Nunez has been trying to settle into his new surroundings and Luis Diaz, Diogo Jota and Roberto Firmino have all been injured, giving Salah little cohesion in the attacking unit.
As James Pearce pointed out in an article for The Atheltic earlier this week, Salah is only averaging 39 touches and 7.3 in the attacking penalty area per game this season, compared to 50 and 9.6 in 2021/22.
The level of service that he is being given is not good enough and it has had a detrimental impact on his game, with his confidence also taking a knock at the same time.
Footballers aren't robots, and with the feel-good factor non-existent at the moment, not helped by major silverware being agonisingly missed out on last season, it is only natural that Salah isn't himself.
Like so many players at Liverpool, he will be helped so much by midfield additions in the coming transfer windows, adding life to Klopp's side and freeing up Alexander-Arnold to link more with him.
Similarly, he should also benefit from Jota and Firmino being back in the fold soon – Diaz's season look almost done, in truth – so there is lots to be positive about.
While there are debates to be had about Salah being past his best, 30 is younger than it used to be in football and his freakish physical prowess means he should still be at the top for a number of years to come.
Liverpool desperately need him to get out of this current slump, though, and not all of his shortcomings can be excused as a failing system around him.
Salah's finishing needs to be more clinical; that last pass in the final third has to be more precise and purposeful, and his overall involvement in matches must improve.
This is one of the true Liverpool greats we're talking about, however, and much like Dalglish and Gerrard before him, he will overcome this dip and thrive again in the near future.
There is still another major chapter to write in Salah's Reds career.