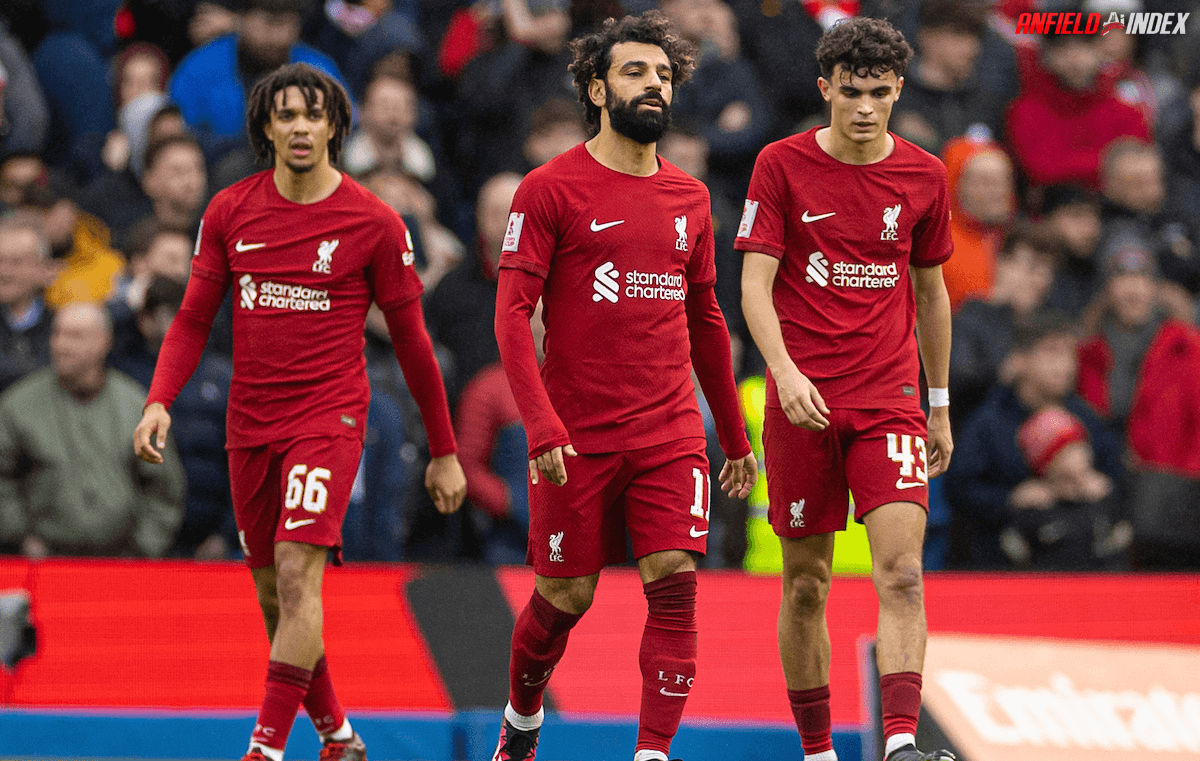 Brighton 2 - 1 Liverpool - FA Cup Player Ratings
Brighton 2 – 1 Liverpool – FA Cup Player Ratings
Alisson Becker – 7.0
Let down by his team being unable to win the game. Could do very little for both goals concerned, and what he did accomplish, he did so with ease. Not the issue at all.

Trent Alexander Arnold – 6.0
We need this kind of energy and want in his performances, certainly when the final third production is lacking. He was far from great, but there seemed a want to overcome his personal duals. A very good goal line clearance stopped the common rot of conceding early. Hopefully the passion in his substitution stare will be more the case, rather than an act of hostility.
Subbed – 59 mins
Andy Robertson – 6.0
Did okay through an ordinary performance. Playing ugly in order to stay more compact seems the theme of the day. With good running and leadership, he had a fair performance overall. Would have enjoyed adding the armband to his match day kit.
Joe Gomez – 6.0
Having somewhat of a renaissance period, as another solid enough performance unfolded, at least until the winning goal. It is tough to be overly critical, given how poorly he played in the months prior. His good relationship with Ibou should be the thing to take from this, with the Premier League top four being the major target.
Ibrahima Konate – 7.0
A good performance from the giant Frenchman, if a little down on his new ultra-high ceiling. With an assurance and athletic prowess that complemented his defensive partner, they were comfortable for the most part.
Lucky not to walk late on.
Stefan Bajčetić – 7.0
His signature on a new deal is great news for the young Spaniard, as well as the reds. He was the best midfielder on display today, with a variety to his midfield exploits. His display warranted his inclusion, with an ongoing spell that perhaps solidified his role as a first team starter. Good technique, good on pitch coverage, and good instincts. His departure was no coincidence in Brighton grabbing the winning goal.
Subbed – 84 mins
Thiago Alcantara – 6.0
By his standing, it was not great from Thiago. With his quality making him indispensable, it really is a worry whether we are about to lose him to a fatigue induced injury. The sparkle instinct was not apparent, with middle ground control more important. Average for his lofty levels.
Subbed – 79 mins
Naby Keita – 6.0
Like Thiago in doing the basics over becoming too expansive. This is his third consecutive start, with next weekend surely being his fourth. It was not about being too pretty, yet his hand in the goal was decisive enough. An intelligent display much like what Gini used to give, and something that is making us harder to be overrun.
Subbed – 59 mins
Mohamed Salah – 6.0
Better from Mo, yet light years away from his best game. His pass for the goal was crisp, yet he seemed to drift as the game went on. With so much uncertainty over his role in this current side, he must be aching for the return of more forwards to help carry the load. Another game without a goal.
Cody Gakpo – 6.0
Better from the Dutchman, with his effect heading upwards slightly. He looked more comfortable in taking on the withdrawn role, with more build up play giving him the chance to impact. Still a long road in his development, yet better overall.
Harvey Elliott – 6.0
The goal was the standout moment in a regular game. The indecision in his best role continues, yet he was able to penetrate and get the reds ahead. His enthusiasm can be infectious, but his continual inclusion points to how threadbare Klopp is right now.
Subs;
Darwin Nunez – 6.0 (on 59)
Came on, did his Raging Bull thing. It was not enough.
Jordan Henderson – 5.0 (on 59)
Came on, and the reds lost control.
James Milner – 5.0 (on 68)
Came on, and the reds looked weaker in transition.
Curtis Jones – 4.0 (on 79)
His inclusion brought little.
Fabinho – 4.0 (on 84)
I do not know who this imposter is anymore.
The Manager;
Jurgen Klopp – 5.0
Apart from Trent coming in for 37-year-old James Milner, the manager kept faith with those that have managed to steady the ship.
With a week between this game and next week's trip to Wolves, it really was telling to see both Fabinho & the captain, Jordan Henderson, confined to the bench for a third successive outing. With recent comments pointing towards certain players being unable to repeat past exploits, it does seem like the penny has finally dropped for the German.
The general control was better, yet his substitutions disrupted what was working, causing the game to be lost. He seems compelled to give minutes to senior players, when the occasion is not in need of their deficiencies.
At least the starting up was more assured to what we need, but he simply must get Darwin back in next weekend.
Pre-match Prediction;
Brighton 2 – 1 Liverpool