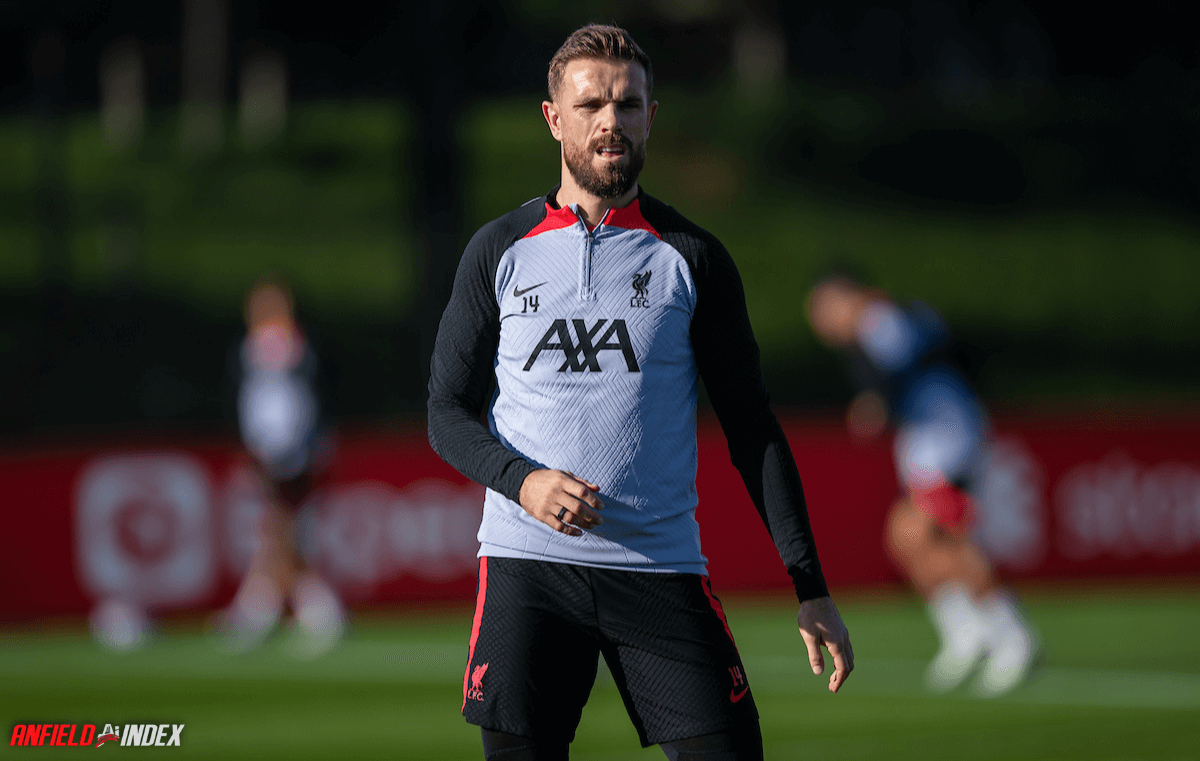 Is This the End for Jordan Henderson?
During the Jürgen Klopp era at Liverpool Football Club, the fanbase has been able to explore a wide range of emotions. The outset saw the club relieved and optimistic about what would follow the charismatic German through the door. The middle brought an unbelievable amount of success and silverware, that had been lacking for too long. This current period now may mark the end of what has been a glorious spell, and with it take a player that has held the armband throughout.
Jordan Henderson has become a player that has divided opinion, not only within his own stadium, but now recently within the studios. This is a man that has earned the respect of all his club and international teammates, ex professionals, and both the Liverpool and England managers. His persona is that which has perhaps prolonged his career at an elite club, with his varied roles and importance to the reds squad deemed irreplaceable. It is maybe that idea which has seen him regress with impunity, but even that may have now run its course.
After the Reds travelled to Brighton earlier in the month, there was much trepidation regarding how we would cope against such a well-organised outfit. The resulting 3-0 loss has been described by Klopp as the worst of his career, and a few individuals appear to have dropped heavily in his footballing estimations. Jurgen has always been a man to defend those close to him and his infectious personality seems to have brought a bond within a group, that at one time seemed unflappable. With poor form and some dreadful results, comes casualties, with the needs of an historic club to tend to. Though there have been multiple questions over the captain's on field deficiencies (over the past few years), it would seem that the manager is now siding with those types. There have been comments made about which players are now unable to emit the same intensity as yesterday, all whilst notable figures sit on the bench. It is never ignorant to state the shortfalls of a well-paid professional, as the millions earned in wages surely allow an opinion to be expressed. What would be ignorant, would be for a manager to ignore a drop off, due to non-footballing loyalty. The entire team and club must always take precedence over any individual, with the want for sustained success crucial to this institution. These past few weeks has seen Hendo and Fabinho drop out of the team, which could present a crosswords on both their careers. With no real indication of a recall coming by way of merit, it does seem like the penny has dropped for the Englishman at least.

By the time next season rolls around, the captain will have just turned 33-years-old. With 74 international caps to his name and 564 appearances across Sunderland, Coventry (loan), and Liverpool. Given that amount of football over a 15-year career, it's conceivable that his tank is close to empty. With ambitions to continue for England apparently evident, you may ask whether the Sunderland-born midfielder has spread himself too thin. His own teammate, James Milner, called time on a solid international career in order to prolong his own domestic tenure. Millie has been able to adapt to a number of on pitch duties, with a desire to cover as many positions as possible. Much of his early career saw him moved around the board, with his unbelievable fitness levels allowing for flexibility in his game. That type of mould has created a position within Klopp's squad, yet it would be short-sighted to see the skipper be able to do the same.
Recently there have been more mentions of Henderson taking over the vice captain's role in the squad. Though this theory would appear logical to some, there's little evidence to suggest our number 14 could adapt quite so effortlessly. With a damning drop in levels this season, there does seem huge questions over whether this could be Jordan's final season at Anfield, especially given so much talk of new owners and monies primed to be spent. Though it's likely that he will remain part of the squad during this transitional stage, there has to be some realistic conversations regarding his limitations. Every single footballer, regardless of how celebrated, will eventually succumb to the hands of time, therefore it's vital that the next half season is carefully considered by all.
This coming summer requires huge choices to be made by every tier of the club. The recruitment strategy and incoming Sporting Director will have huge calls to make on how to proceed. When looking at Chelsea, it shows that a scatter gun approach should be avoided at all costs. When reviewing the coaching staff, there may have to be at least some adjustments made, in order for a freshness in approach to be attained. The biggest question will be which players to cut loose, in order for the next team to be assembled. The next few years will see some major names depart the club, in order for new blood to evolve, which is the cycle of all sporting ventures.
In terms of Jordan Henderson, it appears his days as a first team regular are coming to an end, therefore he will have to decide his next step. To become that backup player who can encourage and guide his teammates would be the perfect scenario. We are a club that almost won everything in our path not so long ago. Our skipper was an integral part of that group, and his personality and standing within the dressing room would have been vital. That last part can continue, it just remains to be seen whether he will be able to accept that role and continue his Anfield journey.